In war, not everyone is a soldier.
There are games that mean more than just an entertainment. It might be said about many things: movies, books, series and music - all types of artworks have a huge part of inferior products for a single use, plus there are some specific things for fans of an exact genre. And also there are diamonds - they not only make your day/week/month, but also leave a deep impression, you want to discuss them, share them, they can even affect your world outlook.
My own favourite source of such diamonds are PC games, and one of the most shining of them is This War of Mine.
By a quick look at the game you won't see anything special. Side view, indistinct graphics, characters that speak with "bubbles" - not saying out loud, simple mouse controlling. Looks like another time killer, huh?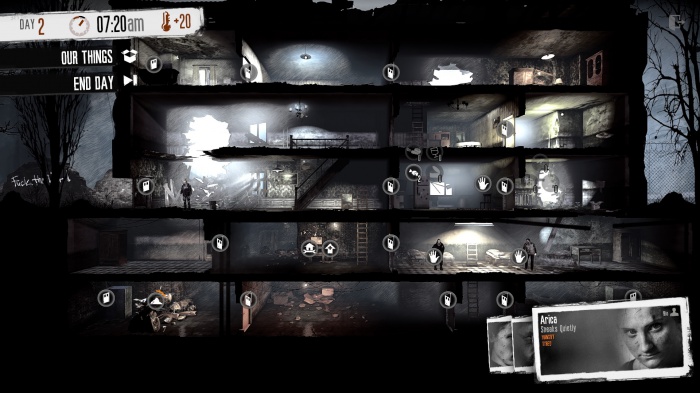 But I gave this game a bit more than just five minutes to impress me - and I won't ever regret that.
In war, not everyone is a soldier. You'll have to play as a single or group of civilians, that don't rush ahead with guns shouting "hooray!"; they are not vigilantes as well - just some regular folks in wrong place at wrong time.
Your group finds itself in a shelter that's about to cover them from the horrors of war. You'll have to go scavenging (at night, to avoid being shot by snipers in the daylight), consider tough decisions (would you give the last antibiotics to sick member of your group or to kids that came to the door? Would you starve to death or rob an old couple?), experience consequences of night raids at your shelter and see death of your characters that are surprisingly easy to feel connected with.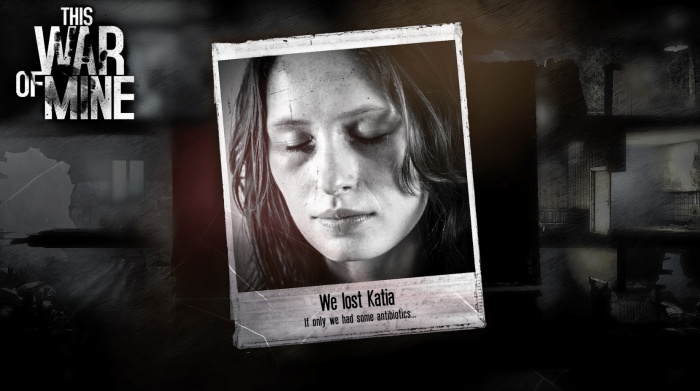 I don't know about you, but for me it all sounds really impressive… and said by someone else, not me.
If you want you'll have no problem with finding on Steam Community, blogs and game sites lots of rough stories that people say about their survivors (or victims, of things went wrong). But in my case it all went too simple.
I have found out where the stuff goes in TWOM really quickly. A couple of short test walkthroughs - and I stopped feeling need forever. My characters were ready for anything, supplies were always stacked in huge quantities, night raids stopped being a problem. A couple more thinking walkthroughs to feel the atmosphere - and it get really boring for me.
I know I'm not the only one with such problem. After all, games like Banished teach you how to do resource management just perfectly ;) So if you're like me - you have to create challenge for yourself: attack tough guys who have lots of resources, even though you also are far from being poor; perform immoral actions in order to make your characters have guilt problems to solve; come from night raids half empty to have a sense in leaving tomorrow.
This game is not designed for that. It's made to give you emotions, to make you feel sympathy and suffer with your characters, to make you understand better what kind of person you are. But now at some point of the game your innocent civilians turn into senseless and brutal Ramboes.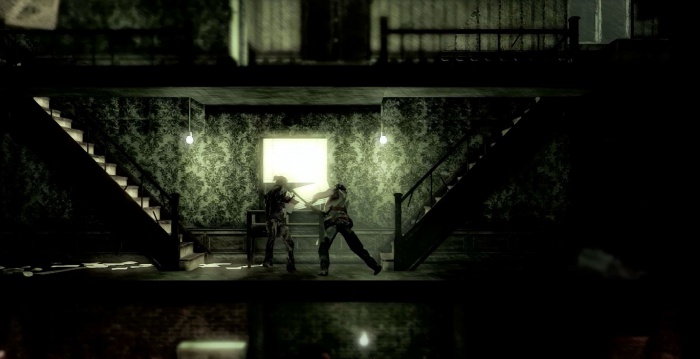 Then developers published big update that allowed to "create" your own circumstances: characters, maps, duration of war, severity of desperation in town. Why inverted commas? Because, IMHO, those changes were far from good.
Character setting is limited by choosing photo (one of stock - for some reason people there don't match the game atmosphere at all - or your own), model (and you see that 5 or 10 photos in stock belong to the same quantity of models, so if you will attach another photo to the model - you'll feel wrong because you'll remember all the time real photo of this model), and some personal background which influences which one of such useless abilities the character will have. That's it. They all have the same medium-sized backpack (its differences between original characters are one of balancing basics of the game), none of them has any harmful habits (again, original characters do, and it's kinda challenge to get coffee of cigarettes for them to consume), also they don't have any stories to allow you to feel involved. So the characters that you can create are empty, unbalanced and not interesting.
Same goes to the rest of changes: yes, you can decide before the start which locations will be in the game, but what fun does it make? One of the main challenges of the game is a mystery: which locations will be there on the new game, what will they contain, whom you will meet. When you know all of that from the beginning, you don't feel any interest.
So after all, devs' try to add some variety to game experience for me finally made the game feel like profanation.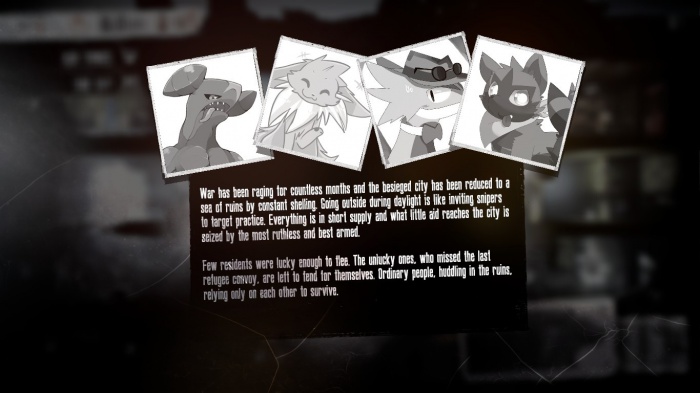 I feel sad when I write those words about this beautiful game… It really has a huge potential. Lots of feature requests were suggested by me and other fans (one of them, for instance, is about paid DLC which would increase game harshness in all aspects), but the devs left those messages unanswered.
I think that the only way to save the game is to develop a modkit and to open Steam Workshop. Then game fans will improve it in any way they like. Just look at Banished: the author gave up on game long time ago, but before he did - he invented modkit. And now the game keeps living its life, thanks to BlackLiquid team and other fans who make it completely awesome. Ot look at Don't Starve, which you just can't imagine without mods; or Fallout: New Vegas - i have installed like 100 of mods even before the first start because they are all so awesome.
Believing in better things, I have started a petition to develop modkit for This War of Mine. And here I am asking you folks to support my cause by signing the petition. I am truly thankful to ShockPuppet for giving me a permission to do that.
This will take like 20 seconds of yours but it can really help, for sake of all worldwide gamedev.
Shall we not allow a brilliant game sink in an ocean of unfixed bugs and unimplemented features!