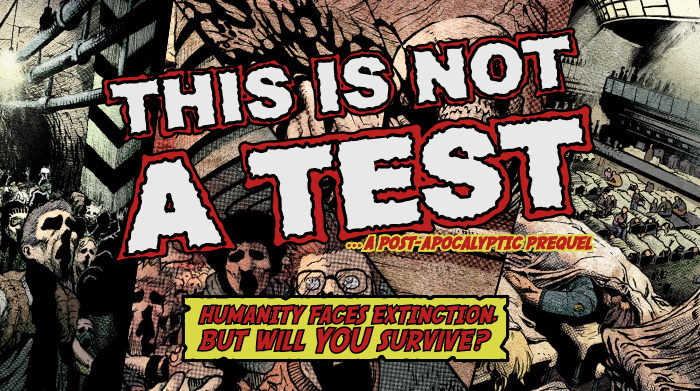 Android: Here We Are
It's official. This Is Not a Test was just released for free on Android via Google Play! After three months of development, I re-coded the game from the ground up to bring it to a new section gamers. Check it out on the Play Store and see for yourself!

New Features (Android Only For Now)
Okay, so it's not entirely the same. The Android version includes:
In-game achievement tracking so you know how many endings you've hit!
New sliding transitions and load screens (thank you CSS3!)
A new share button in the transmissions menu!
A merch section linked from the main menu!
The New Direction With PhoneGap
How did I bring the game to an entirely new platform in three months? Being especially familiar with web development, I made the decision to recode the game entirely in HTML5 (html, css, and javascript), and, using Phonegap, deploy to new markets (and maybe redeploy to iOS). Here is why:
Developing in HTML5 would be much faster
Developing in HTML5 would let me manage a single code base for multiple platforms
Developing in HTML5 would let me target Android, iOS, Amazon, Blackberry, and even Web
Phones are getting faster. Phonegap runs like butter on new devices!
My game isn't processor heavy and uses static images, perfect for a Phonegap application.
All said and done, under the hood the new TINAT is an example of modern web technology wrapped up and deployed as a mobile application. It won't be long before you see the game on new platforms, and even running on the regular-old-internet.