Hey peeps,
its been a while since this mod has had an update that is because alot is happening on the intern side.
We are setting up a rig of servers wich will result in a network of worlds.
Meanwhile we are pushing the mappers off their lazy asses to go do some work!
(we need mappers! click here to apply!)
so alot on intern side is happening etc and im working on the weapons to get them ready etc. soon there will be new screenshots of the Barrett M82, yes, the .50 cal!
it will have a biped, and the plan is , that you carry it until you go prone, while prone you can expand the biped and blow them away.
this was it! any questions?
Oh, and btw, release will happen when its done ;) We will not let the mod die, whatever happens.
we are worknig on this for almost 3 years now, we started from scratch without any knowledge.
powah to teh ppl dat help/have helped us!
For more frequent news, check Stargateunreal.com!!!
And an exclusive get:
sgu Wallpaper!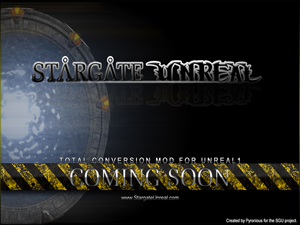 800x600
1024x768
1280x1024
1440x900
1600x1200