Greetings Captain! It's now October so here's the update on the status of the v2 update of the game. It's early in the month so I'm having to anticipate the timing of a few things..
Work Complete / New Features:
I've tweaked a lot of stuff in the game, there is a lot of balancing that needs perfecting but as of now it's a lot better in comparison to the v1 game.
The game is still being tested by certain individuals and I am working on the various feedback I get where possible, the latest build released privately was the v2.2 which included the addition of the special enemy variants and a lot of the features I mentioned in the September Update.
Facility Survival (Survival Mode) is also now complete. It's a 25 floor simulation that focuses purely on the combat side of the game. It took me a lot of effort to beat it, it's not easy. Originally you could only save every 5 floors but I now have the option to save at the end of each floor to help counter the sometimes random punishment the game deals out. This has been the BULK of my workload last month. It took longer than expected but I enjoy the new survival mode compared to the old one. It also features a level based on US Outpost #31 with all 12 characters from the movie lovingly redesigned by Jose.
Enemy Art/Battle Graphics are all complete thanks to Jose and we have moved on to designing new battle background art assets for the ship story. His style is different to Shinn's and I've had more budget to use this time around for more "realistic" backgrounds.
4 New Title Screens have been created for the game.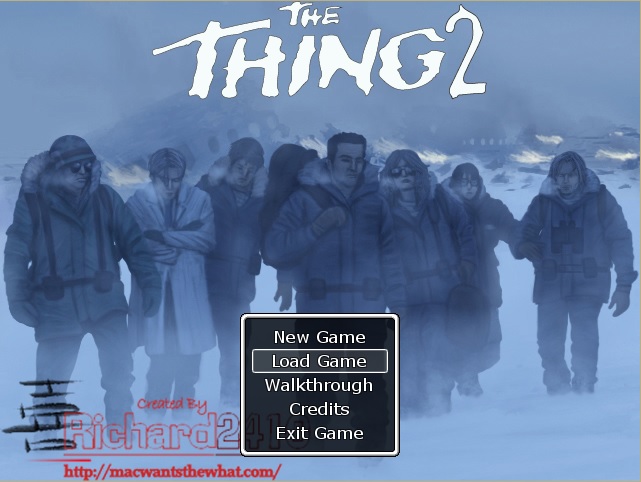 Title Screen 7 of 9, Blake leads his motley crew away from the crashsite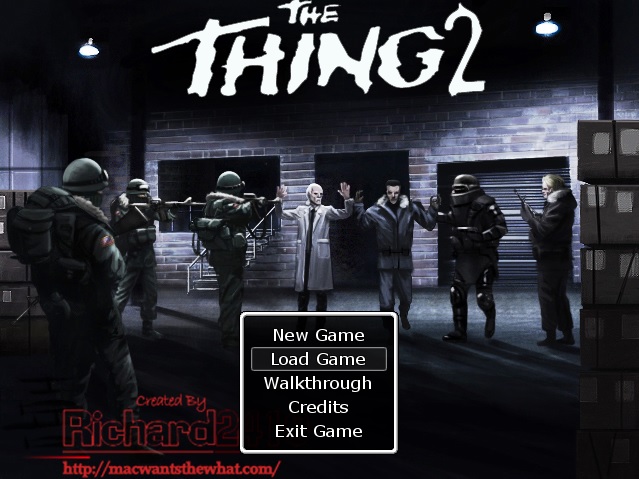 Title Screen 8 of 9, Blake and Faraday's Bogus Adventure featuring old man Whitley
Work to Do / In Progress:
As for me I just have testing and tweaking to do really. The only real work left is MacReady's Story but that's not going to be too time consuming. What will take up a lot of my time is editing the audio from the voice actors...
In terms of Voice Acting I'm still trying to fill 2 more roles and am awaiting work to be sent in for 12 characters. It's dragging out a lot and I hoped it would of been done by now, I dislike micromanaging and chasing people up but I'll keep on it. Due to time constrictions I have decided not to pursue voice acting for MacReady's style but will retain the art direction I wanted.
For Artwork Jose is currently creating backgrounds for me, after this I am going to get him to fix and update some of the game sprites (I've added new characters/changes since he last did it) and then he needs to create sprites, graphics and artwork for Mac's story as well as voice one of the characters for me.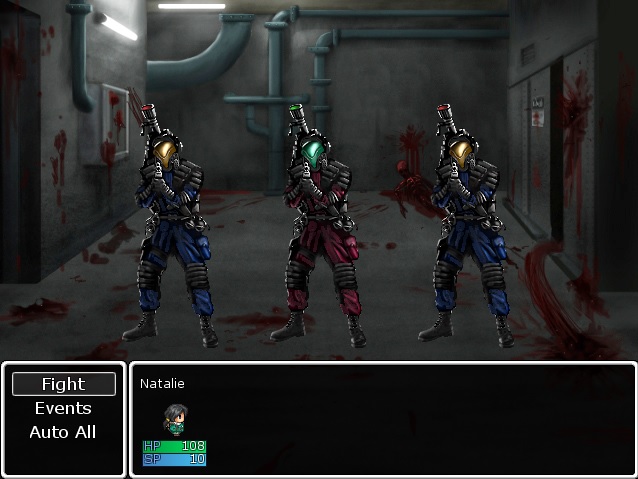 Jose's more realistic background style/approach for Prequel Mode.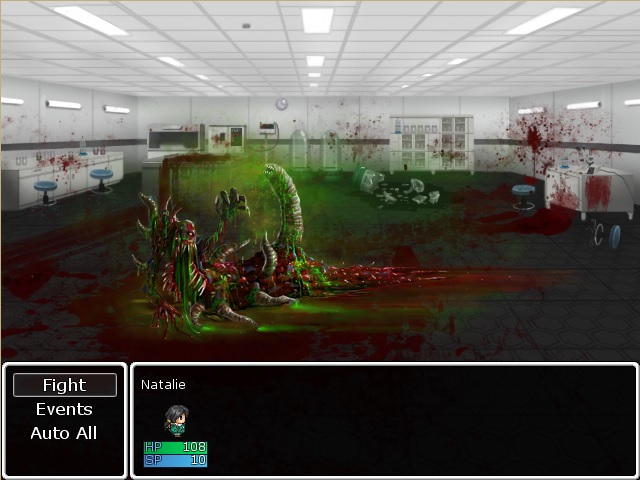 Outbreak!
Release Date and other information
I want to get video footage for the v2 uploaded asap but with missing art assets and VA work it's selling the game a bit short. As for release I've said November a few times and I want to deliver on that but I'm very pessimistic about work that is outside of my control such as the Voice Acting. I also want to deliver a good experience, overall its so much better than the v1 in terms of efficiency and extra content. I'll do my best to get the voice acting finished up this month, edited and in the game but I don't want to rush Jose. So I'm going to say November but don't hold me to that :)
On a side note there's a lot of RPG Maker Games featuring on steam lately (most are very expensive) but I was wondering how much interest there would be if this game was released on steam (It would still be FREE) or do people just prefer to get it via ModDB and mediafire?
Thanks,
Richard