The two big features in v1.1 are tutorials and highscore boards.
The tutorials are intended to be optional side battles that specifically address questions I often get asked about the combat system. My goal is for new players to still just jump right into the game and figure it out as they play, so I'm trying to the make the UI as capable of delivering that experience in game as possible. But mechanics of the game itself make it difficult to understand how certain abilities work. Since all abilities fire in a turn quickly one after the other, it can be hard to see why some of them work the way they do. The tutorial combats are simple puzzles that focus on those problem areas so players can play them repeatedly until they feel comfortable with what's happening in them.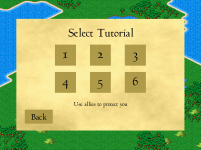 Next up are highscore boards. I've added local and global highscore boards to the game. The global highscore board will only store one result per name (your best result), but the local ones will store all your top ten scores. For the daily challenge, the global highscore board resets every day with the new challenge. My goal is for tutorials to provide something that makes the game a bit easier to get into for new players, and the highscore boards give experienced players an easier way to compete.There are also a ton of bug fixes as well as gameplay tweaks to the archetypes, some events, and the general pacing of the game in an attempt to make everything gel a bit better. For a complete list of changes, check out my website.