Welcome to our first news update!
I want to keep this short, because within the following weeks we are going to release a demo, and I'm sure it is more interesting to try it out than to read about it, so I'm just going to list the features and the amount of content you can expect in the final version.
Theatre of Doom is a local multiplayer/co-op third person action game where you fight against demonic puppets and/or the other player.
The player's weapons+abilities:
-Triple jump(it's a double jump plus one more jump:) )
-Scissor-sword, which can be used for melee attacks.
-Laser-gun-like weapon which holds 10 rounds of explosive bullets.
-The player can collect purple energy balls -which you can 'extract' from your attackers only by using your sword.The purple 'Spade' icon shows you how many you have collected; then you can use these to unleash powerful special attacks.(these special attacks aren't finalized yet, currently we have a homing-saw blade thing and a blast-wave thing which damages everything around you)
There are 12 different enemy types and 20 levels in the game.There will be probably more from both in the final version of the game.
Also you can 'mix' your own levels, by choosing the stage, the background the enemies etc. Here's an example of the same stage with different backgrounds: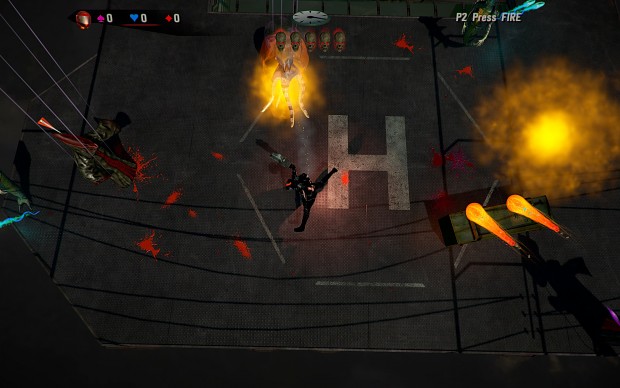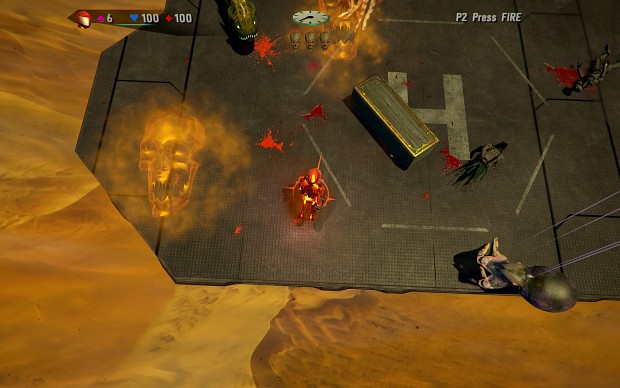 Changing the background isn't just a visual gimmick, it also changes some gameplay rules (more on this later)
Thank you for checking out this news update!