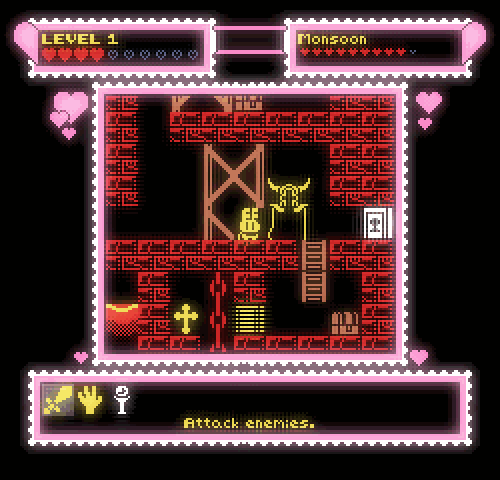 Binary Love
A lot of people tend to shrug off artwork in lo-fi formats on principle. Some people don't think very much when they see something woven together with a retro aesthetic, and choose to shrug it off as low effort; trying to give fanservice to a niche instead of trying to exhibit technical talent. Sometimes, that's true; but there exist the people who strive to impress with technical talent within those harsh limitations.
As retro enthusiasts here at Dopterra, that's exactly what we aim to do.
While our smaller scale sprite work- the map representations and tiles that construct the world- is done pixel by pixel with a mouse, this is a method that can make it hard to capture the energy of traditional illustration. We are very careful and deliberate with the graphics in Creepy Castle, and I think no part of the game shows it better than the Duel portrait cut-ins and its animated cutscenes.
Many of these pieces of art start their life as a sketch, which has much more information to it than the finished piece will; the sketch is important so we know exactly how we want every line in the pixelled version to go.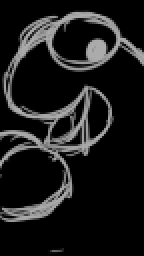 Once we have our concept sketched out, we'll go over the lines with single color, binary pixels. We are very particular with our pixel art and every curve is carefully and deliberately poured over. Personally, I'm a bit of a perfectionist, so getting the finalized lineart just perfect is something I'll spend a long time on.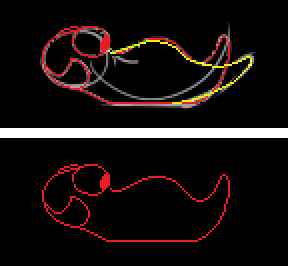 Once this step is finished, the next is to isolate the sketch from the lines. When that's done, there are usually some more corrections to be made to the linework before proceeding. After the finishing touches, it's time to decide how to color the piece- a part that can be tricky in and of itself when working in binary, depending on the character. Snaken here's not too complex, though!

In the end, the selected medium of art is quite inconsequential to the quality of its content. Just as a pencil drawing can be as much of a complete piece as an inked piece, the choice of a retro aesthetic in artwork shouldn't be an indicator of an attempt to do less work. Though some may use "retro" as an excuse to do less work, not everyone does. I hope everyone will appreciate the delicate work put into the pixels of Creepy Castle.
"[...] a 4-bit sledgehammer to the back of the head." ~Rock Paper Shotgun
The above may be the most incredibly awesome thing any press will ever write about my games, forever. The article is just full of amazing quotes, really. Thank you Ben Barrett (@ChaosSmurf)!
Zach
Back Creepy Castle on Kickstarter!
Vote for Creepy Castle on Greenlight!