Thanks to the information Thom gave us on prison jobs, I decided to expand the job system in Prisonscape and during this process it became a very important element in the game.
First of all, I REALLY recommend reading Thom's post over on RPGCodex.
It gives the basic information about how prison jobs are given and how much they pay.
The second area in Prisonscape, the Miranda maximum security unit, is the largest and longest area in the game. One of the main objectives in Miranda is getting a job. Jobs grant you (a little) money, but the most important benefit you get from having a job is access to specific areas in the game. Getting a job is not based on merit, but who you know and what you are ready to do for said job. You also have to be in good terms (reputation) with people who give out these jobs.

These guys worked too hard.
Let's look at two examples:
#1 The player has arrived to Miranda and he needs to find a job that gives him access to the commissary. The work pays very little, but working in the commissary has several benefits - all commissary items are discounted, and there's a chance to get unique items (commissary workers can buy unique/new items before anyone else), for example food items (+ health), hygiene products (great for trading), healing lotions and rubs (+health), electronics (+crafting ingredients, great for trading), etc.
The commissary is under control of the Mexican Mafia, and their leader, or 'shock collar' is responsible for giving out this job. There's also a prison staff worker who can give out this job regardless of the Mafia's opinion. The player could for example beat up and extort some of the current workers to get this job (combat-oriented method), be in good terms with either staff or the gang (reputation oriented) or bribing (trading oriented).
#2 The player needs access to the workshop so that he can steal some items for weapon crafting. Workshop is organized by Nuestra Familia, who are very dominant gang who often resort to violence. This gang has a very deep hate for other gangs in the prison system (especially Mexican Mafia), so the only ways to get the job is to bribe the staff worker (which makes you very vulnerable for attacks from the Familia) or overthrowing the Familia from the workshop (sabotage, "accidents", beating up people).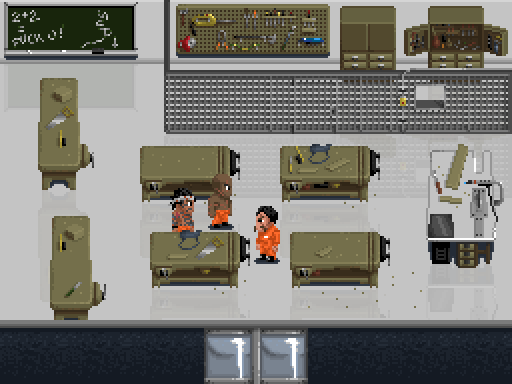 The Familia does not mess around.
These are more complex examples of prison jobs, some of them are easier to acquire and give you smaller benefits. But the general idea with all prison jobs is the same - gaining access to new areas, more powerful items and important NPC's.