Saddle up, varmint! Friendship Club's first major feature update is here! Get bar brawlin' in a totally destructible new arena "The Wonky Wagon", rootin'-tootin' in an updated "Quick Draw" Standoff mode, or, well, simply bear witness to all of the commotion from afar.
Rather than waffle on about how freakin' great it is, we've created a trailer, some GIFs, and revamped the Greenlight page. Please share this around, as for the next two weeks we'll be doing a big marketing push.
- Ashley, Nick, Tom & Sophie

New Trailer:


New Screenshots/GIFs:

Destructible terrain in The Wonky Wagon.


Procedural level generation for The Wonky Wagon. We'll be doing a more in-depth post on how this arena is put together soon.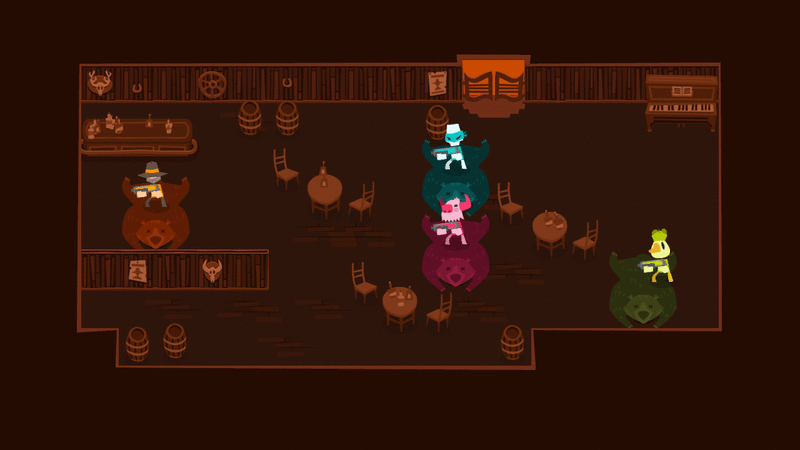 Still screenshot of Bullet Hell. Perfect for a bar brawl!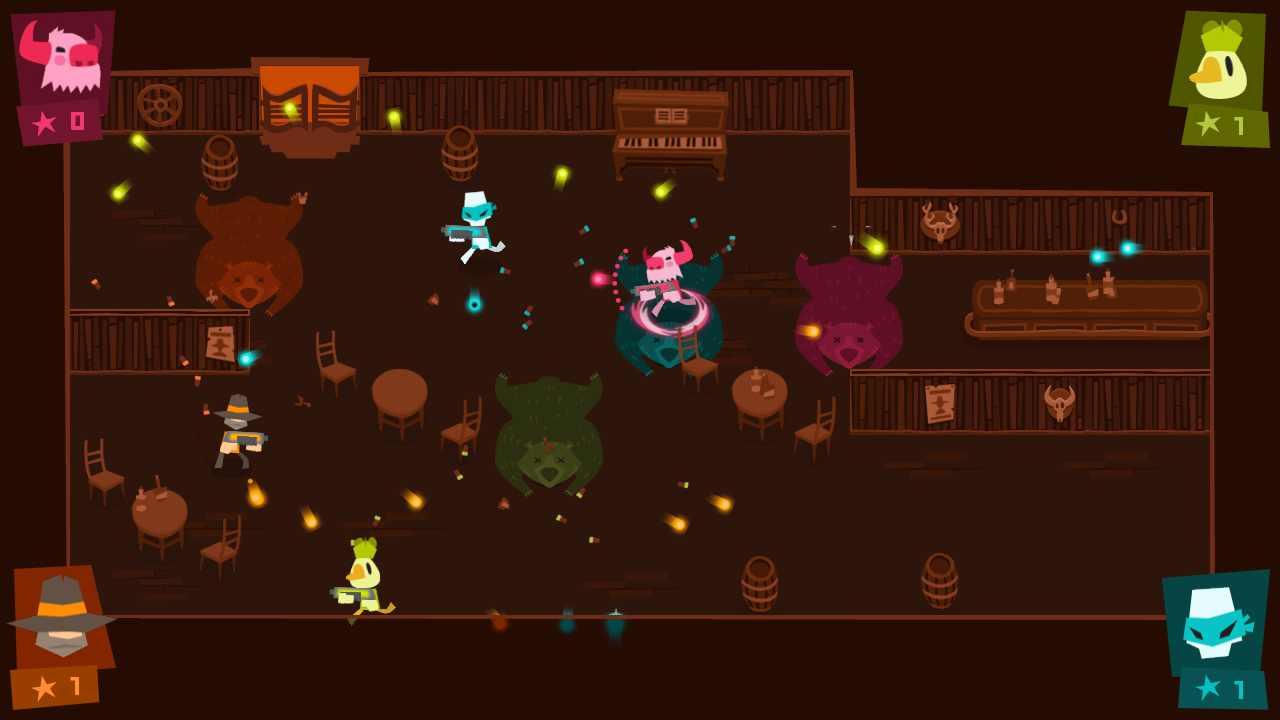 Still screenshot of new QUICK DRAW standoff mode. Some idiot (Nick) misfires their gun!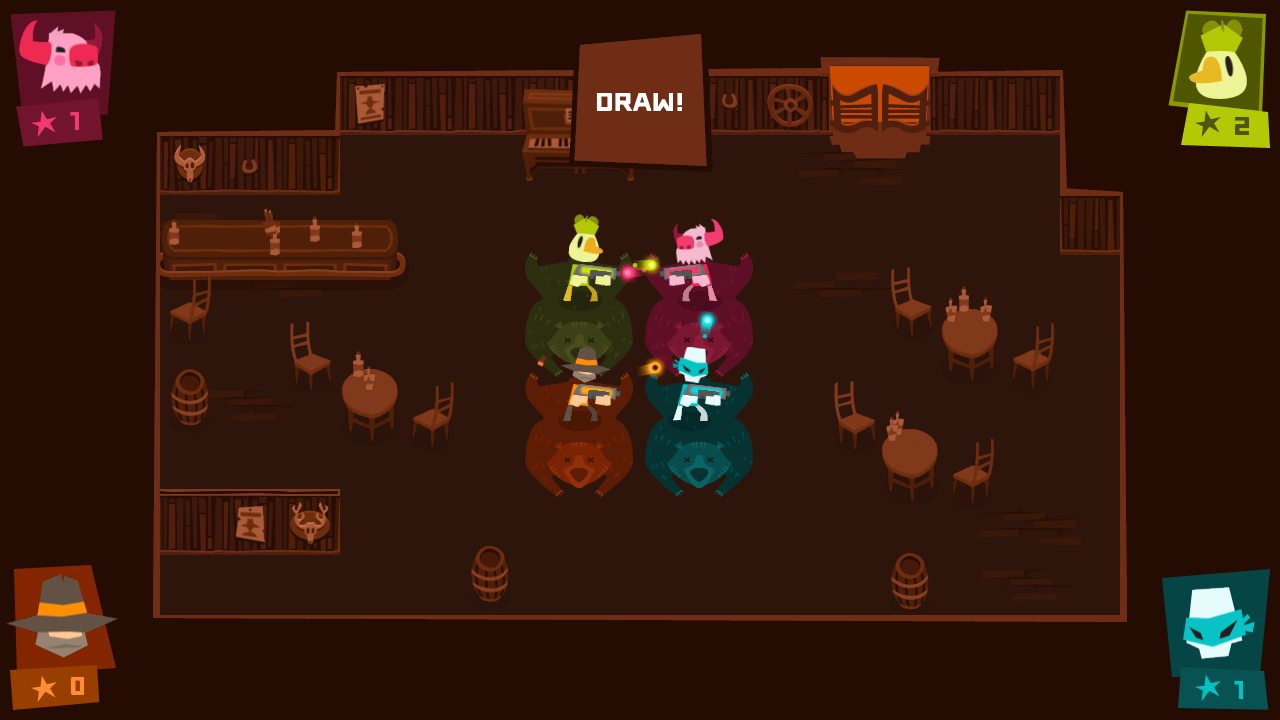 For completeness, here's a GIF of procedural generation in Timmy's Bedroom.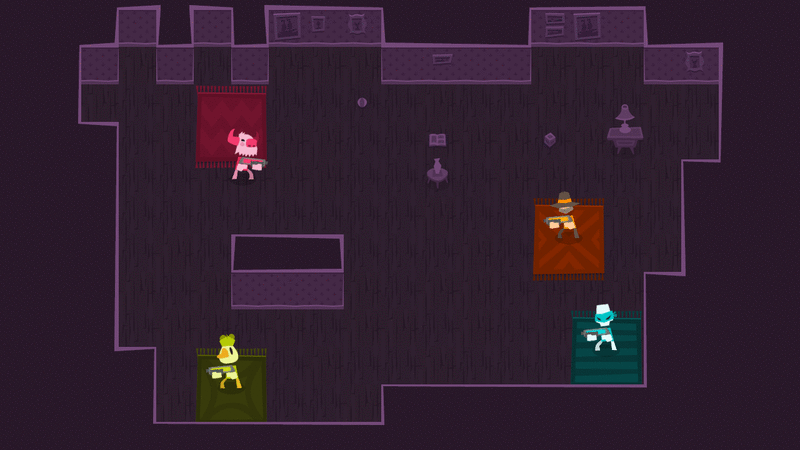 You can be playing this already if you have $8 USD / ~£5 GBP to spare...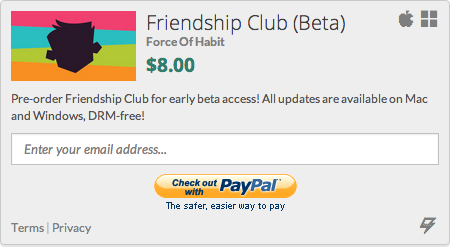 The full release notes / changes for this build are as follows:
14th July - 25th July
--- THE WONKY WAGON ---
ART
Base tileset
Destructible walls (23 sprites in total, which break into 13 gib pieces!)
Wall objects (5 objects, which break into 20 gib pieces!)
Other objects. Tables, chairs, bottles. (9 objects, which break into 34 gib pieces!)
Piano!
Batwing doors.
Brown bullet shell casings.
Bearskin rugs and "pop" created in Spine so they're SUPER SMOOTH!
CODE
Procedural generation ruleset.
Tweaks to procedural generation ruleset.
MORE tweaks to procedural generatio ruleset. (It's still not perfect, but we'll adjust it over time.)
Saloon doors required overhaul to shonky wall / edge rendering.
Destructible walls implemented.
All of the art objects implemented with the SO MANY gib pieces.
QUICK DRAW standoff mode.
SFX
Quick Draw standoff mode timer countdown, and gun jamming.
All of the art objects needed SFX for when they are SMASHED!
Menu SFX
New Music for The Wonky Wagon.
BUG FIXES / OTHER BITS
Instructions screen now includes mention of charging the gun on rugs.
Updated menu screen with game mode descriptions.
Windows build will now run on PCs with OpenGL 3.1 (previously required 3.2).
MISC
We went to MULTICLASH!
We went to Wales Games Development Show! (and had to type up the mailing list).
We made a poster for BVGS #3.
The FREAKIN' AWESOME trailer!
Other bits noted are specific tweaks to the procedural level generated, which needn't really be listed here.
WHEW! Well that's everything for another few weeks. Please follow this IndieDB page for future devlog updates, and if you like us even more than that, follow us on Twitter and Facebook.
Tally ho now!