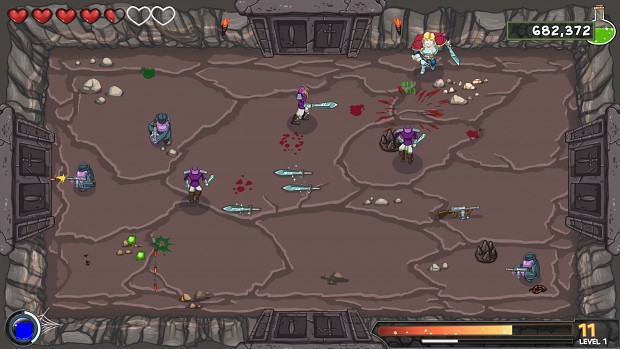 What is a Weaponographist, anyway?
Puuba has begun work on a new PC game called The Weaponographist, to be published by Mastertronic.
The Weaponographist tells the story of legendary demon hunter Doug McGrave, who wanders close to a demon-infested village and becomes cursed to remain there until he can remove the demonic presence. The curse causes Doug's experience level to constantly drain away unless he is actively killing demons, and it causes his weapons to shatter after a few uses. Luckily, demons leave behind many varieties of weapon when they are vanquished, for the player to pick up. I fact, doing so is the only way to survive.
The game is a roguelike top-down dungeon-crawler composed of randomly generated arena rooms filled with demons that the player must defeat in order to progress. Upon defeat, or at whim, the player can return to the town of Hellside to shop for upgrades that can gradually diminish the effects of the curse, and engage in odd and humorous dialogue with the local merchants.
As with Puuba's first game, Concursion, The Weaponographist has a video blog, where Danny Garfield showcases various aspects of the indie game development process.

The Weaponographist - DevLog
The Weaponographist is currently in development, and is expected to release by Summer of 2015.