Okay, I promised an update on the last cryptic message.


Beyond the Wall:
In 5.1, players will be able to go beyond the Wall, but as part of an epic quest chain that will see them visiting not only iconic locations but also participate in the Great Ranging that ended at the Fist of the First Men. This will be the first part of a quest chain that will, amongst others, also include a change of leadership for the Night's Watch, an assault on the Wall and the death of many lords.
Performance:
As for the update itself, I have been mainly focusing on optimizing the modification, by removing a lot of unused resources and making the .brf files less cumbersome. This should improve performance dramatically for those who often run out of memory.
Capitals:
As soon as the new questline (at the moment called "Beyond the Wall") is done, I'll focus on a different aspect - making the capital cities more important, both for the player and the actual factions. The first step to this is making the merchant opportunities more important to the player, and to that effect, many of the capital cities (and larger castles) will have special places where you can buy armor meant for only the wealthiest lords.
As a preview, in King's Landing, you'll be able to visit the shop of Tobho Mott: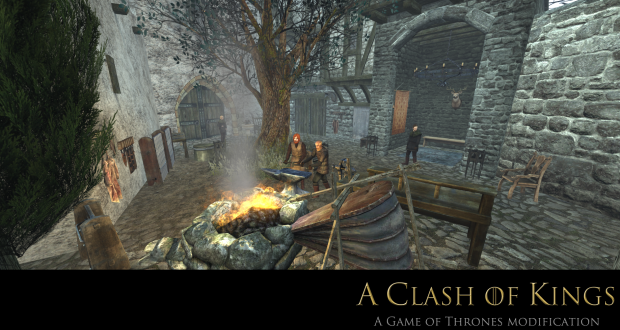 More importantly, however, is the fact that I am finally including something that a lot of people has asked for.
I'll leave this hint here: