I have chosen to use the faction "Varden" to represent all humans fighting against Galbatorix. This means that the Varden only have human units (except the Nighthawks): no Dwarf or Urgal can be normally recruited. This said, three human "countries" fight Galbatorix: the Varden, Surda and the Wandering Tribes. I have tried to recreate the evolution of the human rebellion throgh the tpe of units from each faction:
=>the Varden themselves are the basis of the army with basic infantry (soldiers, archers and spearmen) that can be recruited from the Varden training Camp: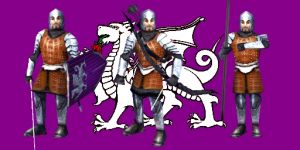 Varden Soldier, Archer and Searman.
In the Varden Training Camp can also be recruited the Nighthawks, the Varden Mini-hero.
The last type of unit belonging to the Varden is the Du Vrangr Gata member, the magic user of the faction.
=>Surda controls all cavalry units of the faction with riders and horse archers.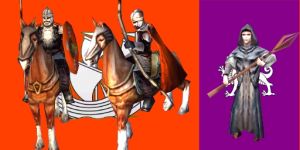 Surdan Rider and Horse Archer and Du Vrangr Gata Member.
=>The Wandering Tribes control all elite unites of the faction, representing their late arrival.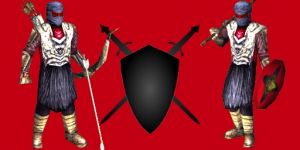 Southern Hunter and Sentry
All those units are finished and coded ingame except the Du vrangr Gata member as I don't know what powers to give him. So if you have any ideas, please suggest.