Last time there was talking about fog. Since then there pretty much has happened, however most of that being almost invisible polishment. The character physics have been finetuned and tweaked for better (smoother) response. Overally almost everything works now a lot more smoothly.
After I got some ideas for the singleplayer I couldn't keep from testing them.
At the moment most singleplayer game mechanics are implemented. About the story I can say it's going to be pretty ambiguous yet immersive.
It could be that there is only one human character in the whole singleplayer.
The singleplayer is going to heavily puzzle based, taking mostly place indoors. Atmosphere is one of my most important goals and relating to that most environments are going to be very lightly lit or totally dark. More about the puzzles later. A video is coming..
A surprise about the game's performance, it currently runs on my computer about twice as fast as Braid. That's pretty interesting as The Swapper features dynamic soft shadows and stuff like that. To be even more surprising it's made using Game Maker, which is known to be a performance eater. I think it's got something to do with the resolution of the graphics.
Then little concept drawing done using Colors on Nintendo DS. I love that app.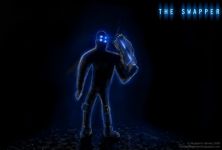 About that character, it's going to be only in the multiplayer. For the singleplayer I think about something a bit less "ninja". Do you think a horror game would be more immersive if the main character was more a regular sort of a guy (or girl)?
Last evening I got a weird idea. Most games featuring some sort of challenges feature also different game difficulty options or unlockable difficulty levels. What if the difficulty was also taken into account in the story? No, I'm not serious. Personally I think story is something that should not be mixed up with gameplay difficulty. In the best case it's embedded into the game so well that one hardly can differ it as a part different from the game itself. But it's still a weird idea, that one could unlock more in depth storylines by playing through the game.
P.S: Now I got to go. I'm going to travel abroad for about one week, so there might be some delay in replying. I'm not really sure if I even can use a computer during that time. Hoping there's a wlan somehere. Mobile surfing FTW!