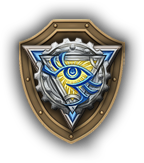 There are six unique magical aspects in Spellweaver TCG, each represented by a faction. We decided to enlighten the public more about our fantasy world, by creating a series of artwork videos and slipping some info.
Behold before the power of Wisdom!
Union of the Free Magi
For centuries, magic users who wanted to concentrate on their studies and pursue higher magical skills went into exile on the Isle of Enlightment. They were attracted by the Astral Flux, a mystical phenomenon that brings magical energy and scattered pieces of arcane knowledge into the world. Led by their common goals and values, the Magi soon formed a formal union. The democratic and sublime Union of the Free Magi was born. Devoted to unraveling the mysteries of the universe, the Union focused all its efforts on magical, scientific, and technical research. The Magi rely mostly on the might of their spells and advanced devices. They continue seeking the secret meaning of all things, while safeguarding their precious books and manuscripts from evil or wrongful intentions.
Geographical Region: Isle of Enlightment
Capital: Arcadia
Creature Types: Humans, Gnomes, Djinns, Mechanical Creatures, Magical Spirits, etc.
To read more about the Union visit Spellweaver-tcg.com
Have fun!