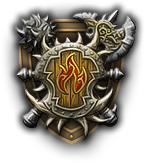 There are six unique magical aspects in Spellweaver TCG, each represented by a faction. We decided to enlighten the public more about our fantasy world, by creating a series of artwork videos and slipping some info.
There can`t be a fantasy world without orcs, goblins and dragons. And of course dragonborn fire mages... See the burning power of Rage!
The Skra Horde
Believing life to be an endless battle, the Skra Horde leads its champions and armies in a never-ending war campaign. Driven by rage, raw strength and true lust for destruction, they have only one desire – to war, only one goal – to conquer, only one law – one is to obey and follow those who are strongest.
Among the Skra dragons, and their human heirs have a god-like status and are followed without question. For countless generations no Skra creature has prevailed in battle against them. Nonetheless, the members of the Horde always had a multitude of pagan gods and prophets to worship.
Geographical Region: The Scorched Mountains
Capital: The Qaran Fortress
Creature Types: Dragonborn Humans, Orcs, Goblins, Trolls, Reptilians, Dragons
More Rage info at our website - Spellweaver-tcg.com
Cheers!