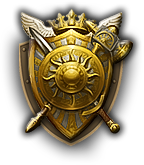 There are six unique magical aspects in Spellweaver TCG, each represented by a faction. We decided to enlighten the public more about our fantasy world, by creating a series of artwork videos and slipping some info.
First on the line is the Order aspect!
The Ivian Theocracy
The Ivian Theocracy is the fortress of Heaven in the lands of Asperia. Ivians are holy and faithful people with an unmatched desire to perform noble deeds. The angels of the Divine Order themselves descend from their distant realm into the Plains of Divinity, giving guidance to Ivians in their never-ending quest to bring light and order into the world. Their task has never been heavier than now.'
With so much justice waiting to be delivered, Ivia has to sustain an extremely large army. It succeeds by maintaining strict discipline and firm faith. Led by the Holy Amendment and the Knights Circle, the soldiers of Ivia are always ready to stand against the forces of evil.
Geographical Region: Plains of Divinity
Capital: Ivia
Creature Types: Humans, Dwarves, Angels, Griffins, Trained Animals, etc.
For more details about the Ivian Points of Interest and Hierarchy visit Spellweaver-tcg.com
Cheers!