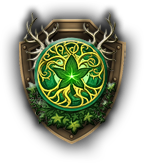 There are six unique magical aspects in Spellweaver TCG, each represented by a faction. We decided to enlighten the public more about our fantasy world, by creating a series of artwork videos and slipping some info.
The force of Nature is something to be reckoned with!
The Elvari Alliance
Once, when pristine forests covered most of the land, the inhabitants of the woods were many and strong. The prosperous society of elves, fairies, sentient plants, and beasts achieved unmatched heights of enlightenment and lived in complete balance with the world and each other. Every living thing, no matter big or small, strong or weak, had a respected place in the divine cycle of life. Unfortunately, after evil swept over the lands of Asperia, the peace was broken and Elvari numbers quickly diminished in the never-ending battles for survival. Now, outnumbered, the last of their kind struggle to keep their shrinking domains from being corrupted and do whatever it takes to prevent the destruction of what they think is the most precious of things – Nature.
Geographical Region: Everlast Forests
Capital: Great Oakendom
Creature Types: Elves, Fairies, Treants, Beasts, Forest Creatures
To read more about the Alliance visit Spellweaver-tcg.com
Cheers!