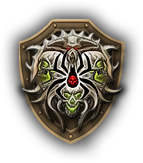 There are six unique magical aspects in Spellweaver TCG, each represented by a faction. We decided to enlighten the public more about our fantasy world, by creating a series of artwork videos and slipping some info.
It's Halloween! So it's a proper time to introduce you to the more "evil" side of Spellweaver TCG. Better run for your lives - the demons of Corruption are coming for you!
The Dark Legions
As much as the angels of the Divine Order represent ultimate good, the demons of Corruption represent ultimate evil. The demons are not native to Asperia – they emerge in the lands from a tremendous pit known as the Abyss, spawning from numerous portals inside. Their master is the evil mastermind known as the Lord of Corruption. He leads his minion armies only to bring chaos and death upon all. According to a famous conspiracy theory, the Lord of Corruption is actually just an agent of a higher power – the Primal Gods of Corruption. Has he really been sent to Asperia with the sole mission to pave the road for them?
Geographical Region: Wastelands of Sorrow
Capital: n/a
Creature Types: Demons, Undead, Dark Spirits, Corrupted Humans, Monstrosities
Learn more about the evil power of Corruption at Spellweaver-tcg.com
Happy Halloween guys!