I've decided that it would really bring a plus to the game if I include some pickups. These are the so called power-ups that grant you powers beyond your wildest imagination. Well not exactly, but they certainly make things a lot more interesting.
So after some time of thinking I've came to the conclusion that there is no need for more than 6 power-ups. If I was to include more they would have only been the variation of these. I'm trying to keep the game simple. In the future the levels will have a more appropriate difficulty curve but for now I focus on other aspects.
So here are the 6 power-ups I came up whit. They are nicely presented on this JPEG image.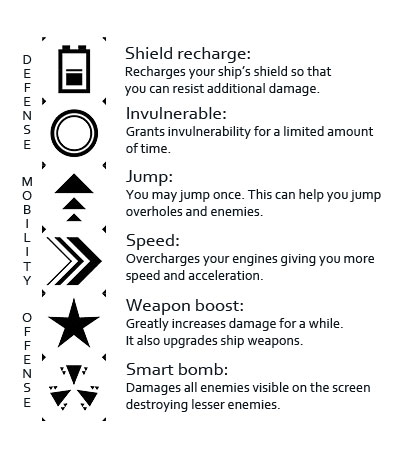 These are the actual icons that will be used in-game.
So shortly they are Shield recharge, Invulnerable, Jump, Speed, Weapon boost ans Smart bomb.
• The shield recharge is like a med-kit from first person shooter games.
• Jump will be smarter than you think.
• The upgrades from weapon boost are small and you loose them when your ship gets destroyed. These upgrades don't make a difference unless you get lots of these.
Using them is simple. You pick them up, you use them by pressing a button. Each one of them has a temporary effect and some of them more permanent effects. You will need to use these at the right moment or whenever you feel like it.
So to keep things nice and simple again you will have something called a pickup stack. When you pick up one of these you store it, it doesn't get instantly used. You may be able to carry about 10. By pressing a button you will use the one you picked up most recently. This may sound a bit complicated but it's really simple actually. This way you only need 1 button to press and you can always store some power-ups you might need later on.
For example you pick up 3 Shield rechargers. You don't need all 3 of them but you'll definitely need them later on. Now you can pick up anything else and use them, when your shields are running low again you just have to activate all the power-ups after the shield chargers so that you can activate them.
Yes, now let's hope I'll implement this soon.
For all this to work I first need to build a brand new hud with some new fonts. Terminal whit 6 pixels size is starting to get boring.