The Asen might not have modern radar and communicationtechnology, like their opponents, but for this they have their shrines.
These structures need a bit more space, as their counterparts, and they are made of massive stone, which the Asen brought from Asgard. There are crystals hanging on chains to catch athmospheric vibrations, caused by the activity on the battle field, and store them within their subatomic structure. Those information can be read by the heart of this construct, the Seeress.
A Seeress is a sybil, one of the asenraces that has less muscle power, but instead of muscles she has some psychic abilities. With her tentacles she can take a look at the stored data of the crystals to send them to the local commander. Those commanders in turn can suit their tactics to the circumstances of the battle field. This means that they can advance with their troops, placing ambushes or planing and commanding tactical retreats. All by telepathic communication.
To put it simple, the shrines work almost like a modern radar system, which enables the radar ingame and unlocks T2-units. Further more you can recognize on this building which one of five Asen-generals the player has chosen because every general has its indivual shrine(s). The choice of general doesn't affect the shrine visual only, but the gameplay as well. Besides you can guess on its look (screenshots), which style of combat each general could have. You will get more details to the shrines in the general profiles in time. ;)
Info: The effects and animations you can see on the screenshots are not final!
The Seeress sitting in the shrine: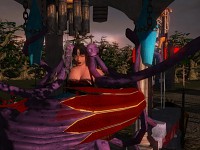 From left to right: Shrine of Asgard, Shrine of Fire, Shrine of Ice, Shrine of Shadows, Shrine of War and the Shrine of Woodland.