One of the main reasons why humans were placed on Earth in the Wyrmsun universe, rather than together with fictional races in another world, was to allow the inclusion of historical civilizations in the game, which could then be pitted against fictional ones in custom games. The Germanic civilization in the game encompasses both the specific group of Indo-Europeans who migrated to Scandinavia and eventually originated Germanic culture, as well as the people who spoke Proto-Germanic themselves, before it split up into different languages. Their campaign will have a semi-historical storyline which conflates the history of the Indo-European migration to Scandinavia with the Norse legends that depict how Odin's people arrived in that region, both of which have very similar routes. Here is a screenshot from the first scenario of the Germanic campaign:
The Germanic units and buildings are largely based on the archaeological findings of the Nordic Bronze Age. Strictly speaking, when Indo-European-speakers settled Scandinavia, they were still in the late stone age, and only their successors would develop bronze age technologies. However, to make the Germanics seem more on par with the rest of the civilizations technologically, basing their units on the bronze age period felt as the more appropriate choice.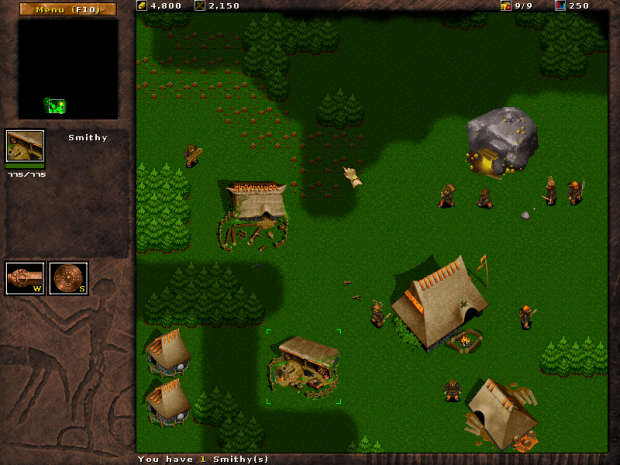 With the inclusion of the Germanic civilization, Earth can now also be played on Grand Strategy mode: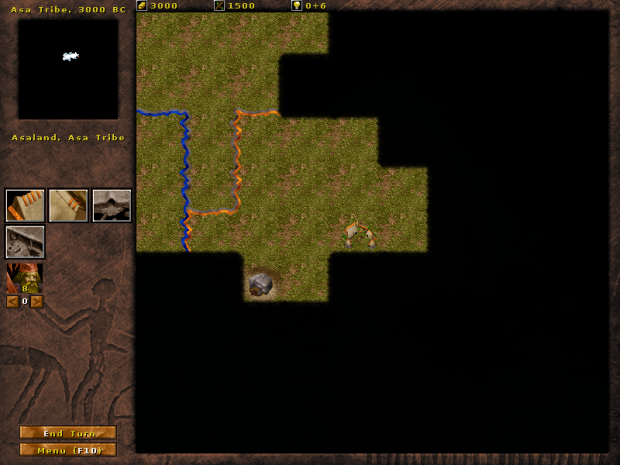 The Settlement of Scandinavia campaign can also be played on this mode via events (the same was done for the dwarven campaign, which is available when playing the mode after choosing Nidavellir). Besides playing the grand strategy mode on Earth or Nidavellir, the player can now choose to generate a random world map. Another novelty for the mode is that acquiring technologies now requires not only physical resources, but also "Research" points. How much Research you will receive per turn depends on how advanced your "average" province is, so to obtain the maximum of +10 Research per turn, you need to have a town hall, a lumber mill and a smithy on every province. Each province now has a "culture" assigned to it, meaning that if a dwarven player conquers a province populated by goblins, that player will now be able to recruit goblin units there instead of dwarven ones. There has also been a significant change to trade, in that each province now demands 50 Lumber per turn: while the market of a province is available to factions other than its owner, the province will prioritize its own faction, buying from it first. Heroes now also appear in grand strategy mode, and can be moved around and attack enemy provinces in a manner similar to other units.
Units now have more individual characteristics, such as personal names and traits. The latter can be both positive (like Strong, which gives +1 damage) or negative (such as Near-Sighted, which reduces sight by 1). Traits are randomly assigned (except for heroes, who always have the same trait), and a lucky player can events get the Mighty trait, which enhances damage by 2!
Towers have been modified to work a bit differently. Now instead of shooting automatically, they can be garrisoned with units, with ranged ones being able to shoot from the tower. Sentry towers (which previously couldn't shoot) can hold one organic unit, while guard towers can hold two.
And finally, in the single game player setup, a "Random" world can be chosen, which has random maps mixing the civilizations from the different worlds, allowing dwarves to be played versus germanics. There is also a random dungeon, in which a random hero gets selected for you to play against random creatures. You may even find a captive skilled swordsman in the dungeon, who will grant you an experience boost: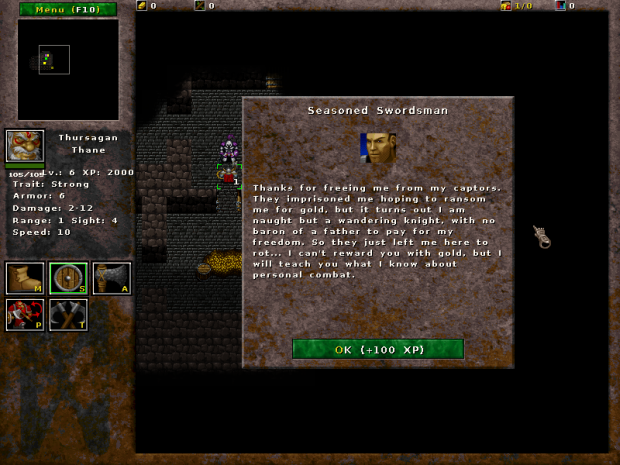 I hope you will enjoy this new version of the game!