I'm diving deep in the sea of quests.
It's silent work.
Now I surface to say a few words and post a few screenies - and then dive back in.

Quests of UnReal World aren't easy to pinpoint, and I don't even try to. Instead, here comes today's stream of quest coder's consciousness.

I'd be happy to launch the next version with only a dozen of bigger quests and a fistful of lesser ones. Quality over quantity. And more importantly, procedural generation and replayability over fixed linear quests. The folklore from which we draw inspiration, twists and even concrete plots is overwhelmingly rich. I've got more than 50 quest drafts plots lying on my work desk, but if we stick to our plan to release a new version this year majority of those need to be left on the work desk for the future. Around ten of bigger quests are already completely written, coded and playable.

Quests of UnReal World are going to be quite rich in dialogue. It's often easily around 1000-1500 words of dialogue to unfold between the player character and the main quest character. For this reason alone, it's quite laborous. But with quest we're not into taking the easiest path. Player's dialogue choices determine what kind of information is obtained, and you don't always necessarily get to know all the details or tidbits. We try avoid gamey quest dialogue routine that forces the conversation through the same old fixed route. And sometimes you may learn seemingly trivial things about the UnReal World in general within the quest dialogue.

Quests will fill in the game world and the worldview of the people (and the player?) to great extent. Period. But even with quests UnReal Will remain the same open-ended, free and non-linear experience as it stands now. The gameplay won't in the least turn into "go to a village, get a quest, find another village, get another quest" kind rumble. That's not our cup of tea.

The quest will bring in a lot, but the open-ended roaming and adventuring remains the essence. You are likely get involved in quests relatively rarely. Perhaps "only" twice month. Even if you we're an adventurer who's actively seeking for excitement you often find yourself more interested in growing more skilled or securing your own livelihood before rushing into solving the many unique things that may come in your way in the form quests.

Lastly, here we got three preview screenshots to showcase some dialogue sections of one particular quest. It's a mundane problem - but how about the outcome? You'll see then.

Splash.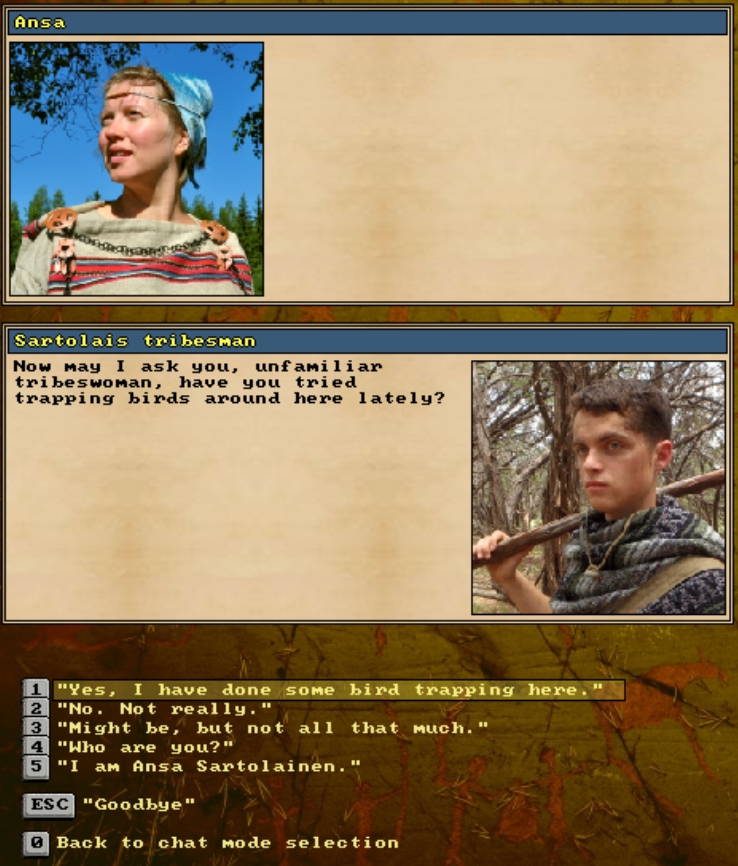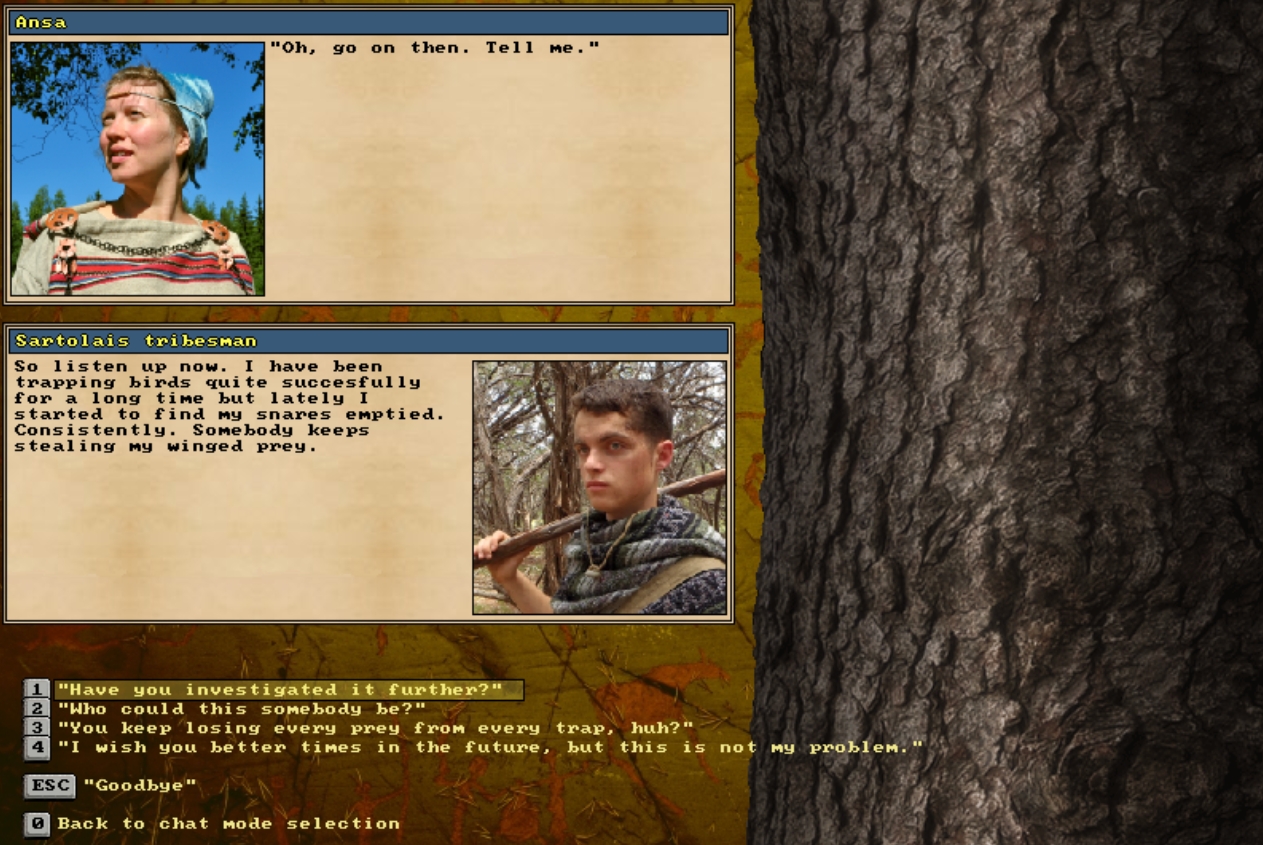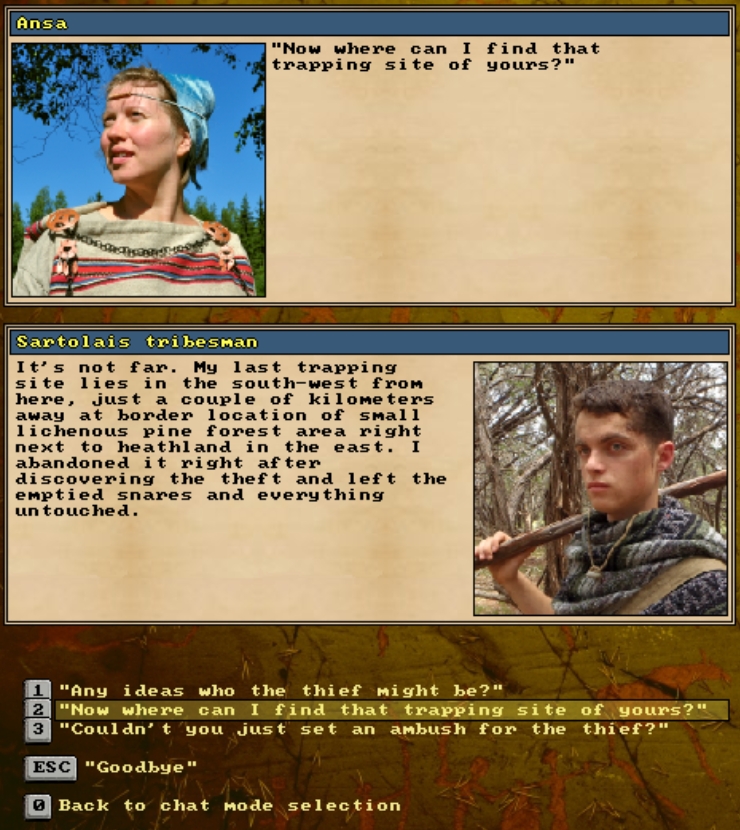 ---
UrW is being developed with your support.This could be a good day to utilize your squirrel hides and
Donate to support UnRel World development
Thank you!
UnReal World is distributed free of charge and survives solely on donations. As a reward and to thank you in return, our characteristic video greetings can be downloaded after placing a donation of any sum.
Our july video greeting, Traditional Food for Traditionl Devs, was recently released for everyone:


...and our current video greeting 'A classic' awaits for those who are able and willing to pitch in them squirrel hides.
---
Stay tuned for more -- and feel welcome to join at Official Unreal World forums for good talks and frequent tidbits about ongoing development.