If you read last week's article you have a general idea of how this mod is progressing, some of the factions currently implemented, and the effort to get at least one faction fully completed as soon as possible. This faction in particular is the British Red Devils Airbourne Division (sic).
Founded sometime in early June 2012, the BRD were never a major player in the clan world or even in the WW2 scene. In fact, they would not have been included in the mod at all were it not for their discovery during the research period for the WW2 101st Airborne (Iceball727's) faction, in a two part series of videos of a 101AB member raiding one of Panzer Lehr's bases. The BRD did not last for too long after these videos were uploaded; they seem to have more or less dissolved sometime in early August of 2012, soon after their founder, kill4000iv, handed the group off to someone else and left. I estimate only a month of activity, at best.
Given the BRD's short period of existance and miniscule member base, they have one of the weakest economies and late-game capabilities of any faction. With 0 infantry AT weapons to speak of, they have to count upon their tanks or air coverage in order to fight off enemy armor, struggling even against things like Panzer Lehr halftracks. Furthermore, their ground vehicles are all rather slow, the trucks of their motorized infantry barely beating out running foot soldiers speed-wise.
This isn't to say that the faction is hopeless, however. Their infantry HQs are some of the cheapest in the game, and have decent durability and defensive firepower versus infantry to help protect the faction's base in the early game. The Red Devils infantry units themselves are also cheap and relatively quick to deploy, though fewer may be attached to each HQ (only 2 squads per HQ!). In this manner, the Red Devils can usually attain infantry dominance early on, but will surely be outnumbered if they survive to the late game, given the necessity to produce resource and tech buildings, competing with unit HQs for precious building capacity.
In terms of weapons, there is much overlap with Iceball727's 101st Airborne, as this groups seems to have been associated with it on some level, and fought the same enemy (Panzer Lehr). Many weapons at the remaining accessible BRD bases on kill4000iv's profile are the same that were in use with 101AB at the time, including the M1 Garand.
Principally, however, the faction's infantry make use of either a powerful Enfield bolt-action rifle, with an attached bayonet, or a similarly strong Sten SMG. Specialty or support weapons include (bizarrely) a Type 99 LMG, Bren LMG, 40mm Mortar, drum-fed Thompson SMG, and an infantry-mobile 50 cal, one of brayden99's creations all the way back from 2008. The latter weapon is used on several of BRD's jeep units, also made by brayden99, and similarly obsolete and vulnerable. The 50 cal is capable of inflicting some damage on more heavily armored units, as well as aircraft, though it is not a particularly reliable counter to either type of unit.
With regards to their own armor, the Red Devils primarily count upon sporemane2678's M4 Sherman. A large tank, it offers good durability versus its typical Panzer Lehr counterparts, though it has overall inferior firepower and definitely inferior speed. The other tank that can be called upon is the 2008 vintage "M1" Type free model tank of unknown origin, with an even weaker main gun and open, unarmored turret, though the vehicle at least carries seats inside and atop its frame, allowing a small squad of infantry to follow it into combat. Panzer Lehr raider tanks (Sherman) may or may not become accessible to the faction with a "Raid Equipment" tech, this is yet to be decided and may be a balancing measure later on.
Finally, for airpower the BRD utilizes a single type of craft, a Spitfire fighter by ForrestZX with middling speed and offensive capabilities overall. Luckily, however, the Spitfire is effective enough versus tanks and aircraft that it can be considered one of the faction's main counter to these types of units, and is generally available even before tanks can be fielded by the Red Devils.
Overall, it will be a tough faction to play as, but rewarding to aggressive players, or on heavily urban maps where the Paras CQC power can be used to their best advantage.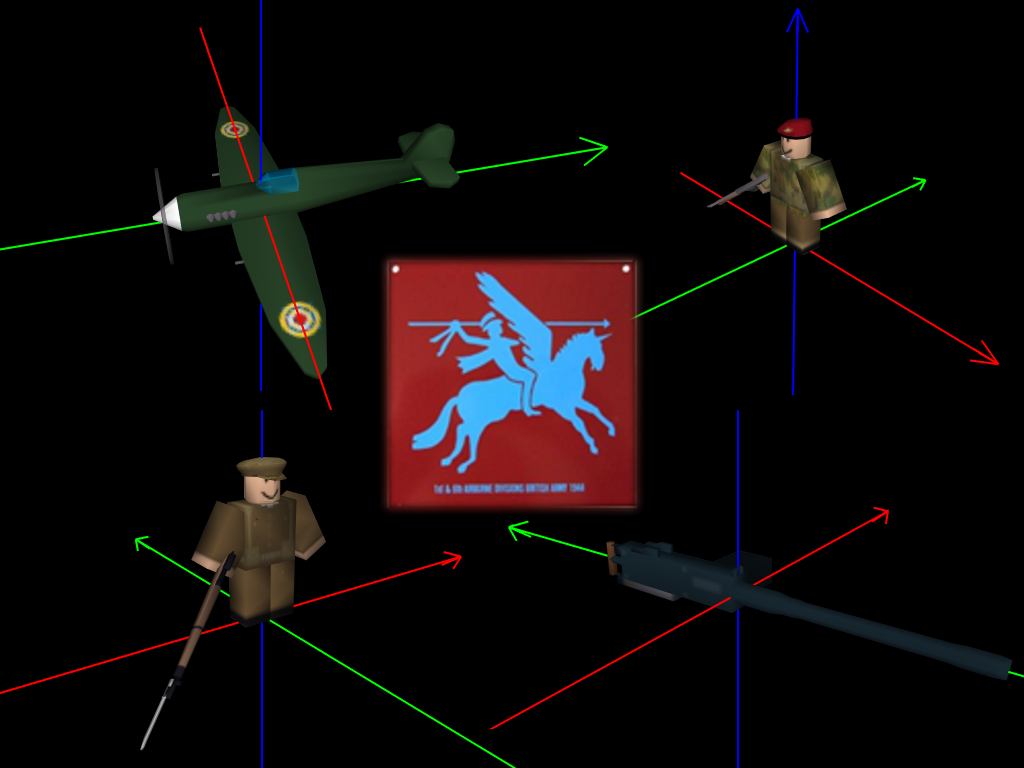 Left to right, clockwise: Spitfire, Thompson (101AB style) SMG Para, brayden99 50 cal, and BRD infantry with Enfield rifle.
Next update may come late, as I would like to have the Red Devils completely finished before I publish a new article. Until next time!