The Road to Edain Patch 4.2 - Nathla elvellon

Nathla elvellon!
Our way to the full version of Edain is progressing continuously. We added the dwarves with patch 4.1, while patch 4.1.1 brought balance changes, bugfixes and gameplay optimizations.
We are currently working hard on patch 4.2, which will bring the next faction to our mod. We are not sure if there will be another patch, namely 4.1.2, beforehand, but we will let you know if this happens.
The community would have wished for the Misty Mountains as the next faction according to the poll in our forums. But we already leaked that the next faction will be another. The Misty Mountains are currently the least progressed faction development wise thats why it won't be available soon. The polls also showed the popularity of the Elven factions. We therefore followed the next best option according to the polls and are going on an adventure in the mysterious woods of Lothlorien.
We decided to go for Lothlorien as the next faction because of its high popularity, an unique fortress system and it's completly different gameplay style. The subfaction Mirkwood also brings the feeling of the Hobbit movies into the mod.
We already showed some news about Lothlorien in the past. You can read them again through clicking on the following links:
*Queer Lodgings

We followed the wishes of the community to get Lothlorien to the high standard of the Mod and therefore gave Thranduil a completly new design. He will get an unique stance system which gives Thranduil different weapons and also different effects in every stance. Thranduil can also get his armor from the movies through Galadriel's ability "Gifts of Lorien". This was proposed by the International Edain Community on ModDB (IEC) and we thought that this idea is a fitting one.
Beside his design and concept changes, Thranduil also gets his stag from the movie to ride on.
Thranduils Stance-System:
*Staff stance (defensive stance) - Thranduil bears a sword and his staff. Struck enemies are gonna get knocked over. Enemies are not attacked automatically.
*Sword stance (normal stance) - Thranduil bears a sword. Thranduil attacks faster. Enemies in medium distance are attacked automatically.
*Double sword stance (aggressive stance) - Thranduil bears two swords. Thranduil deals a slight area damage. Enemies are attacked when sighted.
You can see Thranduils new design in the following render images:

There is also a new design for the Beornings bears, beside Thranduils revision. Those used the original BFME models and texture till now, which did not fit our standard anymore.
Await patch 4.2 soon!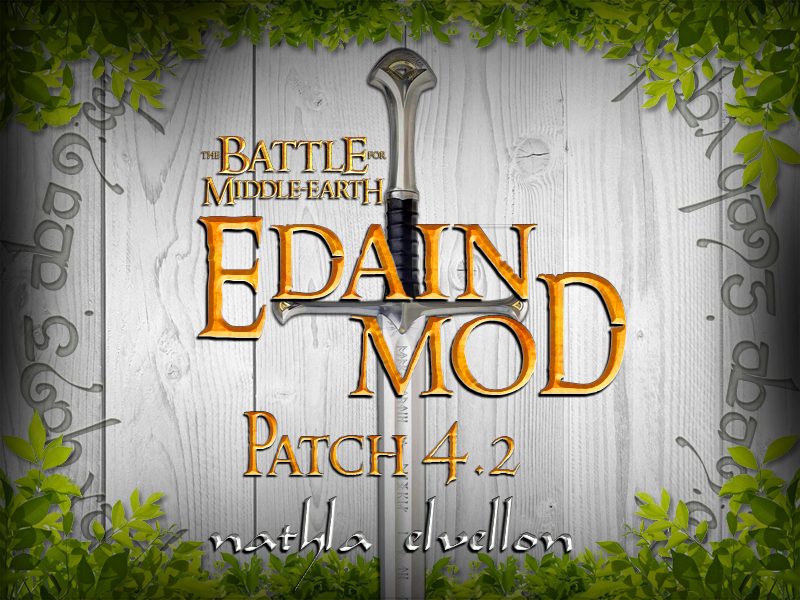 We are happy to receive your feedback!
Your Edain-Team