Greetings, companions of Edain!
Today we'd like to present to you some of the changes that will await you for Rohan in the upcoming Version 4.0! You've already seen the faction's Fortress, as well as the new ressource buildings, Stud and Mill, in previous updates. But that was only the beginning.
We always imagined Rohan as a faction with strong cavalry, so we tried to limit their access to good infantry. But our approach so far lead to some disarrangement within the faction. You could recruit good infantry, but only at the 'corners' of the faction: The Inn, Theodred's high-level Watchtower ability, upgrading your peasants through Spells, and various other hero abilities. Those were meant as optional extras, not as part of the core Tech-Tree of Rohan. However, many players did not regard them as optional, since even a faction of horsemen needs some infantry. That's why we decided for Version 4.0 to streamline the possibilities of the core Rohan faction to get infantry, but without making them too accessible.
The Farm and Mill will be able to recruit the Peasants you already know as well as a new unit called "Farmhands", who are armed with pitchforks and scythes to serve as makeshift pikemen. They won't replace the spearthrowers, but give the player easier access to simple melee spearmen (which as of yet you need either Gamling or the Spellbook to recruit). Both the Peasants and Farmhands will still be weak fighters, but can be recruited en masse at a low price.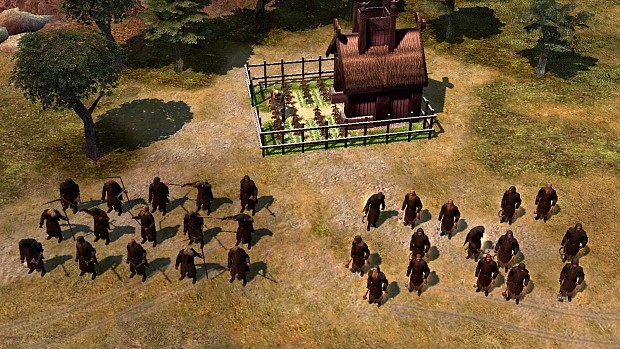 You will also still be able to arm them with dented shields and rusty weapons through the "Draft" Spell. Only the battleaxe upgrade was removed from the Peasants, since it made them too effective against buildings. This won't be necessary for Version 4.0 though, because this version will strengthen all swordsmen against resource buildings.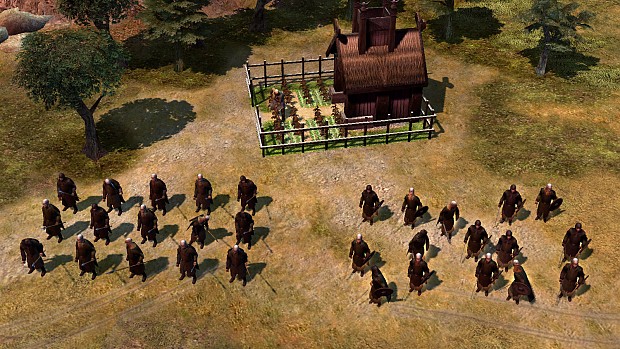 If your Peasants and Farmhands gain enough experience to reach Level 2, they will automatically arm themselves with proper weapons and armor to serve in Rohans army. If they yet had not been armed through the Draft, they'll receive its bonus on top of that as well. At this point your unit's strength can be compared to Gondor's infantry. You'll have several options to hasten this process: Buy your peasants a Banner Carrier to advance them to Rank Two instantly, or grant them extra experience through king Theoden, or assign a Banner Carrier to a specific battallion using a new ability for Gamling. His old ability to summon a herald will be removed for this, since the infantry recruited by the herald is now integrated into the Pesant's upgrade path.
This way, we hope to enable a more elegant and feasible way for Rohan to obtain regular infantry that is still more challenging than for other factions.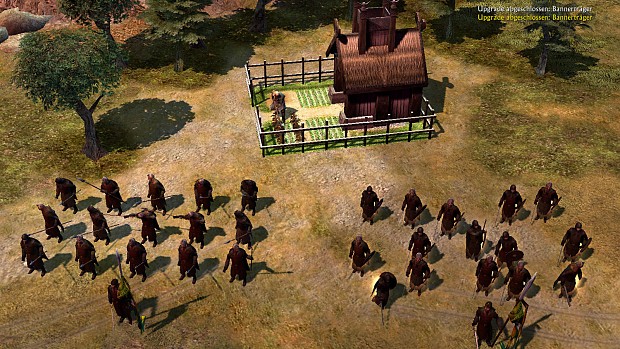 At rank 2, Peasants can be further strengthened for the lategame by upgrading them with Forged Blades and Heavy Armor from the Rohan Armoury.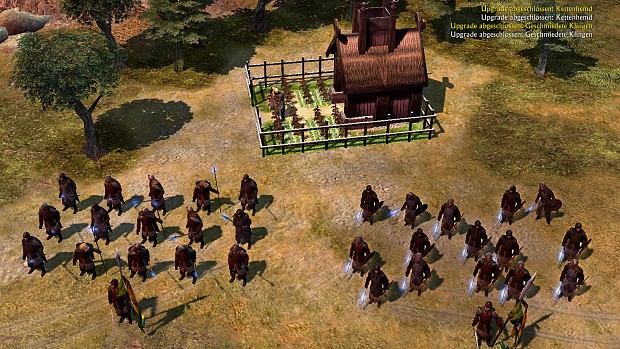 Haldirs Galadhrim and the Druedain can't be recruited regularly in 4.0, instead they can be temporary summoned with Spells. This was an easy decision for the Druedain, since they're not useful enough to be recruited regularly. They simply fit perfectly as a new 10 Points Summon.
Changing the Galadhrim was a tougher step, and we're aware that this won't please everyone. We know that the Elves played an awesome part in the movies, but nevertheless they were only external support for Rohan in only one battle, while until now they were one of their most essential units in Edain. This seemed out of place to us, because logically the most important units of Rohan should actually hail from Rohan. In addition, since there won't be any Inns in 4.0, we didn't want our Rohan players to be building lone Elven Barracks on settlement plots in the wild. Therefore, moving the Galadhrim to the Spellbook solved several problems in our opinion.
Gathering Bell and Generals
But what should Rohan build on its captured settlements? The faction already has the advantage of recruiting troops from its regular ressource buildings, so it has no need for additional Minifaction barracks. Further none of Rohans allies really would have built a lonely shed in the middle of nowhere. Canonically Rohan received mostly temporary one-off reinforcements, that's why most of its allies fit really well into the Spellbook.
So instead of the usual Minifaction, we decided to give Rohan a unique building that represents a further aspect of its core faction.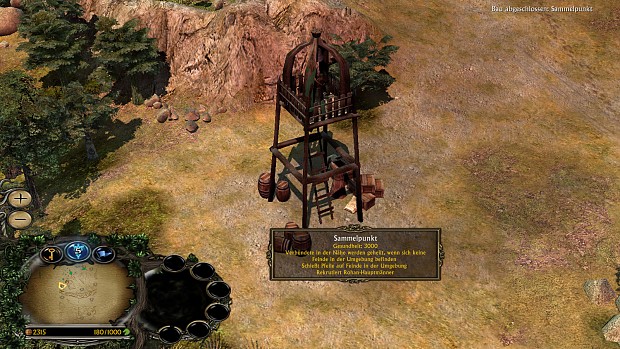 The Gathering Bell primary acts as a frontier fountain and heals nearby units, while a Yeoman on top of the platform will attack nearby enemies. With it Rohan will be the only faction that can build a fallback point for troops on its settlements. This emphasizes the mobility of their horsemen in their wide and open land.
But support is not the only use of the Gathering Bell - the place can also be expanded with Tents for Generals.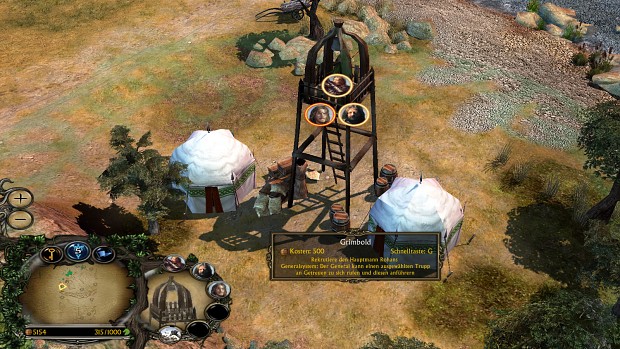 From here you'll be able to recruit the three Generals Erkenbrand, Elfhelm and Grimbold. Each of them work similiarly to the old Heralds and is able to call either a battallion of heavy cavalry, elite Swordfighters, or elite Spearmen to their side. Those units will consist of the old Westfold units, which will be removed from Theodred's Watchtower. This way the good looking models will be part of Rohans core faction, but still stay optional at the settlements. Since you can only have three Generals, you have to decide which combination of three elite battallions you need the most. Do you want to assist your countrymen with additional elite infantry, or do you strengthen your riding forces by adding heavy cavalry?
Theodred's Watchtower will stay as a free summonable defense building, which should come in handy to guard a far off settlement.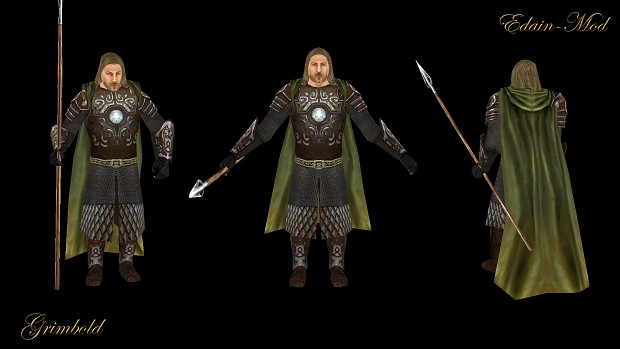 Each of the Captains will also have their own ability: Elfhelm can heal nearby allies, Grimbold can order an assault, and Erkenbrand (the most expensive) can temporary summon two more battallions of the units you chose for him to lead. This is meant to symbolize the reinforcements Erkenbrands brought to the Battle of Helms Deep in the books, which was earlier implemented as a Spellbook-Summon but will be replaced in 4.0 by the Galadhrim.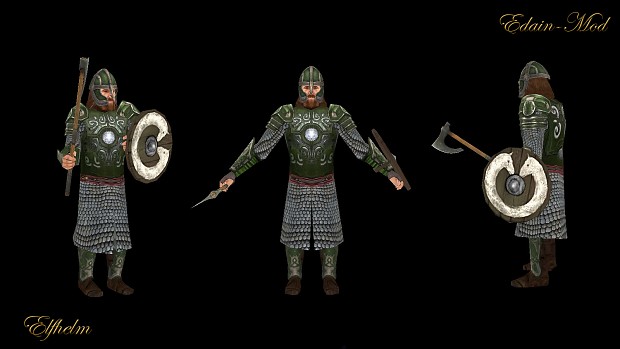 All in all Rohan won't have more or less content than before, however it will be much better structured. Regular troops won't require Spells or Hero abilities anymore, but will be trained out of Peasants. Heavy infantry won't require Heroes either, but a settlement. Both will require more effort than in Gondor's gameplay, were you only need regular barracks, but it is more intuitively integrated this way. What's more there is now a clear difference between core Rohan units (recruited permanently) and its allies (summonable via Spellbook).
However this also means the loss of permanent, reliable access to elite Archers. Yet we think this is an acceptable loss to the faction. In the first place, it should have never been the case that Rohan has the best archers in the game, (above Elves and Dunedain) in our opinion. Furthermore, we plan to significantly weaken archers in 4.0, so that a faction shouldn't be helpless without elite archers anymore. But if it turns out that Rohan absolutely needs them, we'll still have the option to add Royal Guard footsoldiers with swords and bows to the Archery Range. This will depend on the feedback after we release Version 4.0.
We hope you enjoyed this look into the homes of the horselords in 4.0 and would like to read your opinion and feedback in the comment section!
Your Edain Team