The Road to Edain 4.0: A Return to the Roots

Happy Holidays, companions of Edain!
As the year draws to a close, we want to give you a glimpse into the future of the Edain Mod. This is the first of three updates for the Christmas season, where we will introduce you to some of the major changes for the upcoming version 4.0. This is our largest-ever version and brings some of the most profound changes in the history of Edain with it. We want to take the opportunity to tackle many fundamental problems at the core of the mod and create a more rounded, stable foundation on which to build future content.
A Financial Crisis
The first aspect that we tackled in the course of this revision was the economic system. This is one of the most fundamental elements of every strategy game, as the entire flow of the game depends on the way players obtain resources and how fast they accumulate them. The current system, in our opinion, was flawed in a number of key areas:
At its core, managing your economy in Edain used to be extremely simplistic when compared to most other strategy games and thus ended up being a very boring task. You earn a single resource by building a single structure, which you can place anywhere on the map and which keeps on producing forever - this confronts the player with very few challenges and leaves him little room to make strategic decisions of consequence. Filling up your entire territory with farms ends up being monotonous drudgery.
Furthermore, the interchangeable farms create no exciting gameplay: In other games, you are dependent on limited resource depots, which not only require more skill in mining and management, but also create natural points on the map that are worth fighting for. When only a limited amount of resource depots is available, players can create an advantage by taking one of them away from the enemy. The constant struggle for resource control therefore creates a more dynamic game with regular battles in different parts of the battlefield.
In contrast, the gameplay of Edain was often stagnant. We faced the challenge that there was little incentive to expand beyond your base because it was too risky. And due to the sheer number of farms clustered closely together, breaking a player's economic supremany once it was established proved nearly impossible. Furthermore, the winning player could keep building his advantage to an overwhelming degree because there was no limit except construction space on the number of farms.
We have long agonized over how to address these problems and create a more rounded economy. After careful consideration and testing of several different ideas, we came to a simple conclusion: the system which we were looking for already existed - namely, in the first Battle for Middle Earth game.
A Return to the Roots


Long story short: We ultimately decided to bring back the economic mechanics of BfME I. This means that farms and other economic structures can no longer be built freely. Instead, on each map there is a limited number of build plots which players can conquer to allow the construction of one economic structure in that place.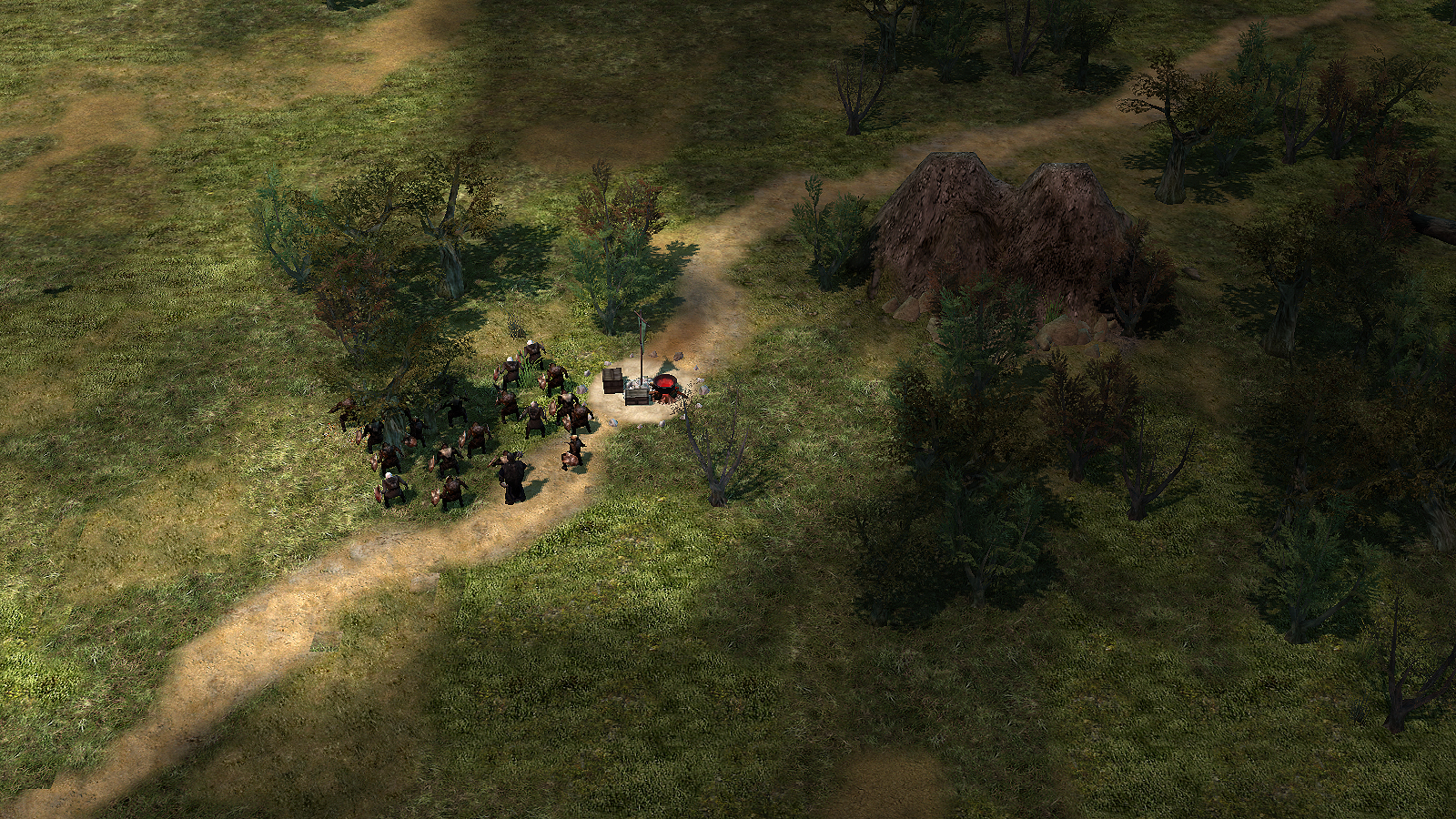 To confront the player with a decision each time he expands his economy, every faction has access to several different structures and the player can choose which one he wants to build on every plot. Angmar, for example, can either build the old slave mill or the new iron mine.
These buildings all have different strengths and weaknesses. For each mill you have, the thrallmaster can call his troops at a reduced price, while every iron mine decreases the cost of upgrades for the Fallen Dunedain. Those who want to overwhelm the enemy with hordes of orcs and hill people will make a different choice here than those who want to rely on a smaller elite force. This way, we can incorporate the gathering of different types of resource even though the game still knows only one currency.
Another example is the new Dwarven lumber mill which does not grant access to the tunnel network, but makes the construction of chariots and siege weapons cheaper. The Dwarves will be the only ones among the Free Peoples to build lumber mills. We found this fitting because they were the first in Tolkien's world to the forests with their axes, to such a degree that even the Ents were originally created to protect the woods from their industry.
We have not made the choice for this transition lightly. Not only does it require great effort from us to implement, but it will also radically shake up the gameplay our players are used to. However, we find that the possible benefits outweigh the risks:
- The economic plots provide natural focus points for each map, encouraging players to do battle across the entire battlefield. As players lose and gain control, the tide of war will rage back and forth, leading to a more dynamic experience.
- The player does not need to put up up dozens of farms, but instead has to manage a smaller amount of them with more attention, allowing him opportunities to choose his playstyle and make decisions of consequence regarding the economy.
- By limiting the number of farm buildings per game in a natural way according to the number of building sites on the map, we can balance much more reliably how much money is available to each player and avoid extremes.
To ensure that each player has a safe basic income, a couple of build plots are available in the vicinity of each base. This way, hope is not immediately lost when the enemy controls more of the outer plots than you do. On top of that, the distant plots are protected by wild beasts and have to be conquered before they can be put to use.
In addition, you can look forward to a stronger AI which tries to quickly claim economy plots instead of pointlessly sending porters into your base to build farms there.
This was just the beginning, in the coming days we will present you additional features of version 4.0 - expect the next update by tomorrow! We hope you have enjoyed your first glimpse into the future and look forward to your feedback on this fundamental overhaul. If you have ideas for suitable economic structures with unique effects that you think would work well within the new system, feel free to share them with us!