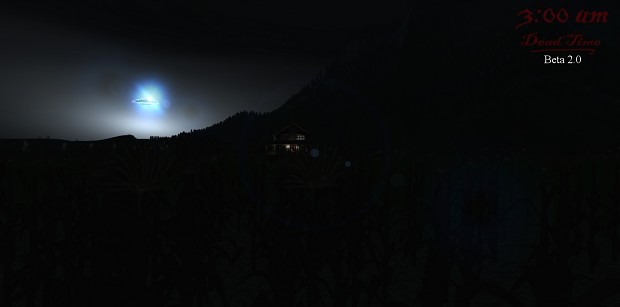 In August 12, we released the first beta of 3:00am Dead Time, in order to show the public our idea for a terror game. A game where the players could face the most variated and scariest paranormal phenomena from all over the world. A game where they could play on haunted houses, go to graveyards and forests, and witness the most shocking evidences, just as in the most popular terror movies and home videos in the world.
Two months later, we are working really hard on Beta 0.2, to make it the full realization of our idea, to its full potential. Of course, we had to improve everything to achieve this goal, to make a game like no other, with many stories to show, many events and characters to face, and a lot of different kinds of gameplay.
Now, with the Beta 0.2 release coming, we can tell you how much the game has changed :
Beta 0.2 features now numerous cutscenes and TV-like dialogs and transitions, in order to explain the stories. This makes the game more enjoyable, and gives it a nice cinematographic touch.
The game has been divided in missions, each one with its own story, characters, places and events. This means that it will be like playing several terror games in one.
The whole AI has been redesigned, and polished in every aspect. Most of the bugs have been fixed, the behaviour of the different beings has been improved, we actually added new behaviours and actions...
The controls of the game were also polished, so they respond better, faster, and their sensitivity can be adjusted. This makes the gameplay more comfortable.
Graphically, the game has changed a lot :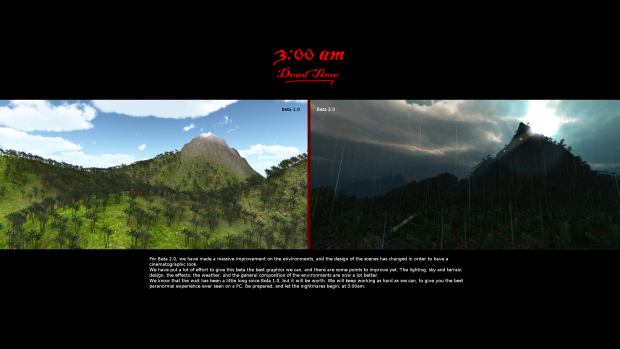 The terrains were remade, so now they look a lot better. The whole lighting, special effects and weather effects were also redesigned, so they are more real.
Every single model was improved, and the textures/shaders are also better now.
Beta 0.2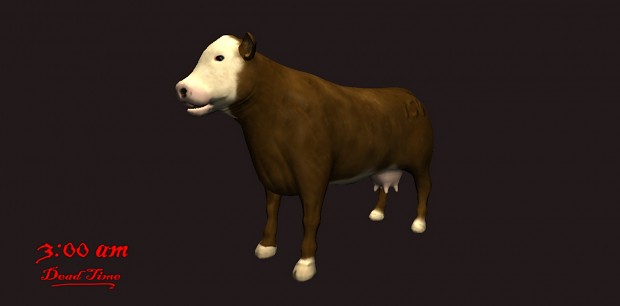 Beta 0.1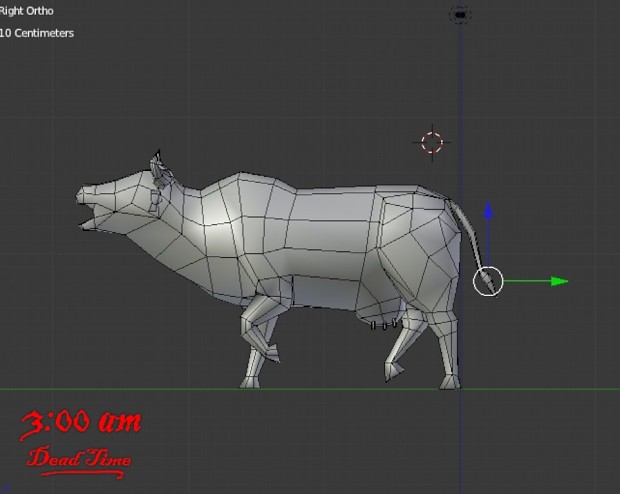 We are also adding now the 3:00am Research team, the people who will travel to investigate the phenomena, and the makers of the in-game TV show. We are also making the characters and scenarios, as well as the core program needed for Betas 0.3 and 0.4.
We had troubles with this Beta, mainly because the new techniques that are being implemented for 0.2 (hair simulation, advanced skin rendering, light filters, mirror reflections, weather systems, sound systems, cutscene systems, new terrain rendering systems, user interfaces, menus, tactic AI, new Spectrum version, interaction systems, camera behaviours...and the list goes on). This work was (and is) slow due to our regular works, but we are trying really hard to release Beta 0.2 in time. Sadly, we can not give you a release date yet. Hopefully, it will be ready really (really) soon.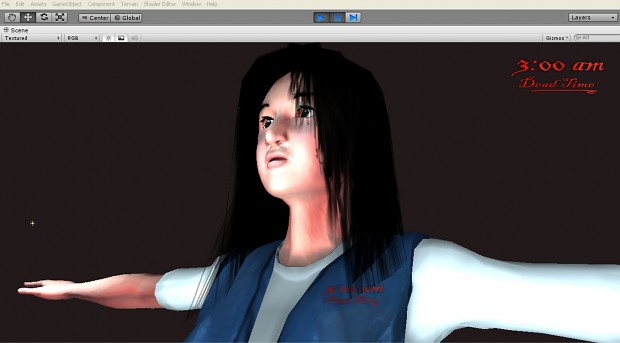 The overall content of the game, is around five-ten times the one of Beta 0.1. What does this means? Well, first of, the original levels have more things to see and do, and more paranormal events happen on them.
Second, we added, as you have seen, a new level called the Graveyard. It is a two part level, with both parts included on Beta 0.2. We also added the actual investigation on the original levels.
The house of the original levels can be opened, and it is a full house, with kitchen, bedrooms, bathrooms, attic, basement...and almost every single piece of furniture is fully interactive. This adds hundreds of new possibilities for the gameplay.
The chase scene is now a lot better, and serves a real purpose to the storyline.
We are still asking you to fund this project, so we can spend our full time on it, and give you a better experience, and release the Betas (and eventually the final game) a lot faster. If you like this game, share videos about it, invite your friends to have a look at this post and to our website.
In the end, you can help us a lot to achieve our goals, and make 3:00am Dead Time the best terror experience for a Pc.
We hope you all will enjoy 3:00am Dead Time Beta 0.2.
The Irreverent Software Team.