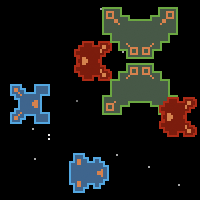 The final version of The Pixel Pirate was released and ready to be played on Newgrounds.
The Pixel Pirate is a 2D RTS made with a retro feeling in mind.
THE PIXEL PIRATE FEATURES:
over 20 levels
an online scoreboard (powered by mochi)
randomly generated levels
special upgrades
The game also has a $1 purchasable chapter.
Give it a try and leave some feedback because I'd love to hear what you think of the game!
Play it HERE.