We really didn't know what to expect at Casual Connect, but we had some friends who had been before who recommended that we go. We also didn't know about the Indie Prize until we had the privilege of meeting the organizer Yulia at PAX East earlier this year. She suggested that we submit our game to the Indie Prize Showcase which, if we were accepted, would get us 2 free passes into the event. The entire event was filled with surprises for us starting with being accepted into the Indie Prize Showcase along with 90 other awesome indie games, which for us was already an honor.
We had also heard about the Pocket Gamer Big Indie Pitch a few times (we almost went to the one at GDC) and it turns out they were holding another one at Casual Connect, so we decided to sign up. First off, if you've never pitched your game at a Big Indie Pitch event, you totally should! It's very casual, the one we went to was held at 111 Minna Gallery which is a really cool bar south of Market. The people who run it are really nice and you do the pitches in a "speed dating" format so it's not like you're up on stage in front of a big crowd. There were 5 tables with 1 or 2 people at each table (mostly gaming press but also a couple of folks from Samsung who co-sponsored the event). Each team had 3 minutes to pitch at each table and then at the end of the whole thing, the judges deliberated over who should win the prizes. PRIZES? What we didn't know going in is that 1st place gets $5,000 worth of advertising on Steel Media websites (Pocket Gamer, 148Apps, etc). Ok, so why am I telling you all of this? Because we actually ended up winning the thing for our Phantom PI pitch! And this is before Casual Connect even started.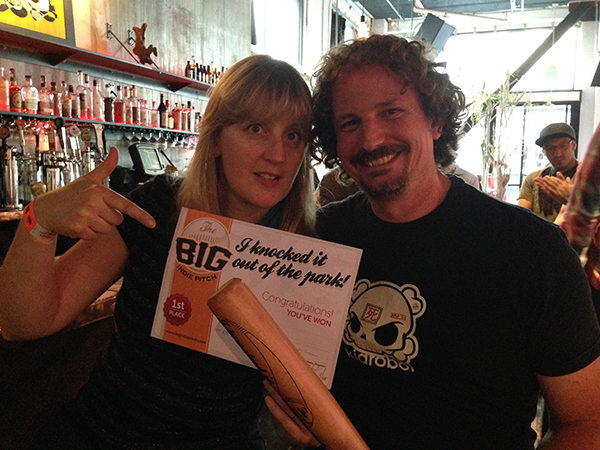 What I failed to mention until now, is that we had submitted The Phantom PI to Apple a week before and the game had been approved for sale just as we were leaving for San Francisco. So already we're freaking out about being done with the game and we're super nervous about whether or not we're going to be featured the following Thursday and how the reviews are going to be and all of the stress of being away from our office during launch week… and well I'm sure you can imagine what we were going through.
Alright so the next couple of days were at Casual Connect showing our game along side all of these other great games. We met a bunch of great people, made some new friends and played a lot of games. The 2nd night of the show they hold the official party where they also give out awards for games in the Indie Prize Showcase. We went out to dinner before the event and weren't expecting to win anything so we kind of dawdled a little. When we finally got there, they had already given out most of the awards so we were kinda bummed that maybe we missed getting nominated for one of the categories (which we did!). Anyway so we're about to walk off to the bar when the announcement for Best Game in Show comes up and Yulia goes "The Phantom PI Mission Apparition". What the what?! We were in shock, we're still in shock. We staggered on to the stage, I almost dropped the glass trophy right onto the marble floor but somehow managed to grab it at the last second, I look up and this dude shouts "nice catch!". It was magical. The game was also nominated for Best Story which we found out the next day.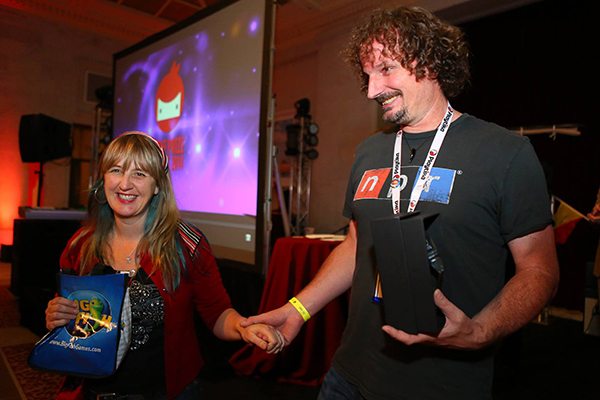 About an hour later, The Phantom PI started showing up on App Stores around the world, first in New Zealand, and then on around the globe as midnight raced on. The next day was a blur of sending out press emails from the Casual Connect floor (hooray for good wifi!) and stress over whether or not we'd be featured. Someone with a UK app store account confirmed early on that we were featured there, so that was a good sign. And then at about 2:00 west coast time, it showed up in the US App Store refresh!
So that was our trip to Casual Connect which was easily the craziest and most eventful show we'd ever been to. If you read this far, thanks for sticking with me! Oh and as I write this, we just got confirmation that we'll be attending PAX Prime so we hope to see you there!
Oh and finally, here's our iOS launch trailer:
Cheers,
Tim