As an early Christmas present, we have released a new screenshot, displaying the Oztoc Mine that is currently being build. The player will travel through these mines using a small train. The Ball is transported in the back on the train, the player takes position in front of it. The ride starts easy, and then picks up speed. Think Indiana Jones II. Along the way the player will come across a rural village, and a pyramid that never got completed.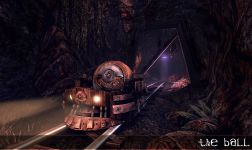 The Oztoc Mine has been added to give our Oztoc level a bit more soul and identity. While Hueca, Cahua, and Teotl all have a very specific look and theme, Oztoc has always been a bit generic in looks and feeling. We are hoping to fix that with this addition. We will be revealing more of this new area as it shapes up.
Another thing we are currently working on is the "Tractor Ball". The Ball is able to attach itself to certain objects, and pull those around. Practical example: to gain entrance to a building you use the Tractor Ball and hook it up to big tree trunks blocking the entrance, and slowly pull those away. This feature also allows us to explain how the buildings in the world have been constructed, the Ball being their tool to move these massive blocks and trunks around. For example the under-construction pyramid mentioned above, is added exactly for that reason. We are working on adding extra depth and logic to our world.
Also, we have been nominated for the Fileplanet Best of 2009 Awards - Best Mod. Vote for us if you enjoyed our work!
And as you have probably seen, ModDB is holding their annual MOTY awards. If you enjoyed our project so far, be sure to give us a vote here at ModDB as well!