Greetings everyone. To start off, I should announce that the Ostheer tree that is depicted here is a rough version. It will look different before release, and the costs will be changed as well. Furthermore, my job hours have increased and my semester is nearing its end. In other words, you probably shouldn't expect an update until my schedule frees up.
In any case, on the the actual content. The Ostheer is a largely defensive organization. Therefore, requisitioning support from one of its Divisions will grant excellent defensive troops and AT armor. It also gives some interesting artillery options to help deal with large enemy formation. As a general rule, all Ostheer powers require munitions instead of manpower in order to keep the units armed with enough ammunition to fire at the enemy.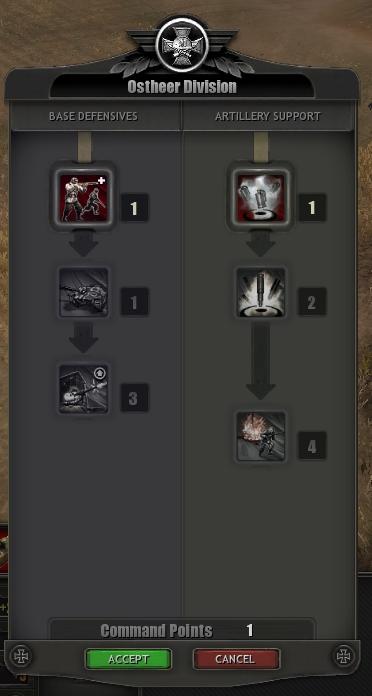 Ostheer Grenadiers
The first power on the left side summons the Ostheer Grenadiers to the field. They are able to build trenches, making them even tougher than they already are. They are capable marksmen, and can inflict good casualties on an attacking enemy. They are not necessarily suited to attack, but they can still work proficiently in an assault capacity. However, their true strength lies in defense. Once they have entrenched themselves, it will take a great effort from the enemy to remove them.
As a side note on this unit, I have two skins available to use on it. I prefer the newer one, but the old still has its charms. Which do you think I should use?
New: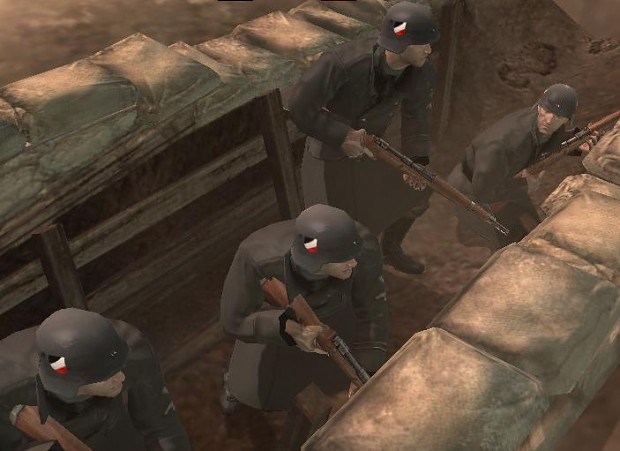 Old: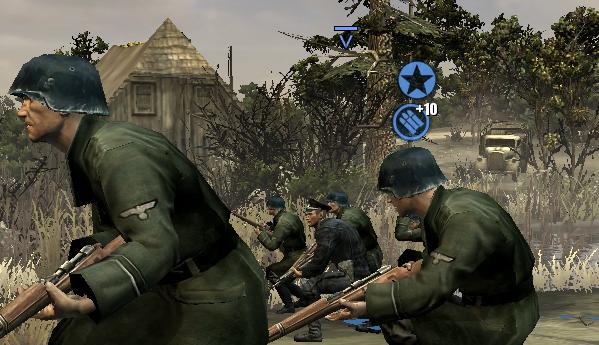 Elefant
Summon an Elefant tank destroyer to the field. It can lock itself down to become an excellent complement to the Ostheer trench systems. It can destroy enemy armor for the Ostheer Grenadiers, who can eliminate infantry for the Elefant. On its own, it can still destroy tanks, but it is very vulnerable to enemy AT infantry.
Ostheer Reich's Guard
The ultimate defense troops, the entire squad is armed with MG-45s. The leader can set his up to do massive damage in one direction, while his brothers in arms can hold the enemy at bay on the flanks. Effectively, this squad creates a wall of lead that would make any commander think thrice before ordering an infantry attack on it. The problem is made even worse by the fact that the unit can expend munitions o bring down deadly artillery salvos on their enemies. Unfortunately, only two of these units can be deployed at any one time due to their rarity.
On the right side, we have the Ostheer's artillery support. The first unlocks a series of cheap smoke barrages that be used to cover an attack or a retreat. Second, there is the Blind Fire Barrage, which can be targeted in the fog of war. However, it is highly inaccurate, and uses High Explosive shells, which only truly damage infantry. Finally, we have the Pawn 11 Barrage. This allows you to target one of your own units, and provide an almost immediate and unannounced artillery assault on its position. This sacrifice can be well worth the cost in men and munitions if the unit is in the right position when it radios in its coordinates to the batteries.
Well, that's the Ostheer in a nutshell. I hope you like it.
With Regards,
Lord Wiffleby