So it's business as usual here at Special Circumstances, interesting ideas flying at me from all corners of the team as I silently enact Plan B which I loving codenamed 'The Omega Directive' (shamelessly plundered from a cool Star Trek: Voyager episode admittedly,) but what is this Omega Directive? and what does it mean for the project? Well before we go into that we need to discuss a few sacrifices.
So when the crowdfunding failed a couple of the team were 'bummed out,' faced with the prospect of not being paid they picked themselves up and walked off. Actually this isn't a bad thing, because inevitably you bring others on board and they have other ideas for the game that often contradict my own. One of these was 'mass space combat;' 'mass space combat sells' he said, 'I want thousands of ships shooting at each other' he said. Well that was never going to work because that would have had to have been in the design from the start and it wasn't.
You see all the ships in Shallow Space have been programmed with behaviours; individual turrets have lines of fire and shoot real simulated projectiles, movement is lovingly crafted and every second hundreds of messages are passed between ships to create the realistic space-naval simulation you've seen. You can't just scale that up to thousands of ships, it would be insurmountable for most PC's and the UI just isn't made for that. You see; to create something that hits SoaSE's scale you need to abstract away all of that clever stuff and simplify it and it just wouldn't be as exciting or appealing.
But less is more in this case I assure you, we steer away from the mindless ship churning of the standard RTS and look instead to the tactic of combat and we start to embrace the RTT elements that Nexus:TJI offers us and build on them. Abilities factor into that premise directly; forget about the SoaSE active 'combat command enhancer' ability nonsense (sorry Ironclad!) Our abilities will be things like Launching probes to get an idea of who is lurking in an asteroid cluster, Set/Withdraw to Emergency RendezVous point and Short Range Jump. There will be very few stats altering abilities and we will instead use the mechanic to physically alter the flow of the engagement and in some cases, make terrain out of this otherwise featureless void.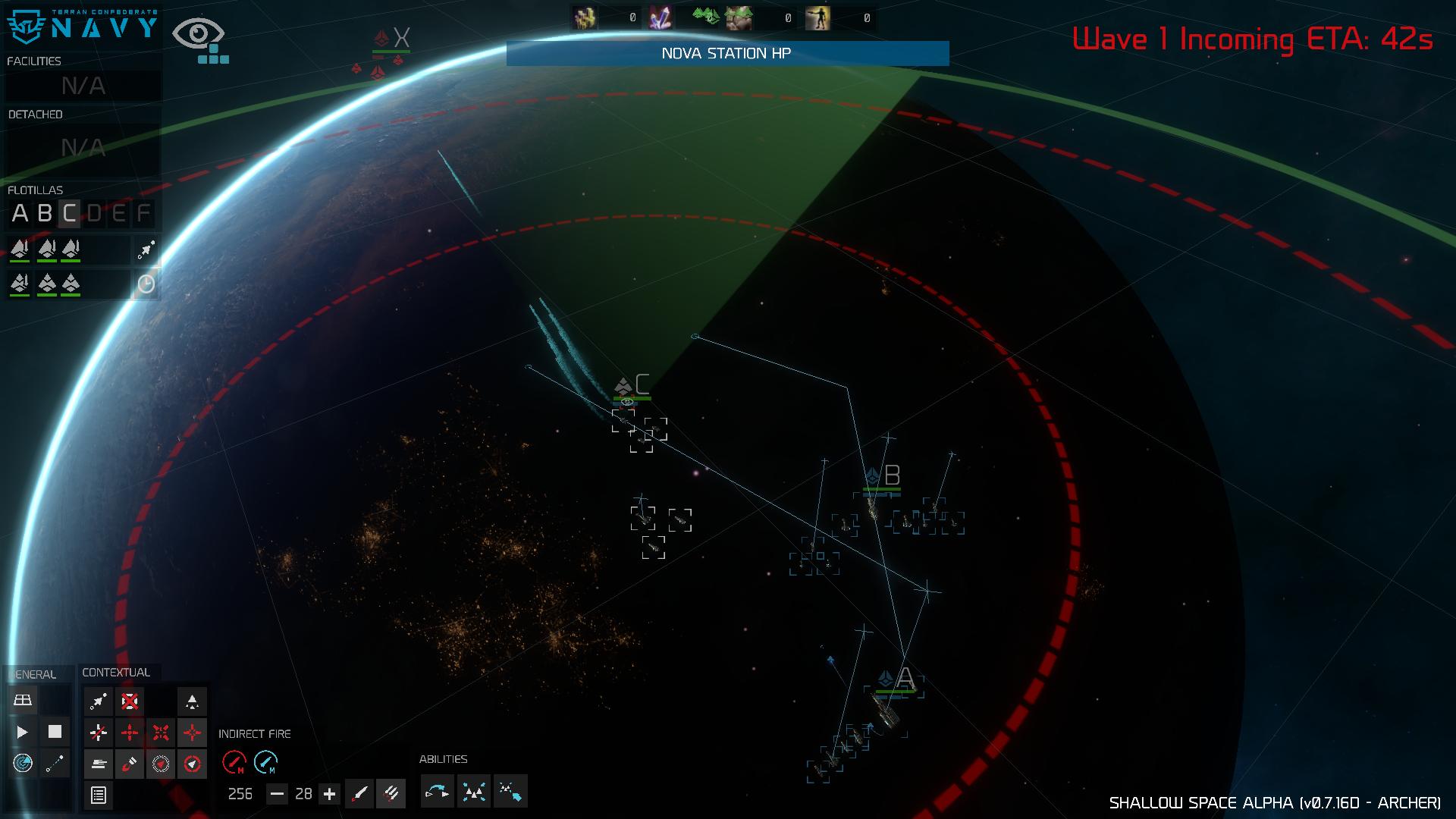 This embrace of RTT methodology (Real Time Tactics) means there will be a sacrifice; the click drag selection box. It's annoyed me from day one really, it is directly incompatible with the flotillas and wings system (contradictory unit groupings) so sadly it has to go. Even if I could get it working it would be the primary source of bugs and whinges so I'm taking it out of the game for player ship selections (it can still be used to denote manual targets.) Besides, it's just not the way I want the game to be played, select all; right click – nope, I want you to think about your formations a little more than that. Bounce between your flotilla's using TAB and the number keys, it makes much more sense or if it doesn't right now, then it will.
Another sacrifice includes modding. On the long list of things that we have to provide now with little funding (Skirmish, Campaign, Multiplayer) modding was the least important and yet the most time consuming. If the game makes us a fortune and we have time to revisit it we will and I acknowledge there is a huge modding community. But I approached a Star Trek mod admin for SoaSE and I was ignored and Unity as an engine isn't made to be modded so it's altogether time better spent elsewhere. Since been informed that a number of games have overcome the limitations we experienced when testing it out, at the moment we're only ruling out the importing of models because it would take too much time to implement with turret positioning, arcs of fire and such, attributes can be imported/exported in JSON format and tweaked. We're not ruling out bringing it in an expansion if the game proves to be popular.

Finally the Omega Directive is about turning the crowdfunding failure into a positive. Removing the expensive and troublesome parts of the team and strengthening the core and looking at the areas of the project we could optimise and even improve in the process. The ship designs are at the top of that list, we currently use someone who is extremely expensive (by indie standards) and if we are brutally honest, is producing mobile quality assets. We've found a guy who can work to today's standards, utilising new technology such as PBR and new lighting systems paving the way for us to upgrade to Unity 5. Above is a sample of one of the new ships being created, we're not quite ready to unveil it just yet...
Astonishingly; all of this can be funded out of my own pocket if the worst happens. It's a beautiful thing crunching the numbers and knowing you can create the finish of a AAA game from one man's salary. OK so it means I'll have no life for a little while longer, but we're still self-sufficient and here's the rub: Boy am I glad the IGG crowdfunding didn't come off.
You can still assist us in our quest to perfection: Pledge.
James