We showed off a lot of new and exciting material during the week, starting with our new "Return" Intro Cinematic which one viewer called "an epic video that captured so many aspects of the Star Wars™ universe I know and love." Attendees at the show also had the opportunity to see the iconic world of Tatooine for the first time as well as an exciting group mission on Alderaan.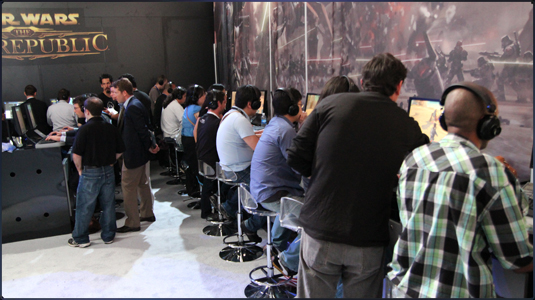 The reaction was electric, with Star Wars: The Old Republic being the recipient of awards from a variety of publications including IGN, GameSpy and Machinima. In awarding The Old Republic the award for "Best PC Game of E3," Machinima said of the game:
"Star Wars: The Old Republic is like the perfect storm for nerds… it's got IP of Star Wars combined with the story telling prowess of BioWare but it's also got the fundamental RPG mechanics that have made the MMO genre thrive."
MMORPG.com was also impressed with the game, saying that "there is no question that Star Wars: The Old Republic was the brightest blip on the MMO radar" at the show. Curse.com praised The Old Republic as well, saying that "Star Wars: The Old Republic is shaping up to be the most complete MMO in the history of the genre."
The reaction to the game was overwhelmingly positive across the board, with The Old Republic being nominated altogether for more than twenty awards and winning fifteen of them: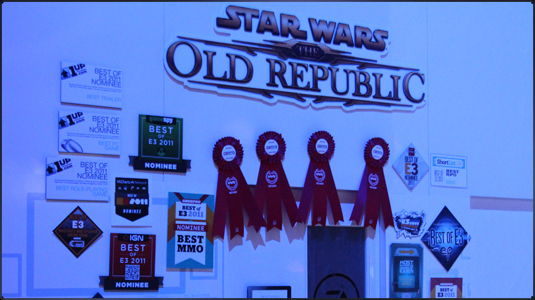 The crowd response was terrific as well; lines stretched around the EA booth as gamers, journalists and other developers waited hours to get in and check the game out for themselves. We are humbled by the turnout and the fantastic reaction the game received.
Our thanks to everyone who came out to play the game, and of course, we are always grateful to the community for the continuing support and enthusiasm for The Old Republic!