Hi everyone, I am happy to announce the launch of the site Crash Bandicoot Return! However, the site currently does little things, but that will come with the further development of the project. Anyway, I invite you to visit and give your feedback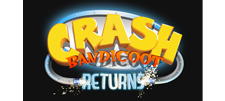 Other important news, I will answer soon to an interview about the project. I want to answer the most important. Therefore, I expect you that you sent me by PM, or by e-mail your questions.
However things a limited choice will be decided before the interview, so do not be surprised if you can not find your question. But I'd arrange to answer to a maximum of each other.

Finally, here are some new images, including the first screens of Aku-Aku. A video will soon be put online.