As the summary says, it has taken four months to make Cerria.
The skies and the seas,
The birds and the bees,
The ferns and the trees,
The peoples and their creeds.
And now, the next frontier; their history.
With the completion of the Itsek language and the placement of their provinces, all six species have their own languages, customs, behaviour, weapons, armour, trades, politics, land, and so on... although, I have realised I have overlooked the average ages, this is not so much a problem.
Nethertheless, now that they can speak, war and farm, a history is required. The kings and queens, wars and peaces - even as far back as the settlement of settlements, where bustling cities were once countryside-like hamlets, defending against creatures and slowly learning the way of defence.
---
Now, as for the Itsek Language, it's harsh. K, X, Z and such adorn this tongue. Example;
English: And on the seventh day, the thousand warriors will go quietly to the night.
Itsek: Piteb kriru paxuz pixonik natuse, paxuz xizizen xaxo byivinu zinoxes virurin ajrurin paxuz krirune.
There are four parts to the Itsek language; Prior, Secondary, Main and Auxiliary.
The Priors mostly two-letter words, ending in either i and a. "Xi, Ni, Zi, Ki, Ri, Ji, Pi, Yi, Kri, Vi, Wi, Fi and Ti" and again with a in place of the i. The ~a words are reversable, such as "Xa / Ax, Na, An" etc.
Priors are always first.
The Secondaries end in O and U, "Yo, Ro, No, Ko, Xo, Zo, To, Yu, Ru, Nu, Ku, Xu, Zu, Tu and Sek". These are also reversable, but rarely done so.
The Mains are all three-letters, and vast. "En, In, Eb, Ib, Es, Is, Ed, Id" are the main body of the mains, and are reversable. Once selected, "Y, R, N, K, X, Z, T" is added before/after the vowel.
Most words end on the Main, but in some cases, the Auxiliaries are used, "Ax, Ek, Ti, At, Ak, Ig".
Example words: Xiyoyen. Pizukis, Arksekis, Axxonis, Krizorinax.
---
Two more things; One, the World Map is now (hopefully) on it's final version (although unlikely!). It's come a long way from the original, which I will share with you now;
This map has a grid, but only shows up in Photoshop. The grid's squares were one for every "map/area" in the original 2D version. The squares can be guessed at a size by the "cancelled maps" which show up in red near the west - red globs/circles are locations.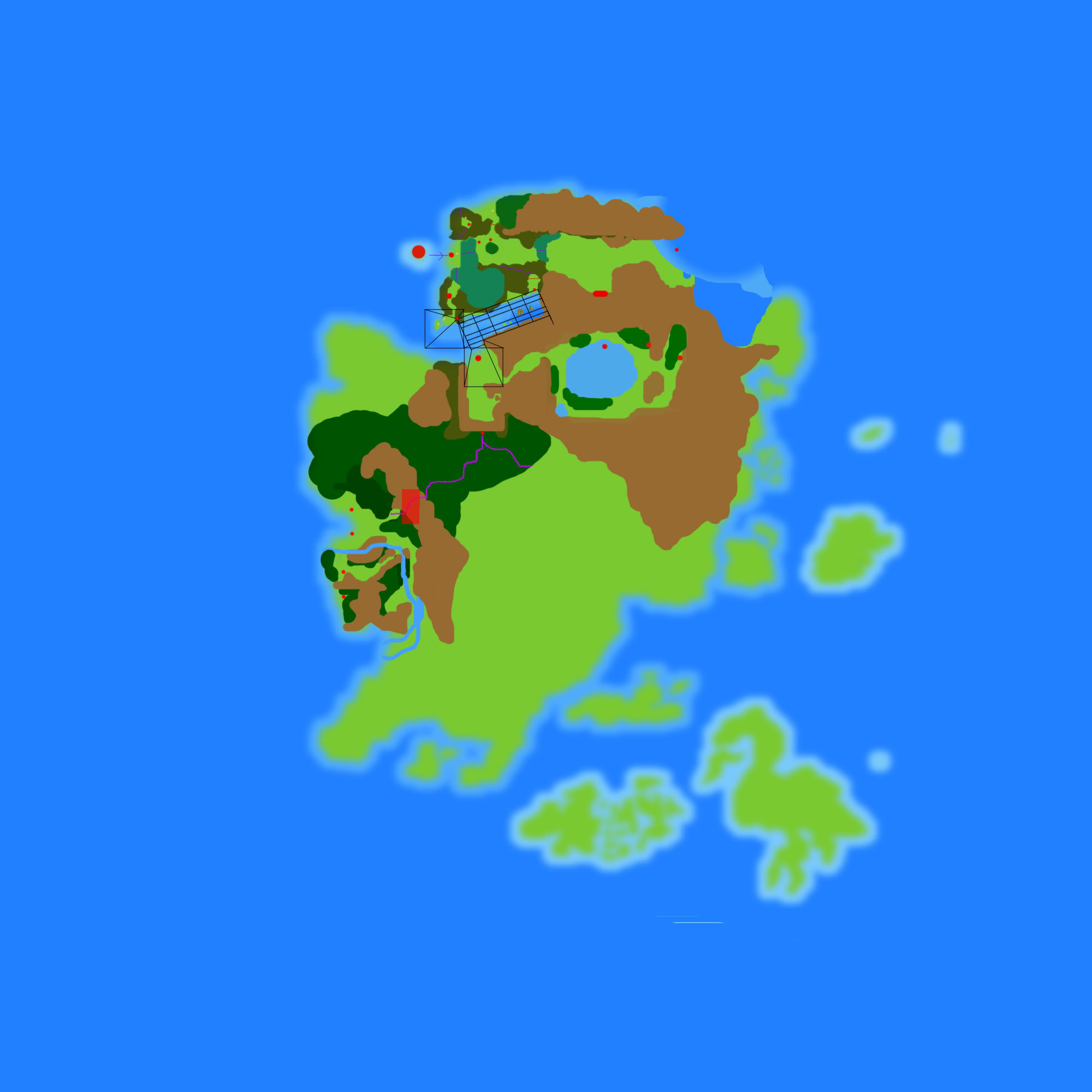 Secondly, I've done some massive Forum upgrades, such as the theme (appearance/scheme), Shoutbox, Shop system (able to buy items with gold earned by posts) and a couple of other things. You can read more Here.
---
CerriaWiki Page of the Day!