After months in development and a prolonged hiatus Duck is back and better than ever! With the new iteration of the demo bringing a revamped graphical style and soundtrack to the game. Along with a few other bits.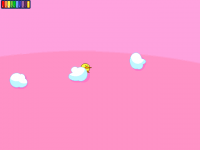 Overall you could say that this is...
THE UPDATE THAT CHANGED THE WORLD!
Adding a whole new revamped graphical style and soundtrack!
Added the Sky Levels.
More precise collision data.
Added Credits.
Got rid of the Timers.
Made enemies less impossible.
Got rid of a level (It will be reintroduced later)
Better Sound Effects.
Overall Better game.
If you have any concerns/glitches you found/comments let us know in the comments. And if you like us, then follow the page! (Windows only currently, sorry about that Mac and Linux, we're trying to get to a Mac and possibly Linux release, no promises, again we apologize for the inconvenience)
For better looking screenshots go to our game page.
Indiedb.com
Here is our page and we hope you enjoy the new demo!
Cheers,
Kent "WhenBellsToll" R.