Hello all!
If you haven't seen it before Boxman Begins is a fast online action with unique game modes like "GiantSlayer" in which players grow in size and strength with kills, forcing temporary alliances as players defeat the person who has become a boss. Or "Pass the bullet" in which a single bullet is passed among players.
A whole bunch has happened in the past couple of months. The ups and downs of game development have been harsh. After much thought and questioning and testing, we decided to rebuild the entire game (it was built in UDK) in Unreal 4, a decision, although unpleasant given the amount of work we've put into the game, was to work out for the best.
And boy it has. Just this week we've finally shown off what the new Boxman Begins looks like. It's been completely revised, everything questioned, every piece of code redesigned and rewritten. And the result is just gorgeous. It's time you saw some gifs:
(click images for gfycat)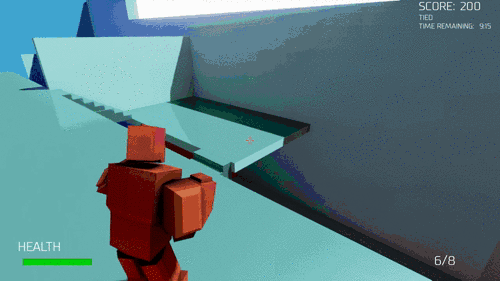 Well what do you think? It's great isn't it. In an effort to build our community we started a subreddit for people to come and chat and talk about the game, and just yesterday we got a bunch of new subscribers, so be sure to come and join in there.
The move to Unreal 4 has come with a bunch of new benefits, one of which is new platforms. As a result, you may have noticed that Linux is now a supported platform.
Furthermore, we have been experimenting with Unreal's WebGL implementation. And so I'd like to announce that in the next month we will be releasing a free demo to play right in your browser with no download!
Modding support is now far easier too. We will be creating a modified Unreal Engine for use as a modding tool. It will allow new maps, game modes, classes and weapons to be added without a single line of code being written. We want to create this platform for creative awesome people to add to the game and experiment with unique game modes just like we are.
Boxman's future is bright. It's already a lot of fun to play and it can only get better. We cannot wait for everyone to play the demo and finally have a chance to see how much fun it is.
Let us sign off with more gifs:
(click images for gfycat)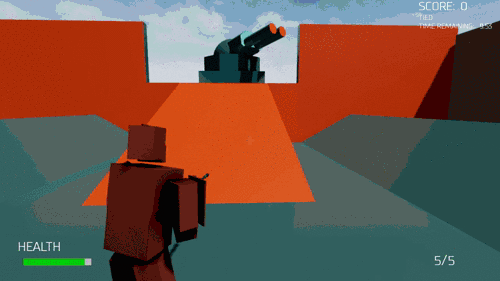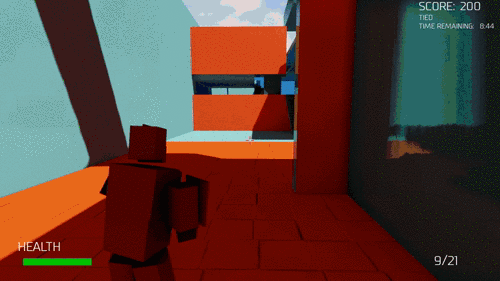 Website: BoxmanBegins.com
Twitter: @BoxmanGame
Facebook: Peripheral Labs
Reddit: Boxman Begins