The Name is Cool. The Graphics SSSUUUUUCCKKKK!!
Q: Electronic Arts is spending $40,000,000.00 making their next game look ultra-realistic. You are not Electronic Arts. What do you do?
A: Go in exactly the opposite direction: Make your game look ultra-unrealistic.
$40M vs. $0.02M.
We released our prototype in January, and reviewers loved the concept. Unfortunately, a whole lot of gamers told us this: the graphics suck! Some of them were kind enough to remind the others that the videos were -- you know -- "prototypes." But the comments still cut. We dried our tears, numbed the pain with a few beers, and started working on a new graphics direction. We did what every developer should do: we listened to our customers.

(Kotaku)
To cut down on development time, we built the prototype from our completed 2004 title, Inago Rage. Inago provided us with graphics assets, object physics, an audio engine, architectural objects (buildings, antennas, bridges, platforms, etc...) -- essentially a base (pun intended) for AaaaaAAaaaAAAaaAAAAaAAAAA!!! -- A Reckless Disregard for Gravity. We were very happy with the proof of concept -- it played like a dream, but left us asking how we should bring the 5-year-old graphics up to par? It brought us to a major design crossroad: pick an aesthetic that's appealing to gamers but also feasible for our indie development team. Sure, some folks might want graphics straight from GTA IV. But did you know that their budget was $100M -- four hundred times as large as our own?
SOURCE: Shacknews.com
The humbling reality of being an indie studio is that you have to learn to do more with less, and do it better than the big guys. This is when Ichiro, our founder, is at his most creative. In a moment of brilliance, he said "Let's do the exact opposite: They're doing realism? Let's do hyper-unrealism." We were not sure if that was even a word, but our approach was to divide and conquer: we split aesthetics into pieces and began work on each piece separately. For example, we started with the background elements and built in detail as we worked closer to the player.
We experimented with skycubes, which make up the backdrop of things very far away -- think of a background matte in a movie. Same thing. We used this one in Inago Rage, for example:

We've been experimenting with more abstract skycubes forAaaaaAAaaaAAAaaAAAAaAAAAA!!! -- A Reckless Disregard for Gravity; what if we used geometric shapes, for example?
All early, simple stuff to be sure. But who's to say that a backdrop has to include a planetary horizon?
As we worked on these elements, the game improved. Ichiro then suggested the Luminous aesthetic that you see below. Here's a test level with a luminous skycube (or skybox). It was definitely different -- completely unrealistic -- and wonderful. Our buildings weren't even attached to earth, so who cares what the reality police say! This is where we are today, mid-way through the process of drafting our final look.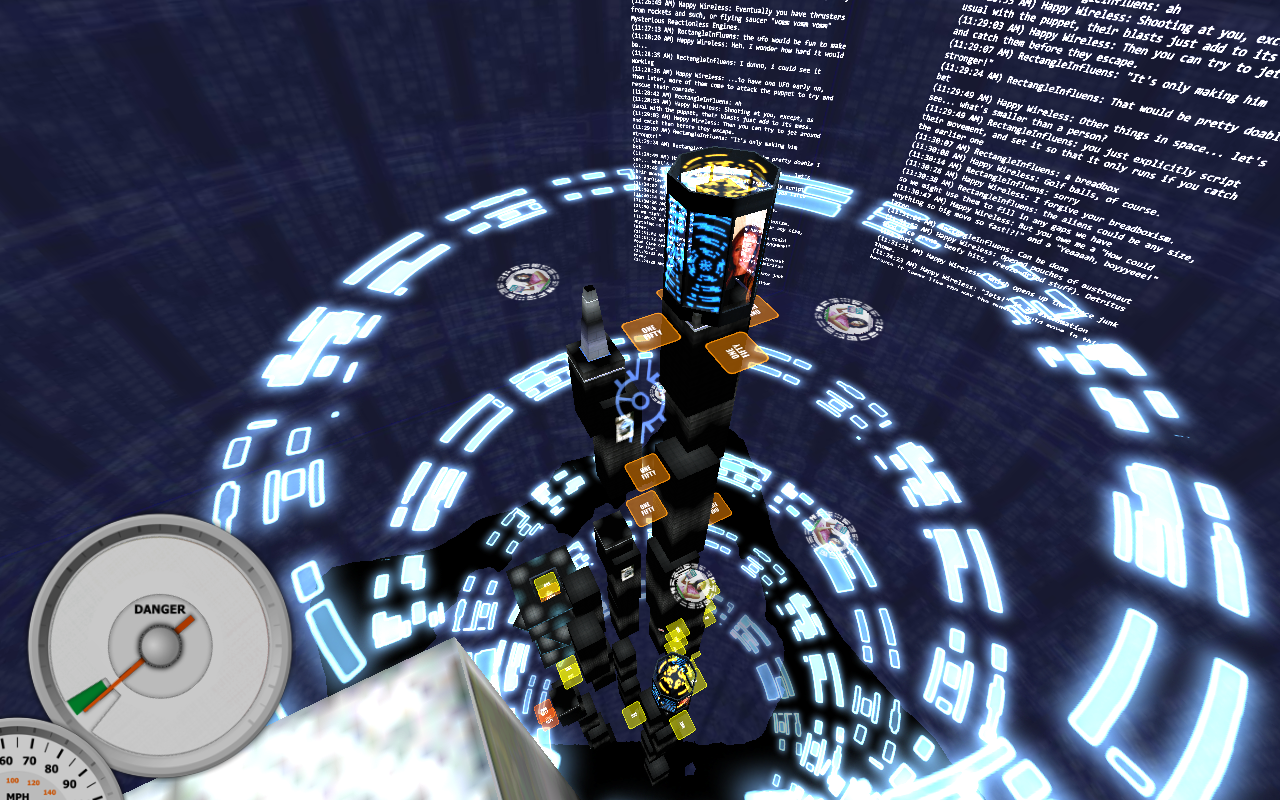 (About to jump. Note the comments generated by other characters within the game, at the upper-right.)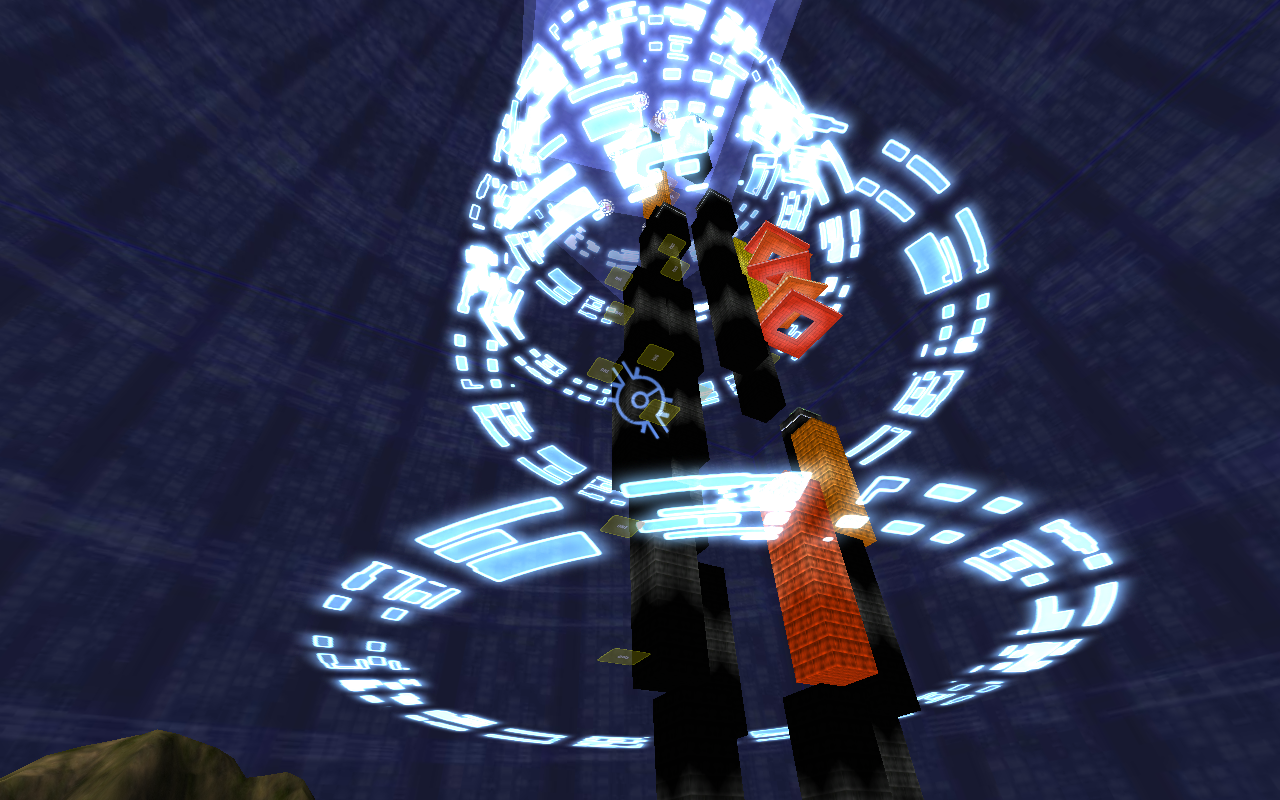 (During a jump, from outside the arena.)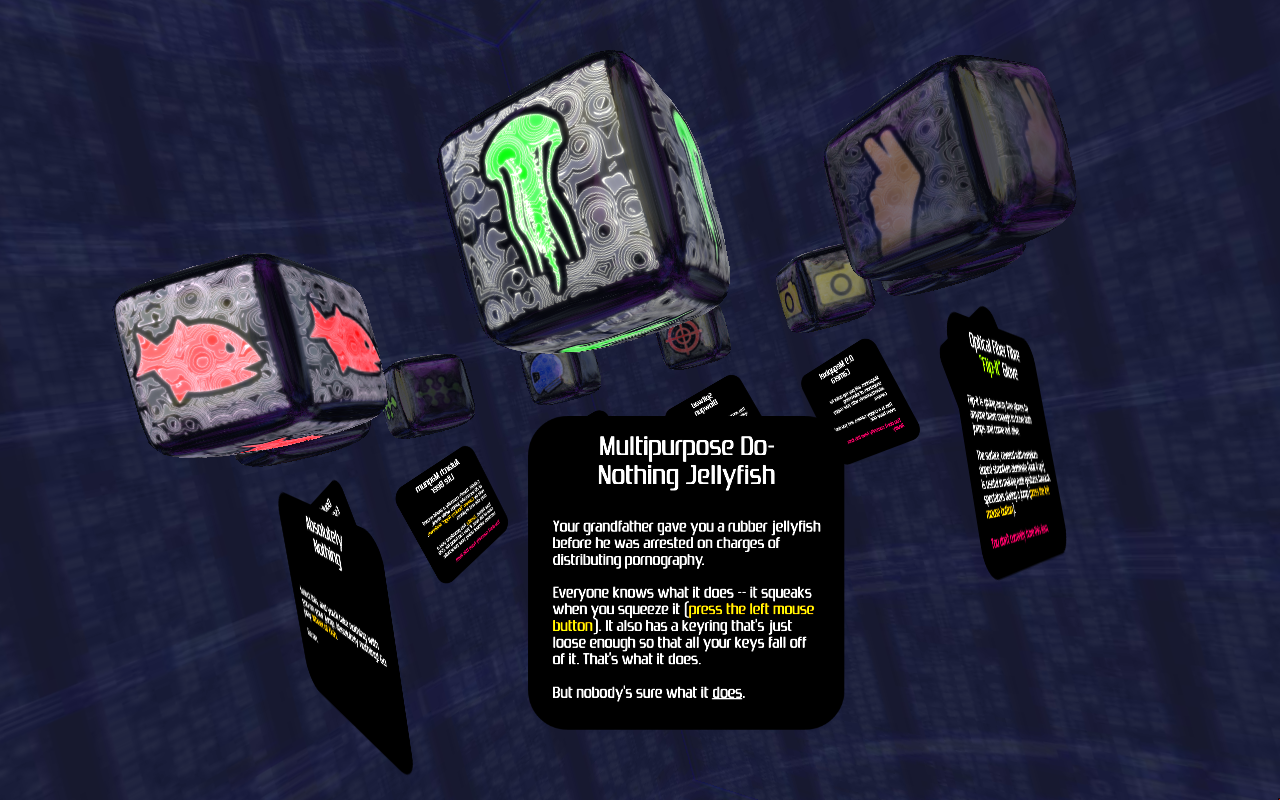 (Item selection.)
A quick video of the luminous aesthetic, with some music we love in the background.
So, you've read this far. Do you think it's going to suck, or that we're on the right track? Drop us a comment below or on our blog: www.dejobaan.com/blog.. We'd love to hear from you. Probably.
Next week: Beelzebub is in the details, but this game is becoming hell-uva lot of fun!!
Twitter:
Dev Updates: Dejobaan
Gaming News: RoRoDejobaan
Blog: Right Here!
Fund the game: Buy our last game!