---
Though Lothlórien heals its units by upgrading its Mallorn Trees with waters of restoration, we have found a new use for the Mirror of Galadriel that used to be BFME2's Elves' faction healing well.


---

---
---
'I am afraid that's only too true, Sam,' said Frodo. `Yet I hope very much that before we leave we shall see the Lady of the Elves again.'
Even as he spoke, they saw, as if she came in answer to their words, the Lady Galadriel approaching. Tall and white and fair she walked beneath the trees. She spoke no word, but beckoned to them.
Turning aside, she led them toward the southern slopes of the hill of Caras Galadhon, and passing through a high green hedge they came into an enclosed garden. No trees grew there, and it lay open to the sky. The evening star had risen and was shining with white fire above the western woods. Down a long flight of steps the Lady went into a deep green hollow, through which ran murmuring the silver stream that issued from the fountain on the hill. At the bottom, upon a low pedestal carved like a branching tree, stood a basin of silver, wide and shallow, and beside it stood a silver ewer.
With water from the stream Galadriel filled the basin to the brim, and breathed on it, and when the water was still again she spoke. `Here is the Mirror of Galadriel,' she said. 'I have brought you here so that you may look in it, if you will.'
---
The Mirror of Galadriel was a device through which one could see the events from past, present, and future, including various results of choices that lay before the one looking into it. It was one of the ways in which Galadriel practiced her telepathic Elven magic.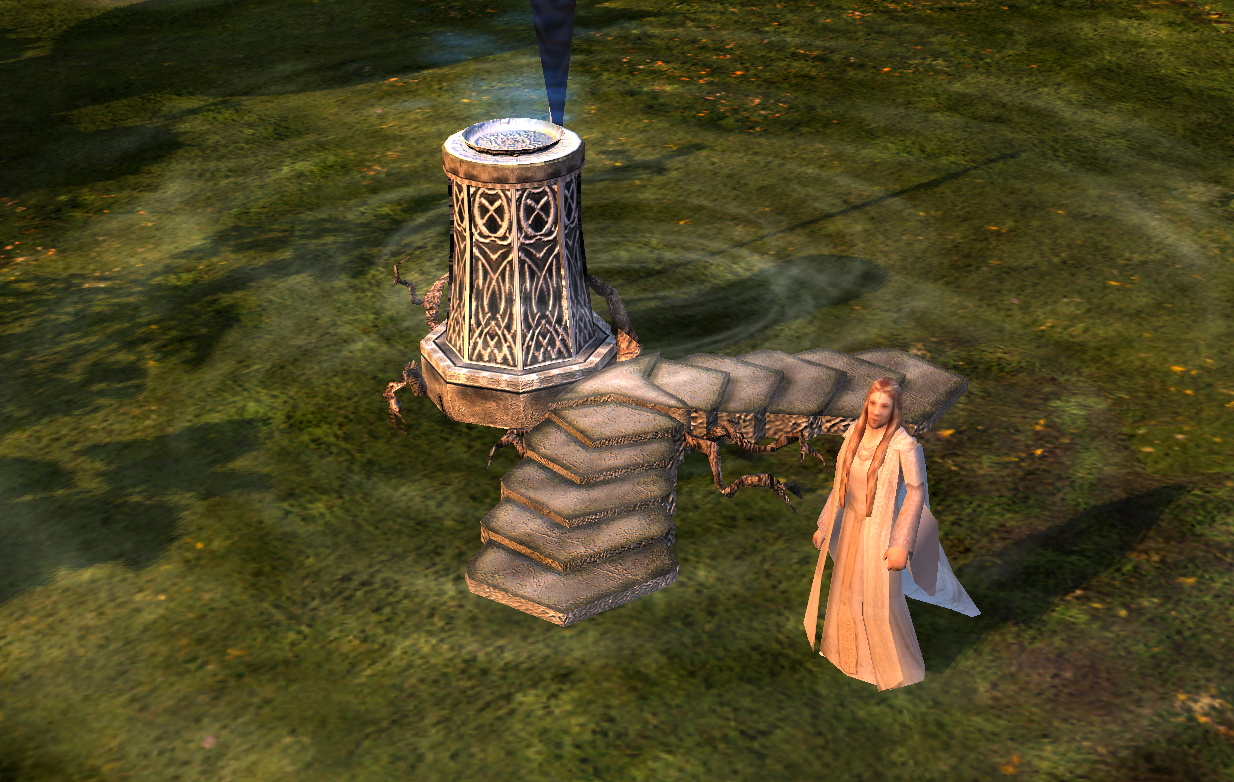 In Age of the Ring, the Mirror of Galadriel is a late game structure, costing 2500 resources and being limited to 1 only. Once purchased, the player can use the mirror to research three upgrades that will greatly benefit Lothlórien's economy and unit production.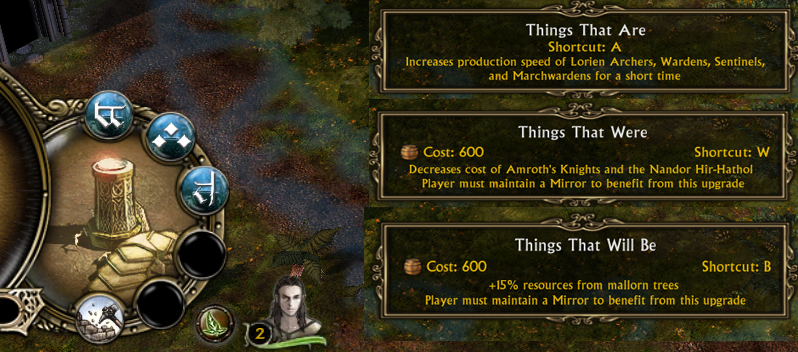 ---
Work on Lothlórien progresses at a brisk pace. Stay tuned for further articles on its inner workings.
Be sure to go and follow us on our new official Twitch.tv channel as we will be streaming more often now.
You can find more info about AotR on our community forums.
Join us on Discord where you can talk with the team and play the mod with others.
Also consider supporting us on Patreon.
Yours,
The AotR Team