Wow, I was not expecting these humble updates to become the unbridled CULT PHENOMENON that they clearly have. It turns out that our struggles to make an indie tactical game, welded to my insightful musings have produced an unstoppable juggernaut that only the titanic weight of centuries could ever halt.
I tip my hat. They say success breeds success, but, I would suggest, this is only after it has fucked failure. And now, a picture of our game: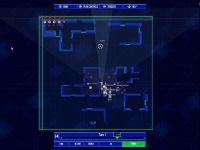 This game mode is called "Secure" and it is utterly fucking awesome. It's a 1-on-1 multiplayer mode. Here's how it works...
1. A level is generated by our magical generator, and both teams are dealt a "hand", meaning that their units are selected for them.
2. The playfield is divided up into squares. Each team makes a bid of how much territory they think they can defend, given the layout of the terrain and their hand. They can see the possible start points for the attacking team, as well.
3. The player who bids the largest area of territory wins the bidding, and will be defending that territory. The other team has to attack the territory, and get a unit into it for 3 seconds.
This is the core of the game as Ian first envisaged it: you have to evaluate the map, figuring out the best areas of cover, then deploy your units accordingly. It's amazingly tense if you bid stupidly, because you'll frantically try to defend your territory and then get pounded in the ass with rockets, grenades and other such tomfoolery. Trying to sneak a guy into the area and keep him there for 3 seconds is genius - I managed to successfully do this to Ian yesterday to his great chargin, by distracting him while sending a sneaky shotgunner around the back.
I really think people will go for this game mode big time - we're already working on usability and tweaking it so that it's clear what's going on. It's a tad complex compared to simple attack and defend missions, but once you get the hang of bidding the whole thing really takes off.
We have had our graphical update, but our artist is busy tweaking colours, sorting out lighting, adding animation and doing bullet and explosion effects, so I'm keeping all that back for now until it looks really badass in screenshots.
Right, that's the serious stuff out of the way, now back to the philosophical CORE of these updates. Last week, I did some preliminary work on sound. I will write properly about this at some point but I wanted to introduce you to something: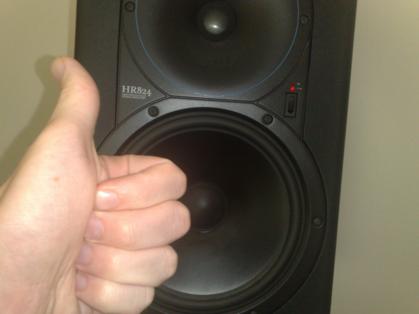 This is a Mackie HR824 monitor. It is badass beyond ALL belief: great, tight bass response; clear highs, not stupidly expensive, reliable, lovely. These monitors are among the best products I own, and if you are a musician or sound designer I cannot recommend them enough.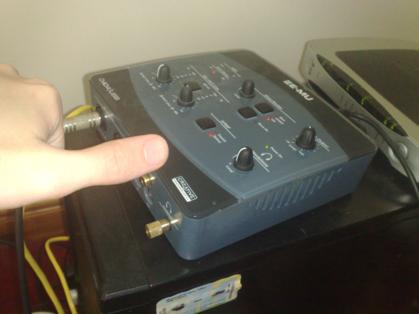 This is my Emu 0404 USB soundcard. My thumb is in the middle here, indicating its middling performance. It is ok, but has developed a couple of annoying problems with the main out and headphone out. I probably just need to clean them. This is an average-to-good sound card.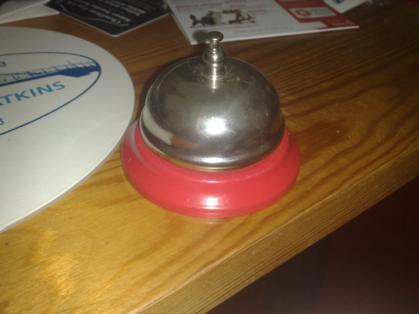 This is the FAMOUS bell we use for our podcast Visiting the Village. People complain whenever it's not present, so I brought it with me to the office for mini-crunch and it is now sitting happily on my desk. I thoroughly recommend this bell - it is a good bell.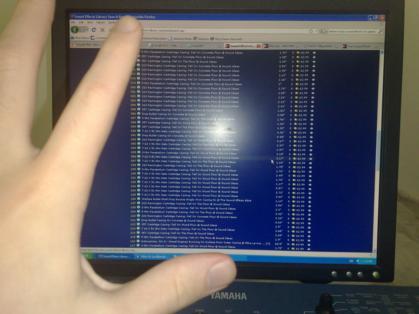 This is a list of sounds from Sound Effects Library. Those poor individuals among you who follow me on Twitter will have noticed me ranting about it. It is INCREDIBLY hard to find good stock audio on the internets, despite the abundance of sites puporting to sell it. We used to use Sonomic, but their prices make me cry. Audio Micro seems to be quite a nice site. I'm thinking of just buying one of the large sample libraries and then farming myself out as some kind of skanky indie game sound effects whore. This will probably happen after Synapse is done.
After all that sound work, I had to leave and go to the office for mini-crunch. Here is a picture of the vending machine at Leamington Spa station that once had some money left in it that I used to buy a Cadbury's Caramel: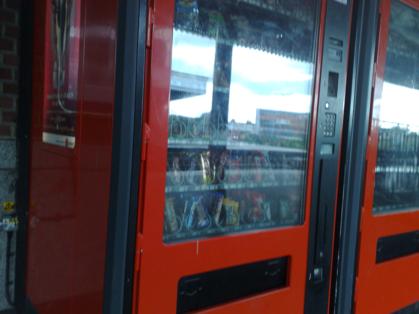 Thank you, benevolent vending machine deity. Your provision of a sweet chocolate nectar bar will not go unnoticed by your followers.
Leamington Spa station is a bit shit - I will post more pictures to illustrate this fact shortly. I feel dirty taking photos at train stations, lest people believe that I am insane or some kind of banality-fetishist. I should just say, "YOU'RE GOING TO BE ON THE MEANINGLESS DIARY OF AN INDIE GAME MAN!!!" and expect them to whoop and cheer as if I'd just said Beadle's About or something. For those of you who are American, Beadle's About was a fucking hateful UK TV show from the 80's where a snarling, troll-like golem would dress up as a hideous parody of a woman, sneak up on fat, dole-laden idiots and pretend to smash their car or something. It's the kind of TV a cruel, demented Nazi would commission: how fitting that it was on ITV in the 80's.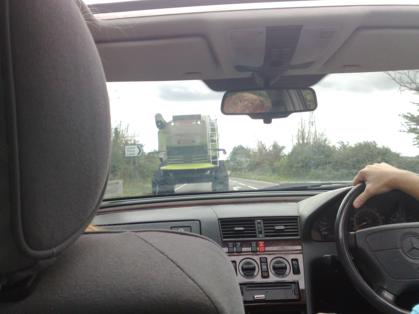 This is a big-ass truck that we got stuck behind on my way from the train station. Ian commented that it looked like something out of Red Faction 3. He was correct. It was slow.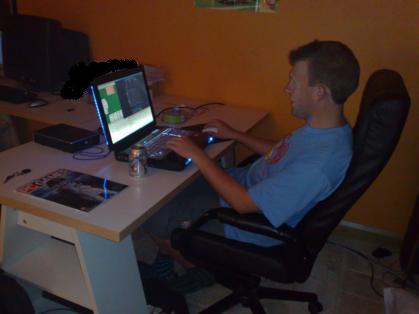 Here is Ian playing Synapse, the game that he designed, and also playing Bridge Baron in another window. As you will know if you listen to the podcast, Ian has a worrying and utterly unfettered commitment to Bridge Baron. He thinks he is like Warren Buffet because all he drinks is coke and he likes bridge. This clearly true, and obviously akin to the way in which I am like Stephen Seagal, because I am an idiot and I like blues guitar. Nodody calls me the Mojo Priest, though.
Oh god here is a picture of a cat again. You can tell I am flagging...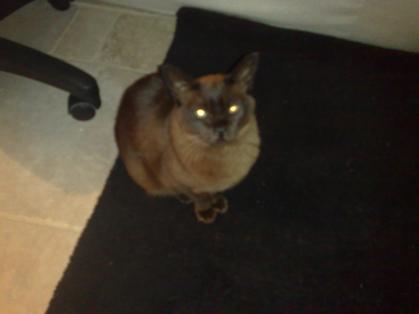 One day I will take a picture of office dog Jasper, but he never stands still long enough. It's like a zoo here. VERY MUCH like a zoo.
This week, I have had several incidences of people not doing what I say instantly. This really pisses me off. When I tell someone to do something, I expect them to do it perfectly, without question and immediately. This is unrealistic. Whenever someone doesn't do this, instead of emailing them ASKING THEM TO DO IT or ASKING THEM TO DO IT AGAIN, I am now simply going to send them this image: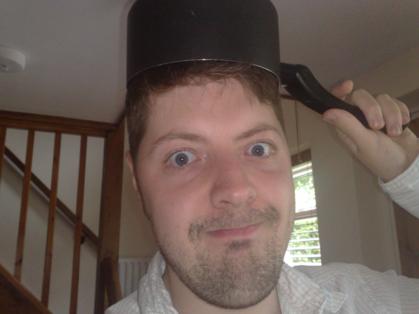 Finally, here is an upside-down picture of Retro Gamer, possibly the UK's best print gaming mag:
Buy this! For it is good.
I shall return!