Lighting has been integrated, finally - it's still in a very raw form but it's making a big difference already...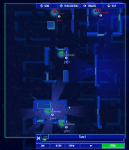 I'm going to make our artists and coders cry with all the things I want to do involving dynamic lighting, but that's totally my job.
One of the issues we're having at the moment is how to create that "other levels UNDERNEATH the current level" background effect without having a load of distracting geometry that irritates the player. Personally, I think the background just needs to be less defined - darker, blurrier, weirder shapes - going to be trying out some things along those lines soon.
Glow around the players is looking decent but also needs work - really want to get that glowy, cyberpunky effect all over.
Something I've been thinking a lot about recently is adding some additional player feedback stuff. When you lose a unit or perform a particularly good kill, something should definitely happen. I don't mean splashing COMBO BREAKER!!!! over the entire screen, but something big and visceral. Gore and decent explosions (coming soon) will really help with this, but I'm wondering if we need something more...I'd love a 3D bullet time thing when someone gets sniped, for example...that will definitely make our artists cry...
Another thing we've been talking about it adding a screen at the start of a match which clearly shows your "hand" vs. your opponent's. For those that don't know, in the main game mode (Secure) you're dealt a random squad of troops at the start, then have to bet on the amount of territory you can hold with them. Your hand is incredibly important, so a way of rendering this in a cool manner will definitely create some tension at the start of a level.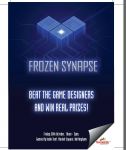 Here's a bad screen grab of our flyer for the Gamecity event - it's the first time we've ever had PRINTED promotional material done for a game, and I hope it'll have a decent impact. 5000 of these things will be going out around the festival and we will see the results! I really want a lot of people to turn up at the tent and try the game out, even if it's very briefly...we'll see. Like all our marketing efforts, I'm going to track it and if it works, repeat it. You've got to try these things!
Our podcast Visiting the Village was late out last week due to technical problems, but here it is now...
And now, what you've all been waiting for...more LIFE: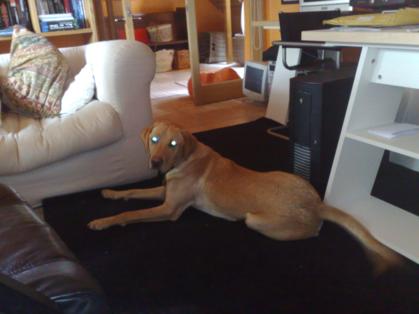 I promised you more of Official Mode 7 Dog Jasper, and here he is taking a turn to prepare his appalling Laser Strike which can cut through any reinforced materials.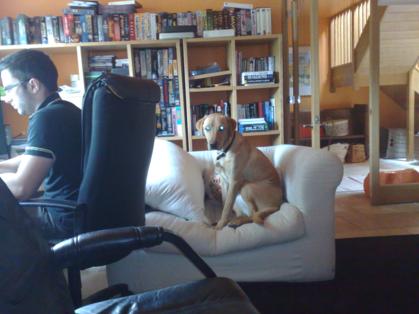 I set him on Advanced Level In-House Torque Engine Code Manipulator Thom Shutt but this had little effect, as Thom Shutt is harder than most reinforced materials.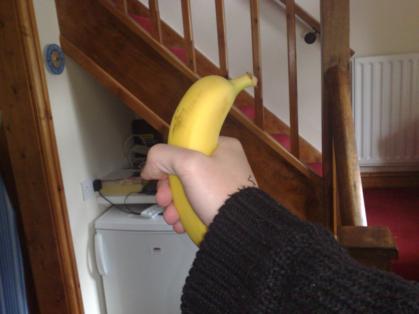 I have always wanted a first-person banana game. You show a banana to various things and watch the results. At a funeral, or engaging in a difficult conversation about rent? Just press B to pull out your banana with little or no provocation. The Social Awkwardness Sim is a much under-represented genre.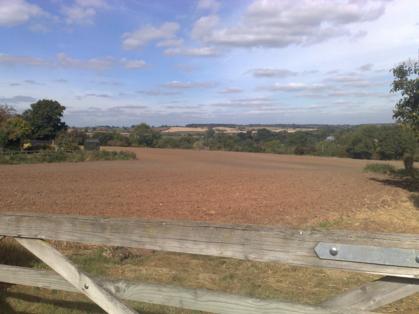 I like living in the country. This is all.
FOLLOW this miscellany if it delights you! Do not click on FOLLOW if you are already following as it will make you unfollow. I can see you doing that. I can see you.