There are a lot of ways to die in I Can't Escape: Darkness. After all, if you can't escape, there is only one thing left to do. Die. However, simply because you are fated to die, doesn't mean you can't go out in style. We have designed a variety of ways to meet your end so you won't have to worry about dying in a mundane way (like starving to death). For example, you could be:
But don't feel bad, you certainly won't be alone in dying here. There are many others who have met their end in these catacombs. In fact, if you are really lonely, you could always turn out the lights.
What's that? You don't want to die? You want to escape? Don't be silly! Almost no one escapes, and I'm pretty sure you won't be able to! After all, the title of the game is I Can't Escape! Even if you feel like you're getting closer to freedom, that is probably just an illusion.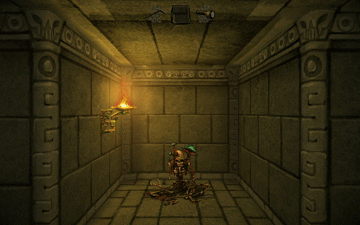 This is how I expect you to end up. Perhaps less intact. But don't despair - you'll be able to explore deep into the catacombs and find many interesting areas and secrets before your untimely demise.
---
Hopefully, that will give you an idea of what to expect in I Can't Escape: Darkness! We've been hard at work finishing up and improving areas, and plan to release a closed alpha this month for further testing, feedback and improvements. If you are interested in participating in the alpha, leave a comment here or send me an e-mail at davidmaletz (at) gmail (dot) com. Otherwise, look forward to future announcements, we will certainly have a new trailer and beta within the next few months, and plan to release the full game before October of this year!
Also, be sure to vote for us on Steam Greenlight!