Hi all,
Last night The Mandate surpassed its 500.000 funding goal. This is great news and after almost 60 days of hard work we are very happy. Thanks to everybody who have cheered for and supported us along the way.
To celebrate this event we have a special message from Anastasia, CLICK HERE to read it.
We also have a new developer video which you can check out that covers the anatomy of the game and discusses some of our inspirations as well as the more central game modes that will be available in The Mandate. CLICK HERE to watch it.
Also, since we have gotten a lot of questions about what exactly the Great Captain Doc is all about, we decided to do a short Q&A about this as it also ties into the game modes mentioned in the developer video above. Before we get to the questions we will show an actual example from the Great Captain Doc.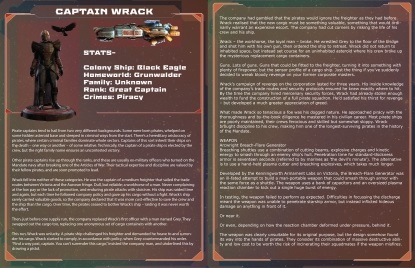 Captain Wrack page 1
Captain Wrack page 2
Q: What exactly is the Great Captain Doc?
A: The Great Captain Doc is a high quality PDF that contains the backstory, character visuals and flagship for all the backers who have pledged at $200 or above as well as all backers who picked the digital add-on $75 design a captain. We will set aside minimum one page per captain, possibly more. Currently this document will be at least 250 pages long, and it is still growing...

Q: Why is the Great Captain Doc such a big deal?
A: When you work for the different factions in The Mandate, you accumulate faction reputation. In some games you grind faction and become best friends forever. In The Mandate reputation is a currency and can be spent to call in various favours. Different factions have different services but most will allow you to call in a captain who is allied to them. The captain will join and serve under your command. The Great Captain Doc will be an easy reference so you can read about the different captains before you spend precious reputation points to call them in.

Q: Who gets the Great Captain Doc?
A: All backers from the $75 reward tier (Cossack Captain) and above will get a copy. In addition all backers who buy the $75 digital add-on to design their own captain will also get a copy.