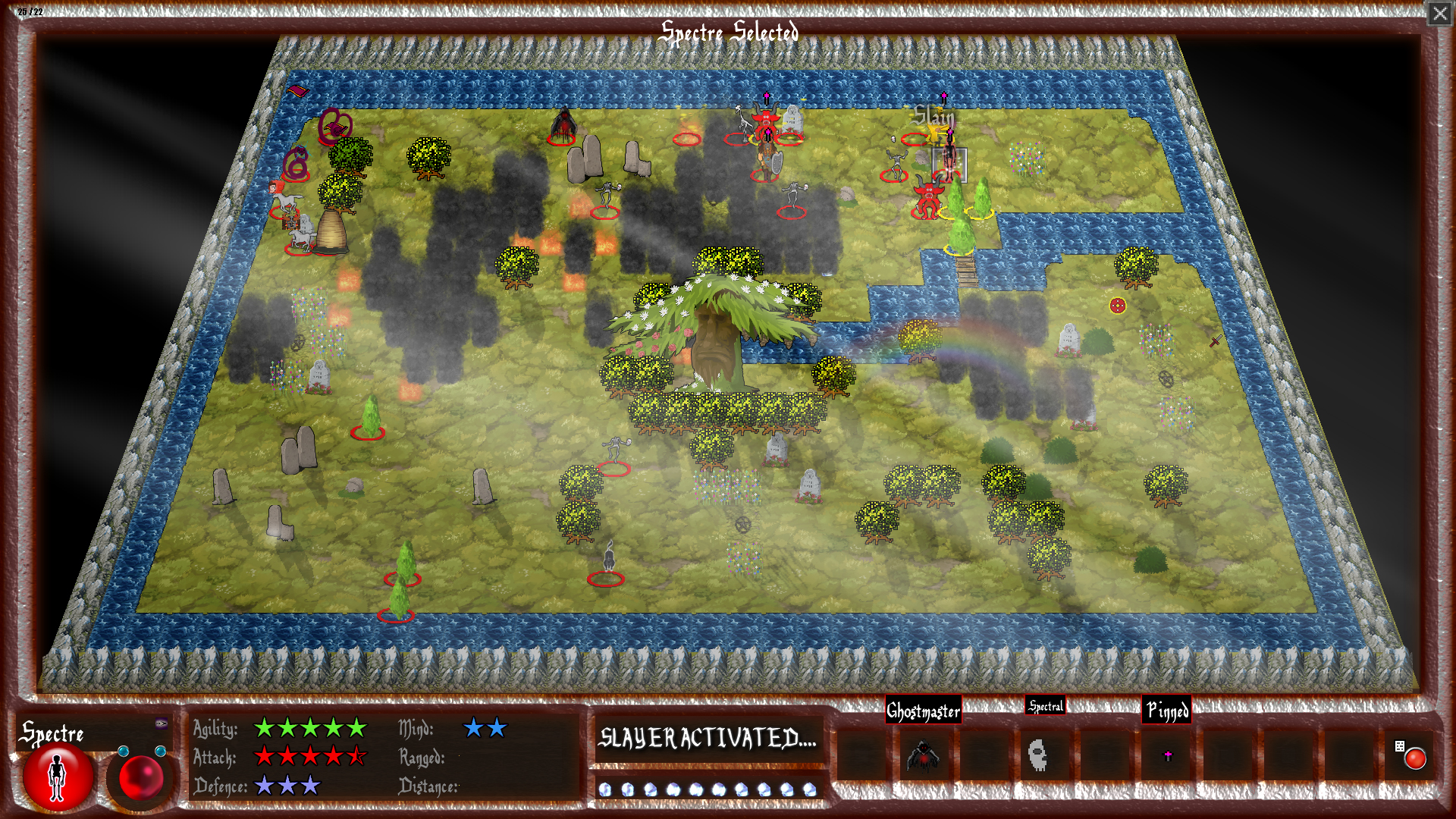 Magefire in 2017...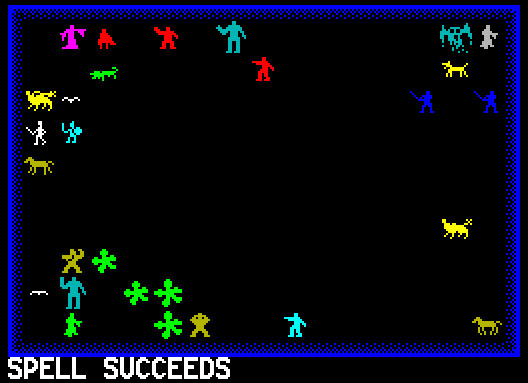 So this is where it all starts, the inspiration, in this case Chaos(. The Battle of Wizards, from 1986. It was a single screen arena with up to 8 wizards who fight to the death,summoning all manner of crazy mythological creatures. It's pretty basic by todays standards, but the gameplay was really great and over the years its inspired various incarnations of Magefire. Lets take a quick look at what they have been...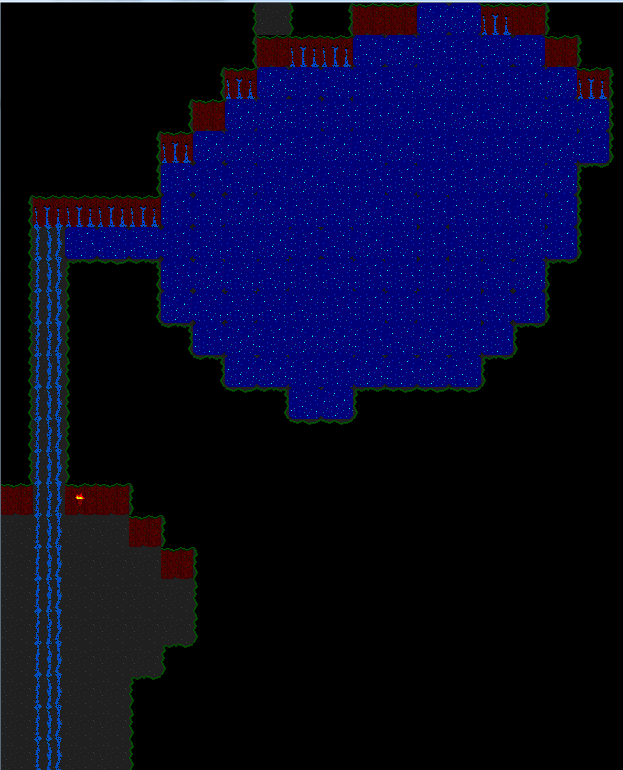 This here is Mage2(1998) a game made for DOS, it was also inspired by Chaos, this game only has one scenario and is now unfortunately lost to time. This screenshot is taken from the map viewer I made many years later and shows a flooded cavern. Mage1 was a single outdoor scenario, made a year earlier, with a graveyard and is totally lost to time, source code and all. Both Mage1 and 2 were hevily inspired by Lords of Chaos, the sequal to Chaos, and so had big scrolling maps and not small arenas.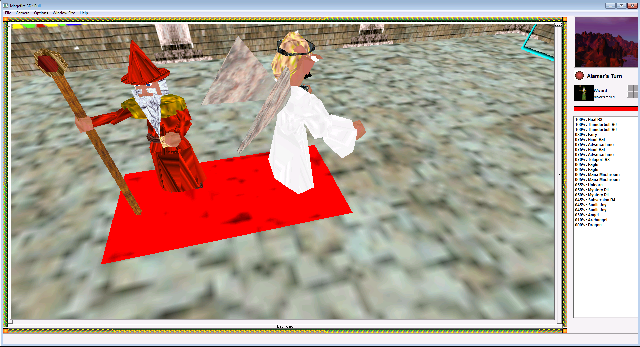 This here is Magefire 3D. It's very primitive by today's standards, this version of Magefire went back to the Chaos influence to bring the battles into a tight arena once more. It used a day/night cycle with creatures of chaos being easier to cast at night and creatures of law being easier to cast during the day. There were also spells that would skip time. It was a mechanic that in play wasn't that great, but at least it was trying something new with the casting.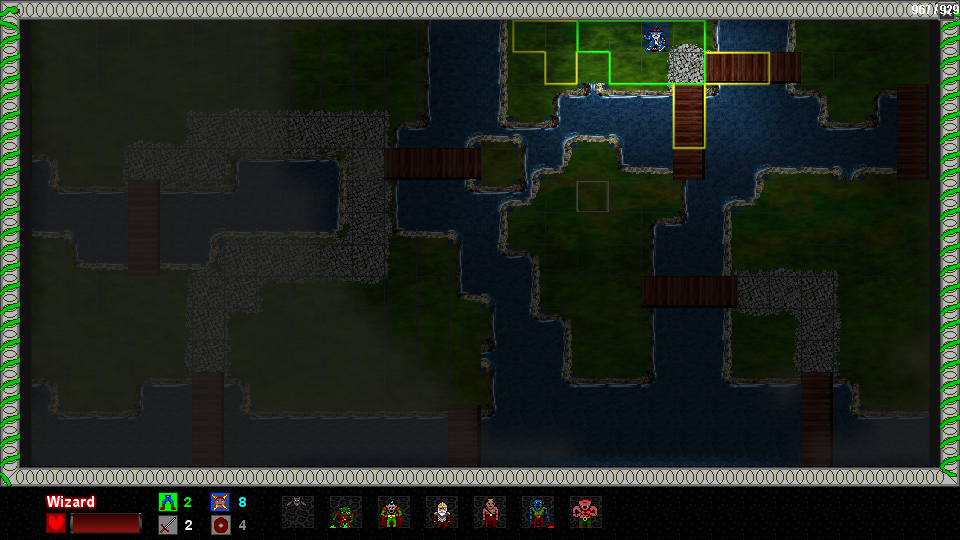 Here is where we start Week 1, well to start I ported the graphics from Mage 2 (need somewhere to start) threw on some random arena generation seeing as how popular it is and how it adds diversity to the games. went with XCom style movement because I really like it... then added the basics, UI lighting fog of war, you know the seasoning to the meat.
Beers Consumed: 4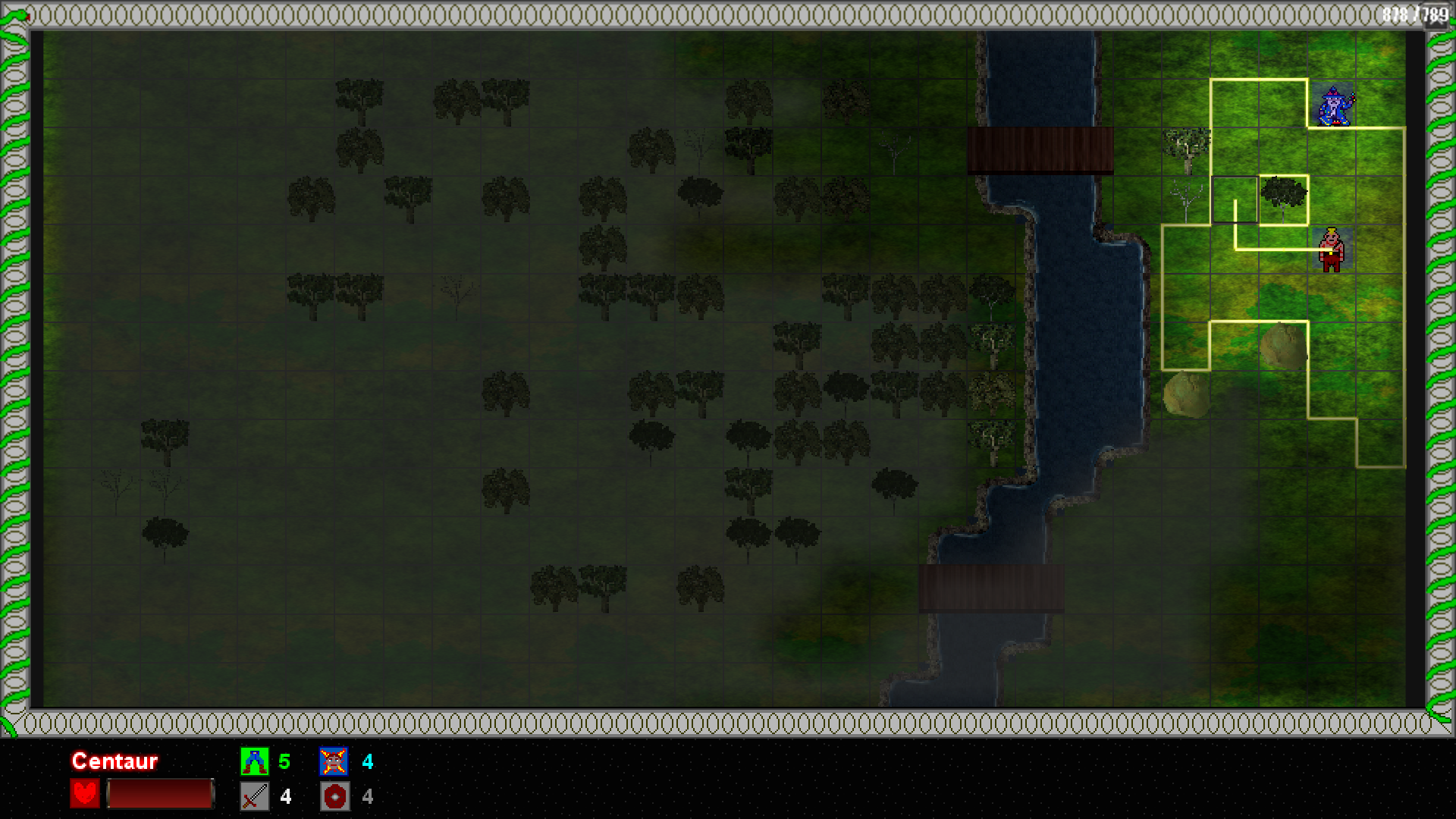 Now the fun starts, with a foundation in place we can start putting in the mechanics of the game. Firstly creature summoning, add a dash of unit pathing, and a bit of adjustment to the lighting system.
Beer count: 6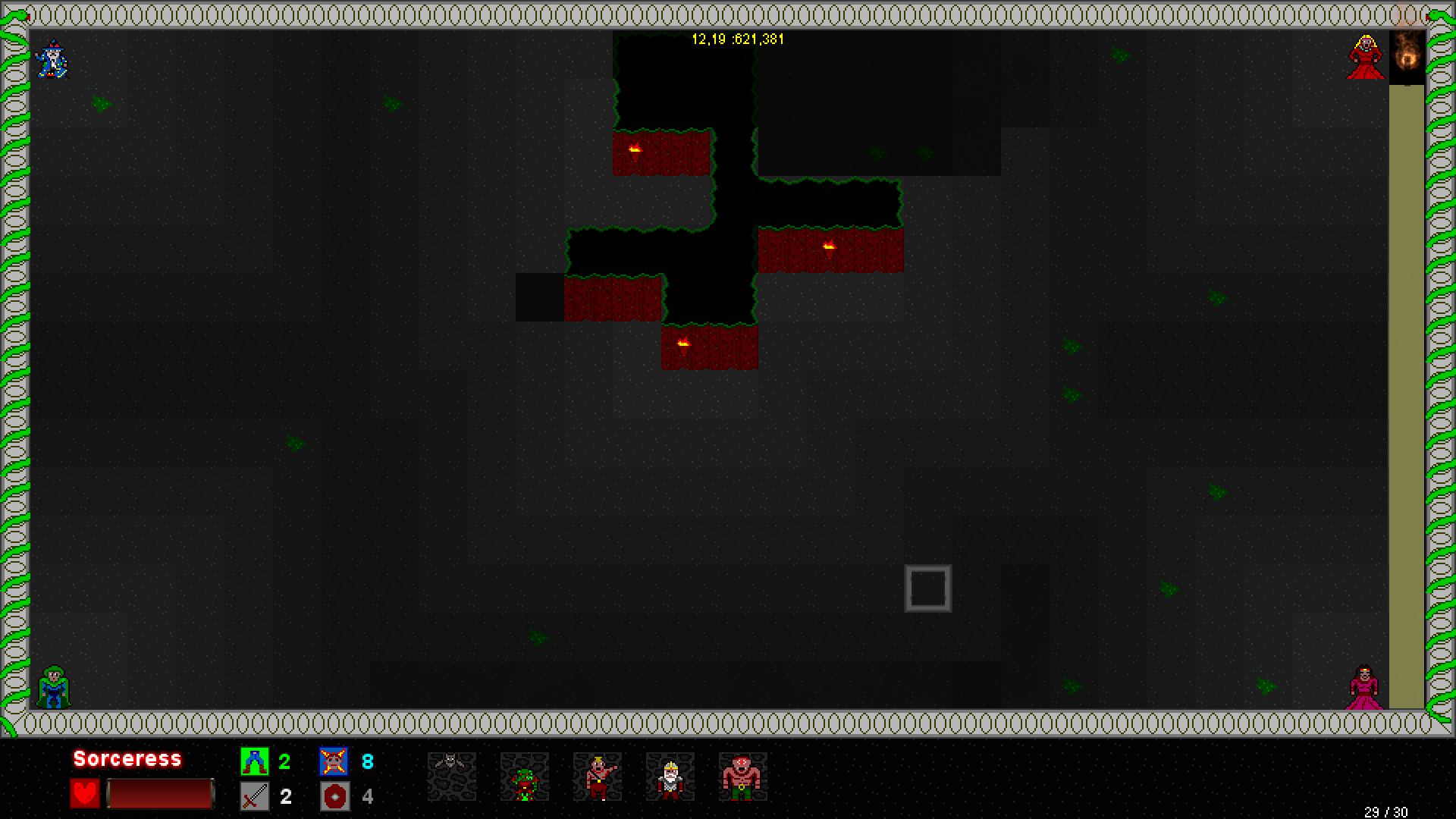 Ok time to add another map type, the cave, once again grabbed stuff from Mage 2 mostly for place holding, added flickering torches, once again adjusted lighting system to include static sources.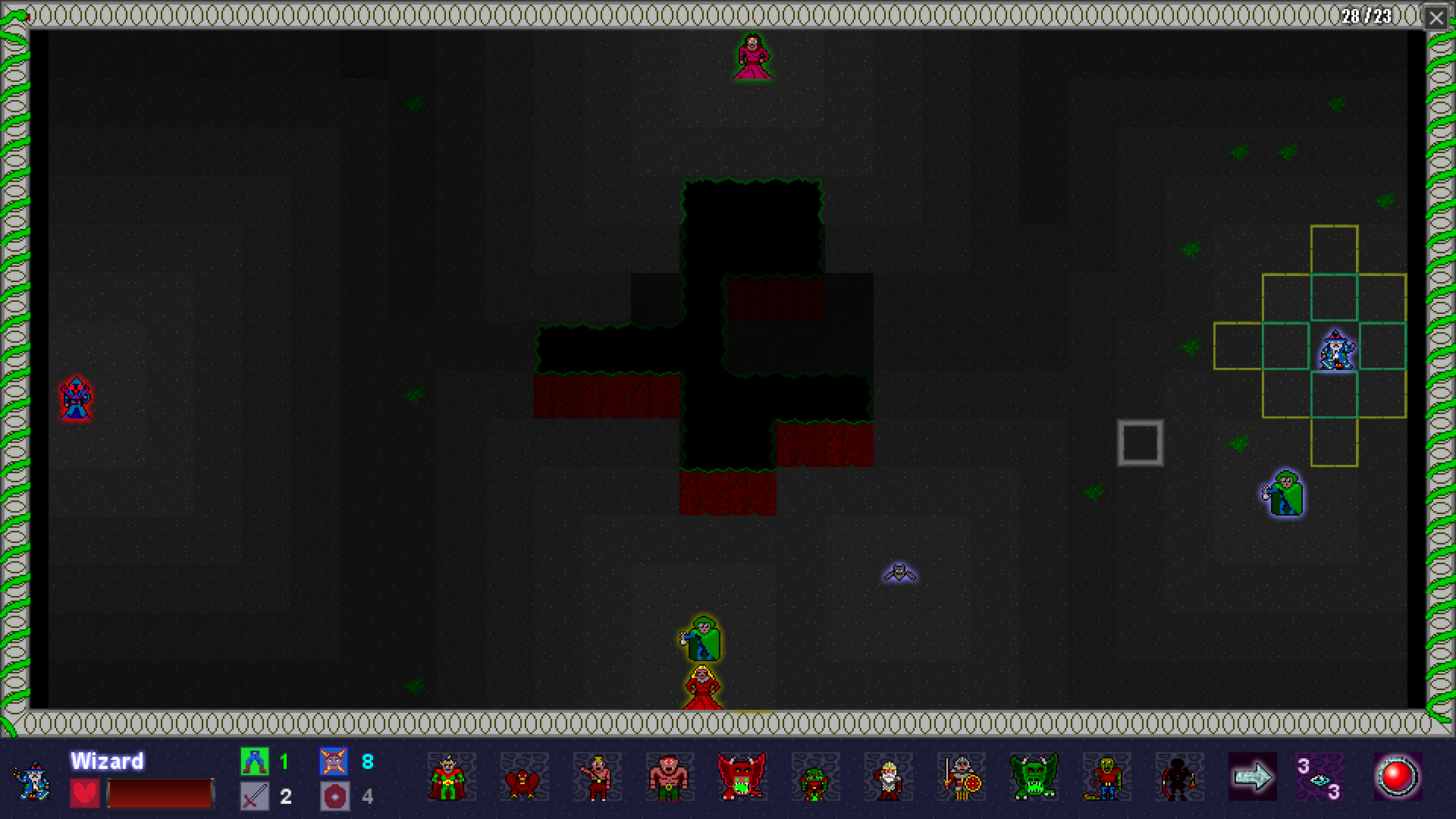 The creature set ported from Mage2 now greatly expanded and the cave system becomes the default test area. Player side highlighting added (e.g. player 1's guys are all shown with a blue glowing outline, player 2's are red, etc).
Beer count: 10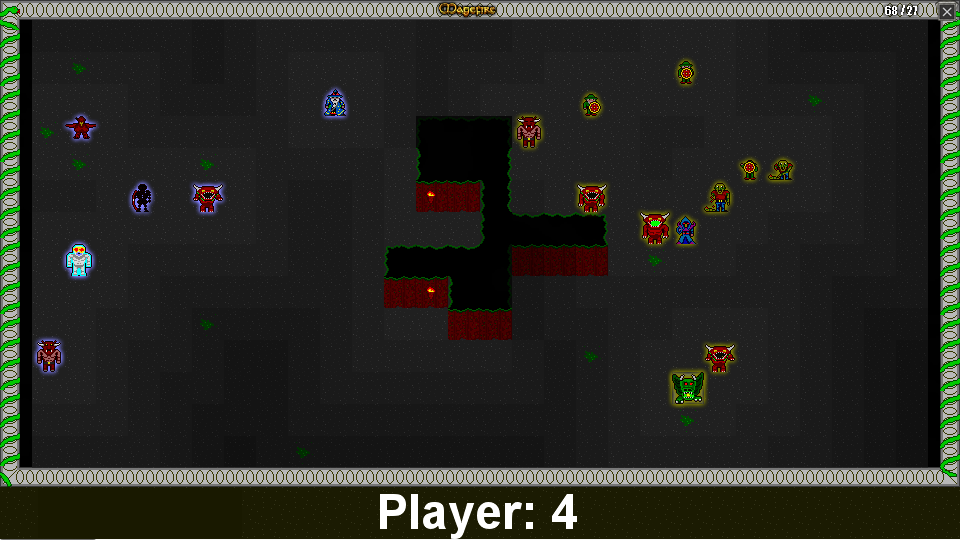 Well now the fun part begins... AI! So i added in basic computer AI which summons a ton of stuff and just relentlessly attacks other enemies, this is great because now i can set all 4 players as computer controlled to help with balancing and bug fixing
Beers consumed: 20 - AI, even simple AI is HARD.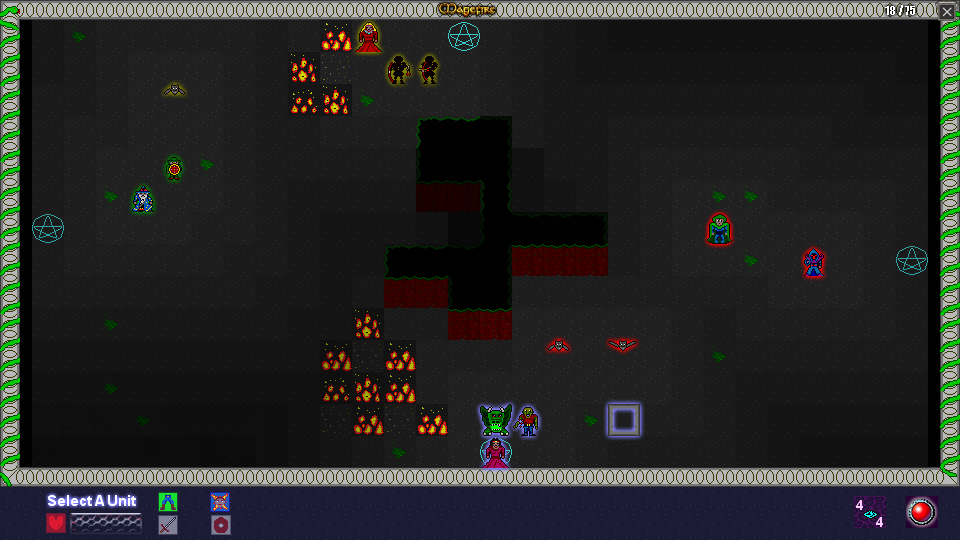 Fire! EVERYTHING IS ON FIRE! got the dragon going, with fire working now it means the dragon can harm all types of units in the game, and that is totally fair! its a dragon!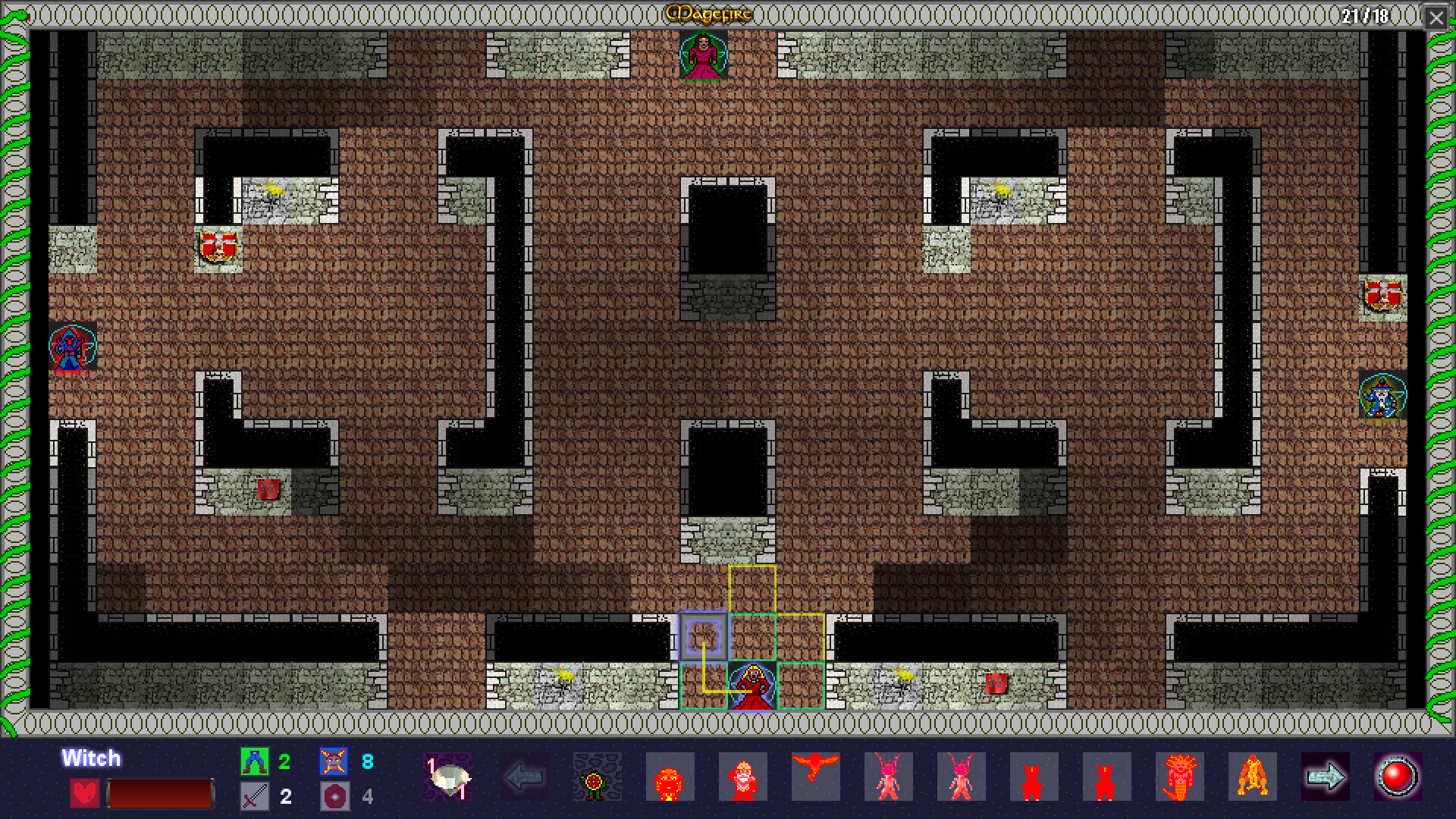 Lets add in a second tile-set 'Arcane Abodes' for some variety when testing. We can make the maps different every time on this one by sealing up gaps in the walls at random, altering the layout. Edging on walls is different from the wall faces.
Beer count:32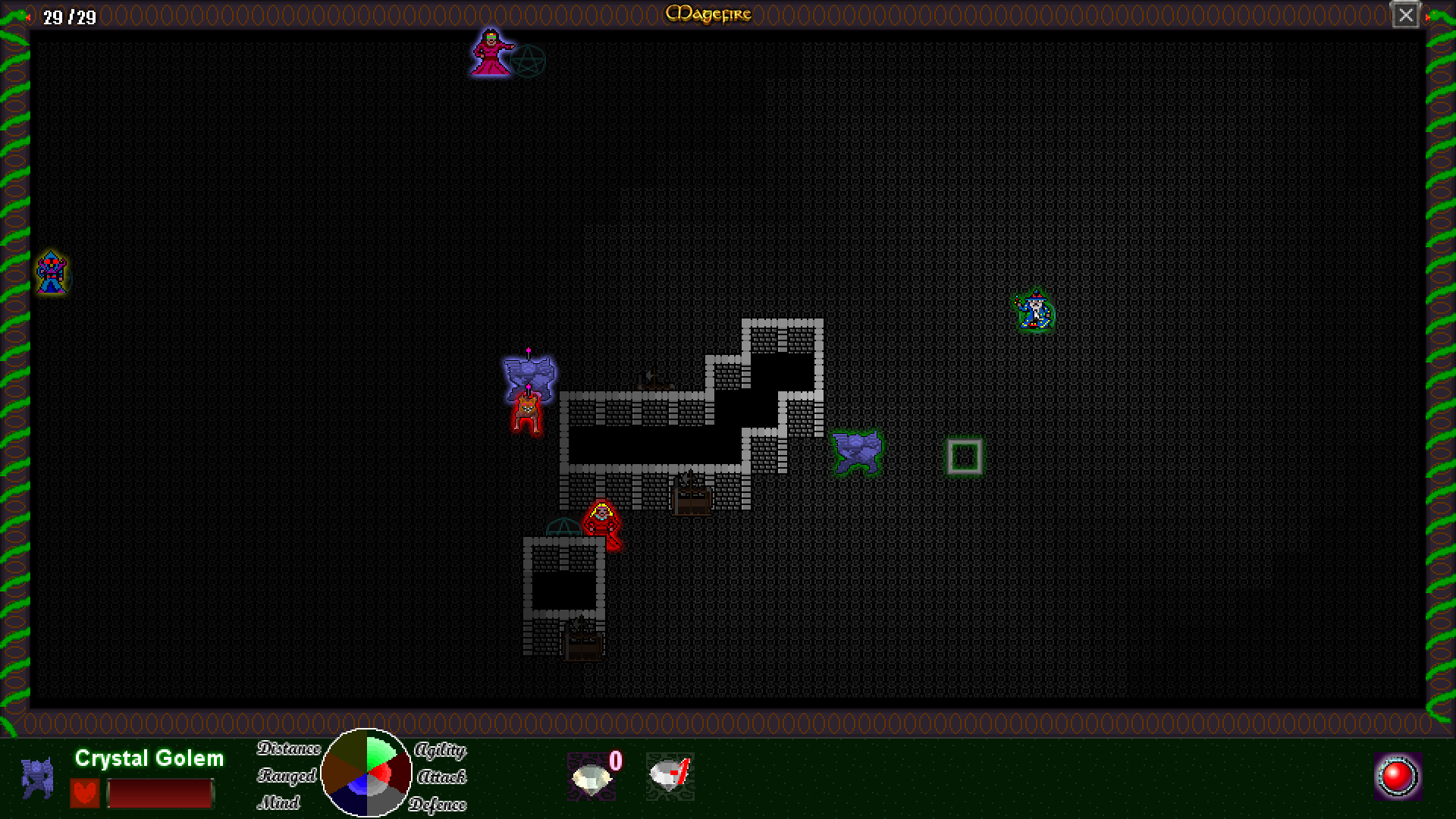 We're not happy with the overall look of these tilesets so I begin work on a new map system and a new tileset. I look in depth at how old games handled walls and tilesets and come up with something inspired by Lords of Chaos. Here we're testing out the layering of this new tile system.
Beer Count 51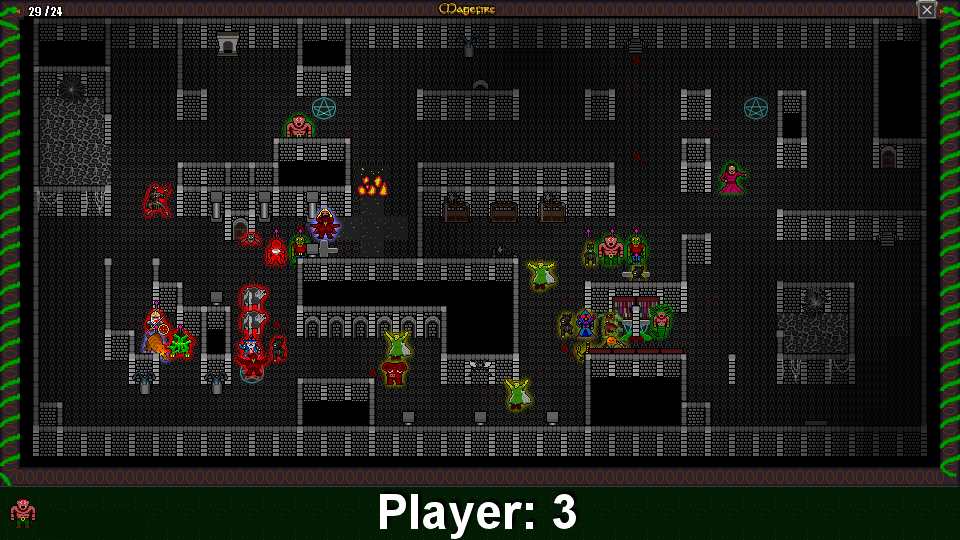 For the first time I actually hand design a scenario to really test out the new tileset. Hand designing the level lets me create various areas where different tactics (and different creatures) are favoured. For example there are some long, straight and narrow areas which ranged units can control and some areas where they're easy to get at because of the walls providing cover). I call the scenario 'Wizard's Playground'.
Beer Count 53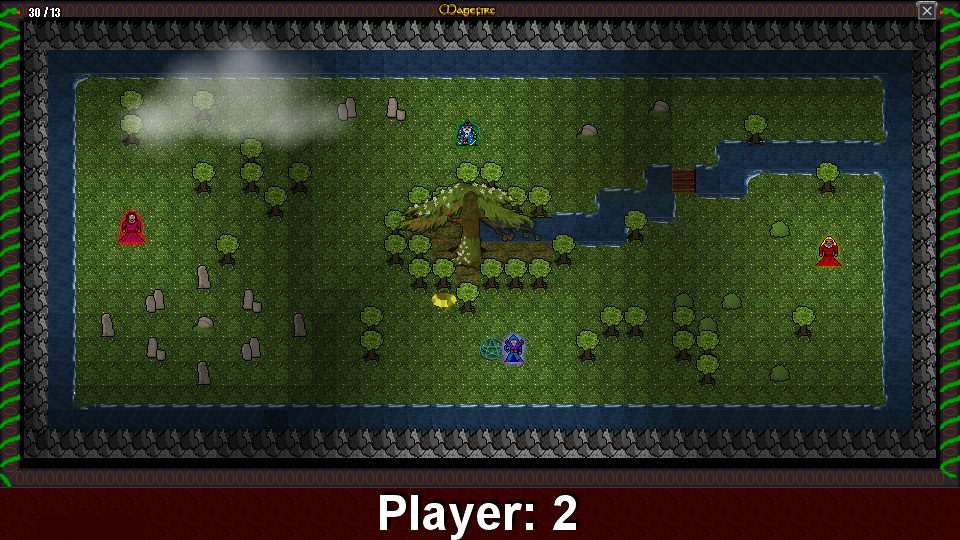 Magefire week 6... Now the game had an indoor scenario using a brand new and much improved tileset system, it was time to look at building a second scenario with an outdoor tileset. I decided to turn to Norse lore for inspiration and began to build the Isle of Ygg, a scenario based around Yggdrsail, the Norse tree of life that connects the nine realms together. This proved to be a big hit with the main play tester. Not shown in this screenshot is the rainbow effect that appears, mimicking the rainbow bridge (also from Norse lore) subtly, but you can see there are clouds that scroll across the screen. This scenario also features the outdoor creatures and fliers in the game and so plays quite a bit differently than the previous Wizard's Playground scenario.
Beer count:57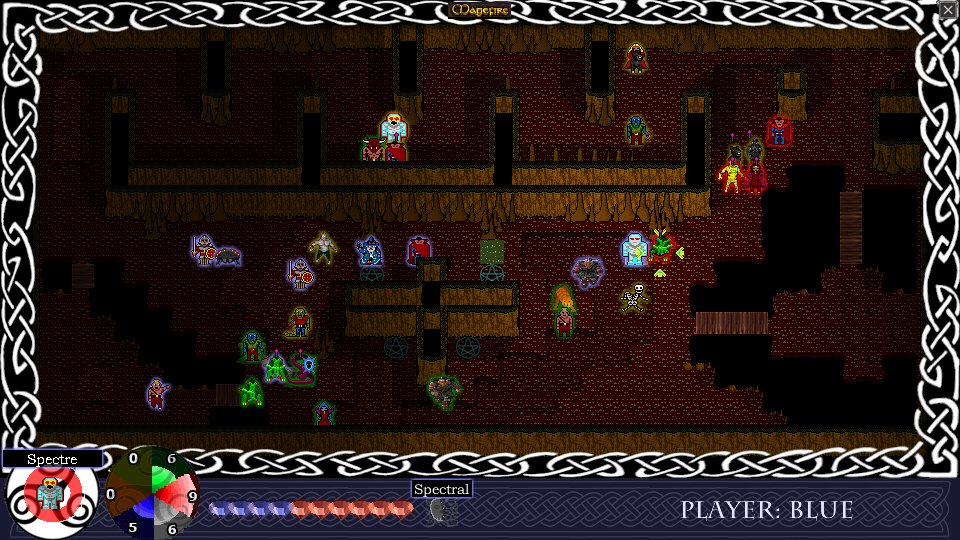 Now we've got two working scenarios that play different from each other, it was time to start thinking about a third scenario. Remember the Hollow Caves from Part 1? I decided to bring those forward into the new tile system and give them a little attention. The result was this, the new third scenario in the game, also called the Hollow Caves. This scenario really puts the pressure onto the players early on due to the start points being located very close together, though there are some interesting safer areas that can (and probably should) be fled to quickly. I wonder if you can tell where they might be?
Beer count: 65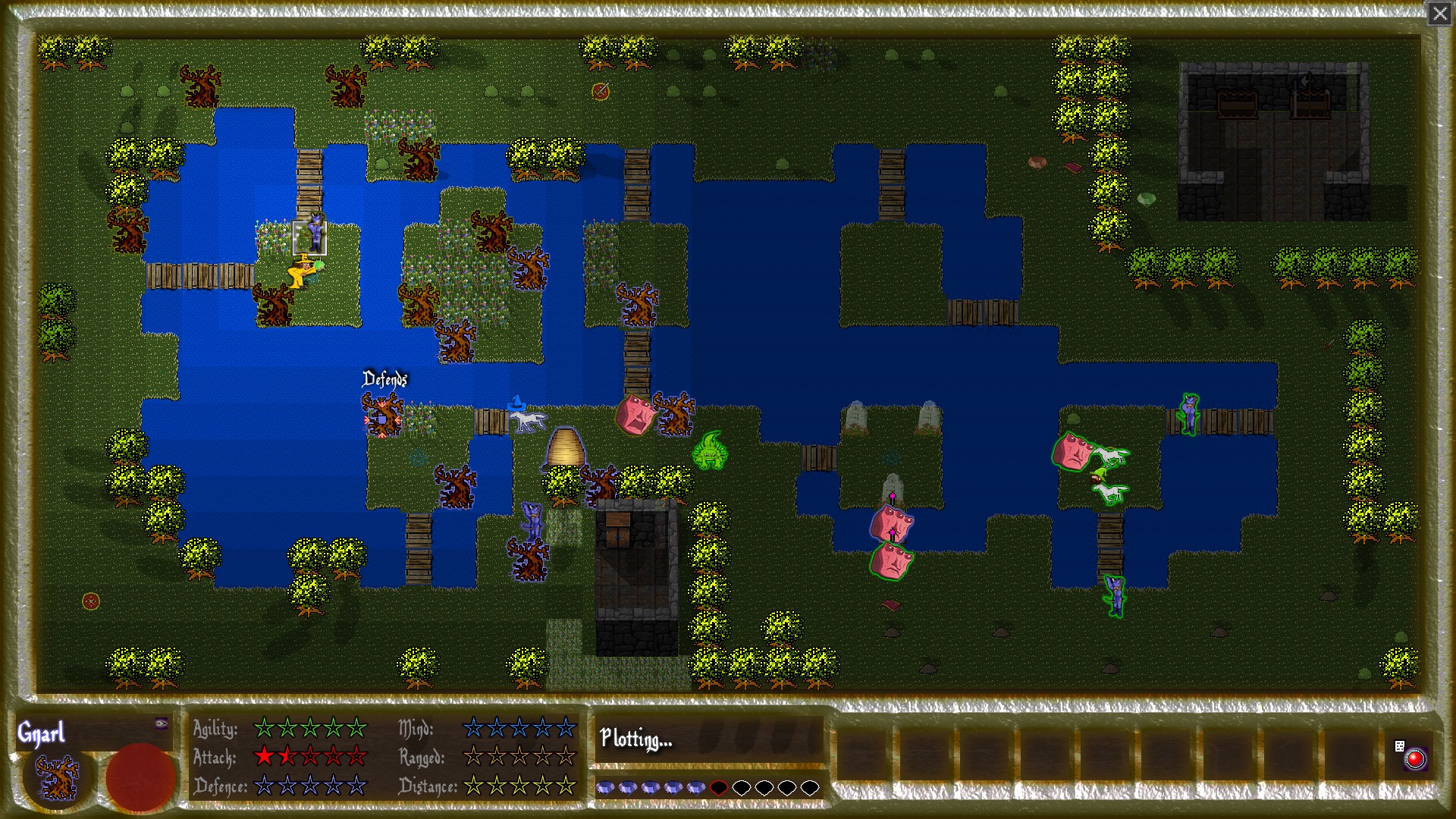 By now I've totally lost track of the beer count and I'm several months into the development. I've built numerous scenarios and I'm now in the process of turning the game into a HD version with all new assets. This shot shows the very early progress towards this.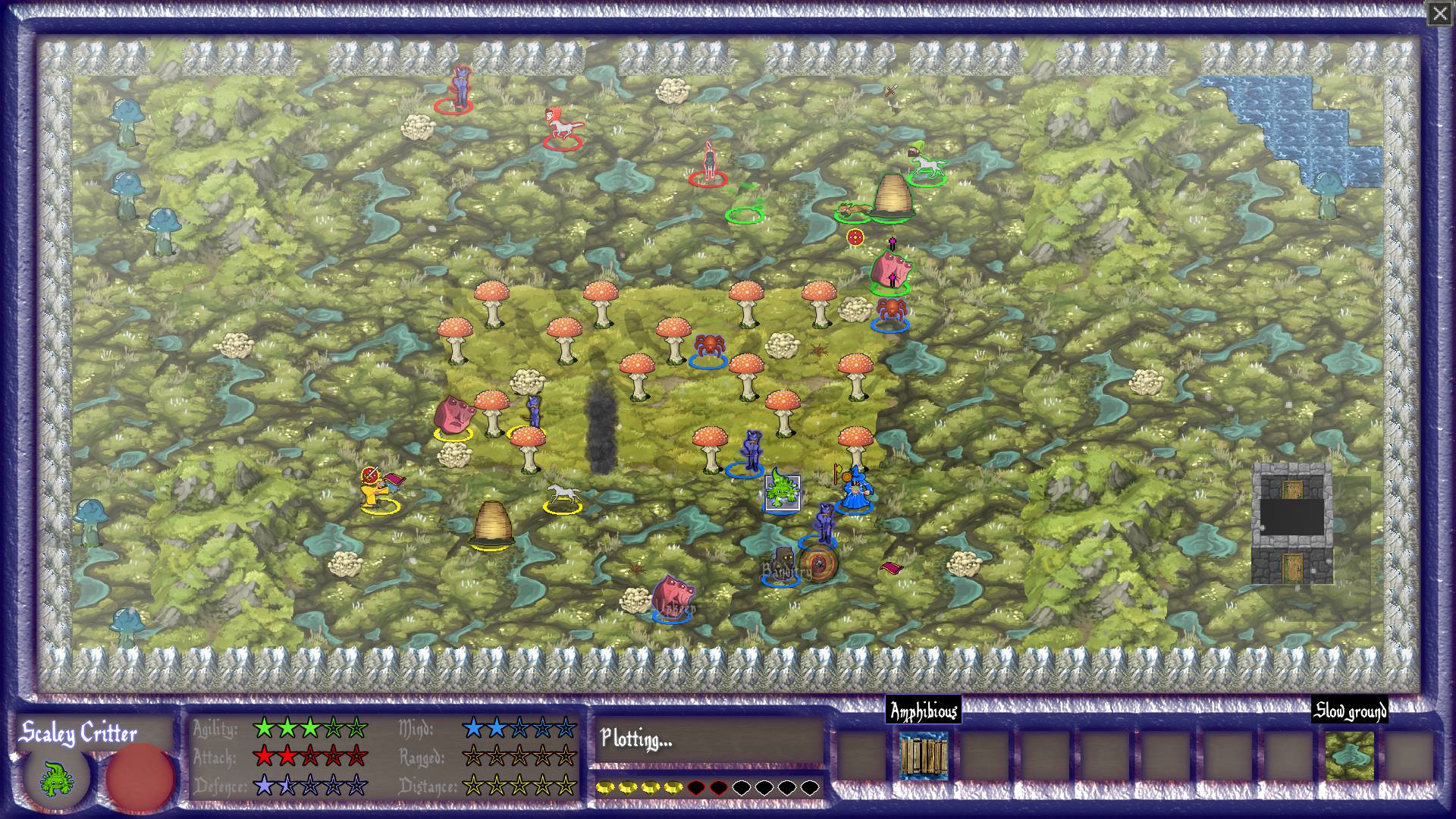 This is further progress in the HD version of Magefire, showing the Stinkbog scenario which features numerous different ground types to add to the strategic depth.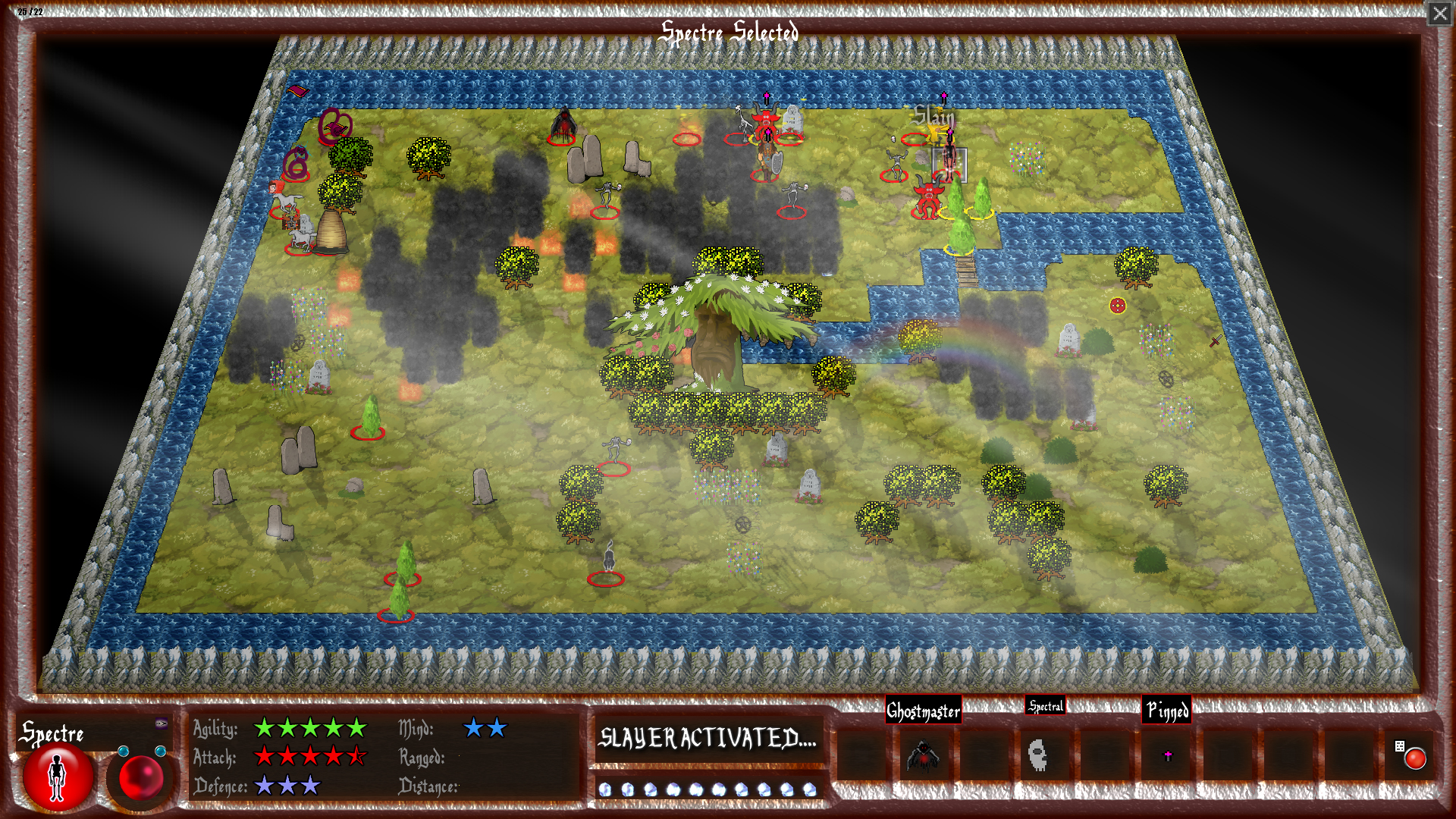 Finally, here is how Magefire looks today :-)