For Demons with Shotguns, it's always been a design goal to include levels of varying sizes. We didn't want to feature just one level size, and we especially didn't want to feature just levels that were single screened. At the very beginning, the game started out as split screen, but that quickly gave way to featuring a single camera that could track up to four targets, zooming in and out as appropriate as the targets moved throughout the level.
Obviously, there needs to be some type of limit on the largest level size, else the camera could zoom out too far to the point where everything is too difficult to see. After testing various levels size, we concluded that the largest resolution the camera would zoom out is 1280x960, with the smallest being 640x480.
In terms of the number of tiles a play area for a level is, levels can be of three different sizes: small, medium, large. Small and medium levels feature an anchored camera that doesn't move. Large levels feature the tracking/zooming camera.
Here are some examples.
Cemetery03 is a small level.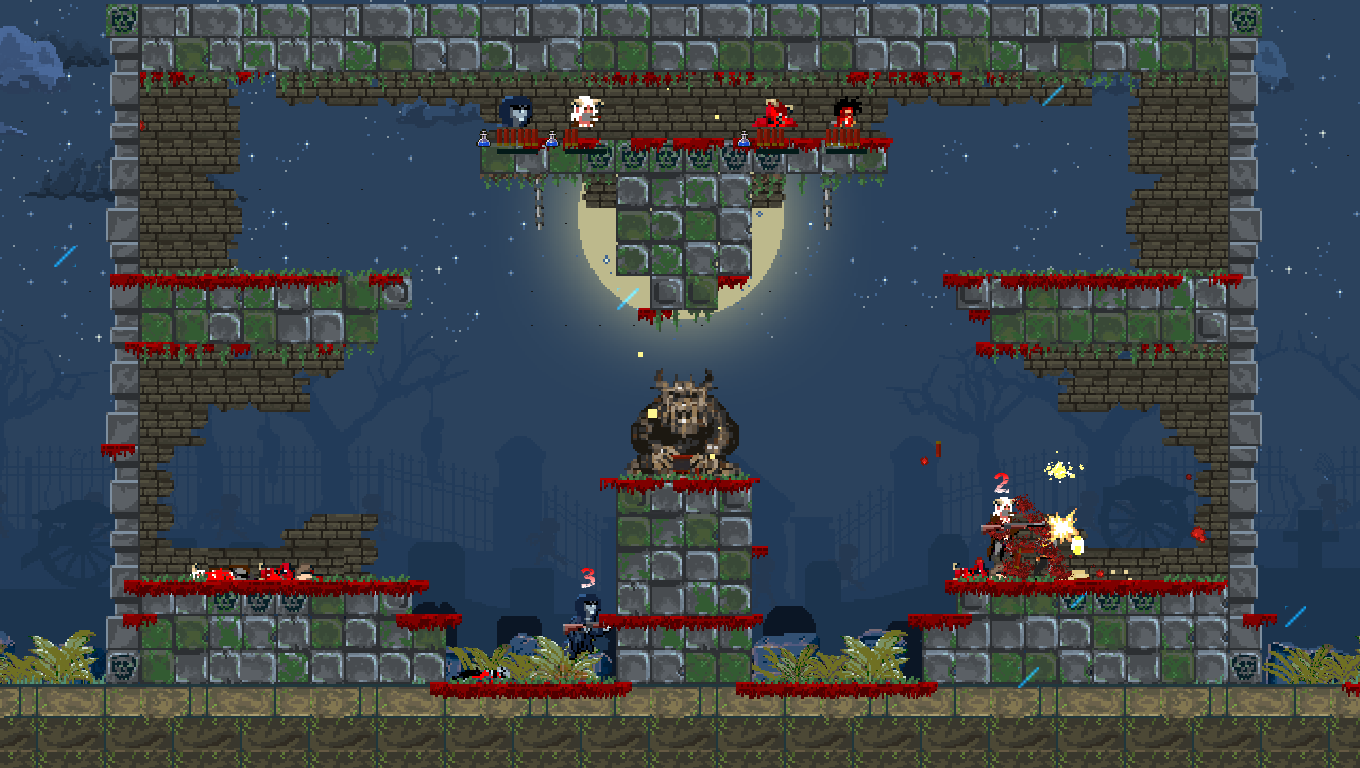 The camera resolution is still 640x480, however the play area is smaller, forcing more intense fights.
Cemtery04 is a medium level.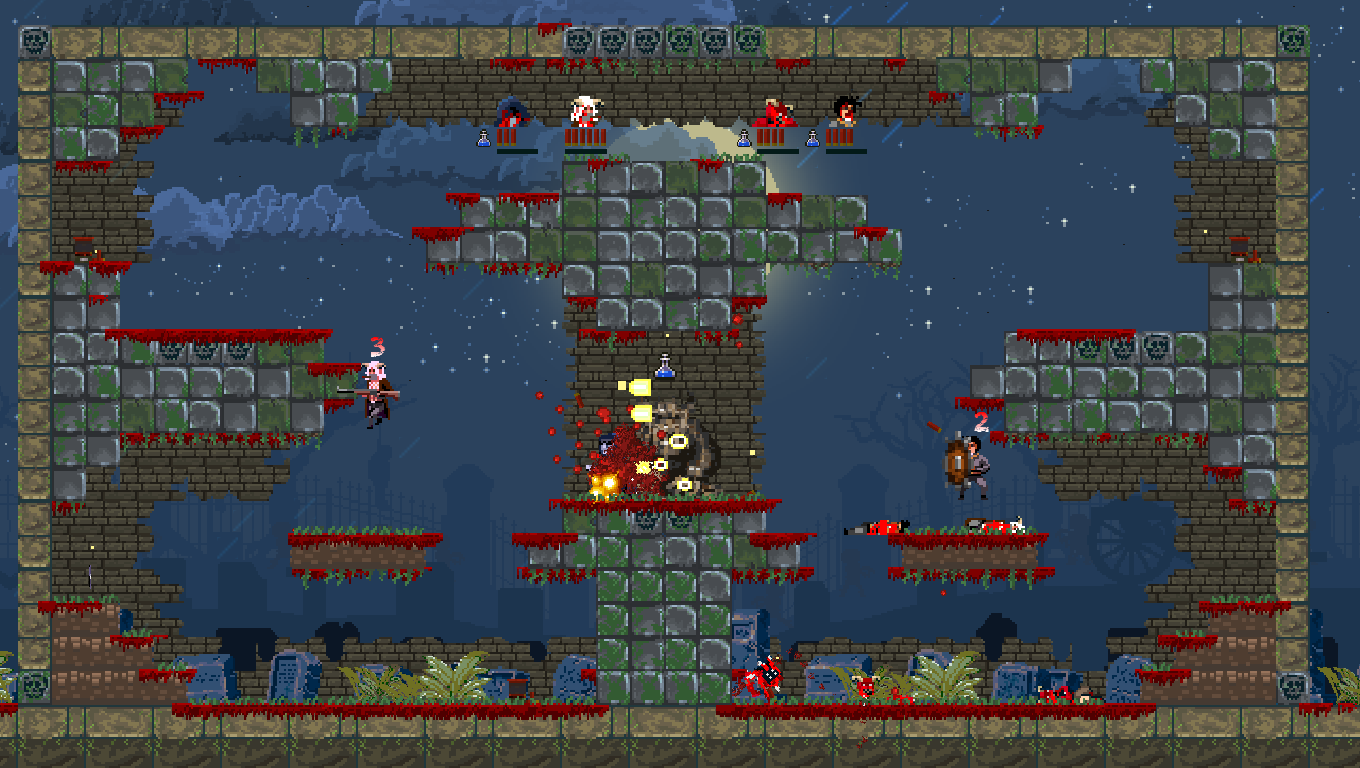 Like a small level, the camera resolution is 640x480, but uses more of the available resolution for increased play area.
Cemetery06 is a large level.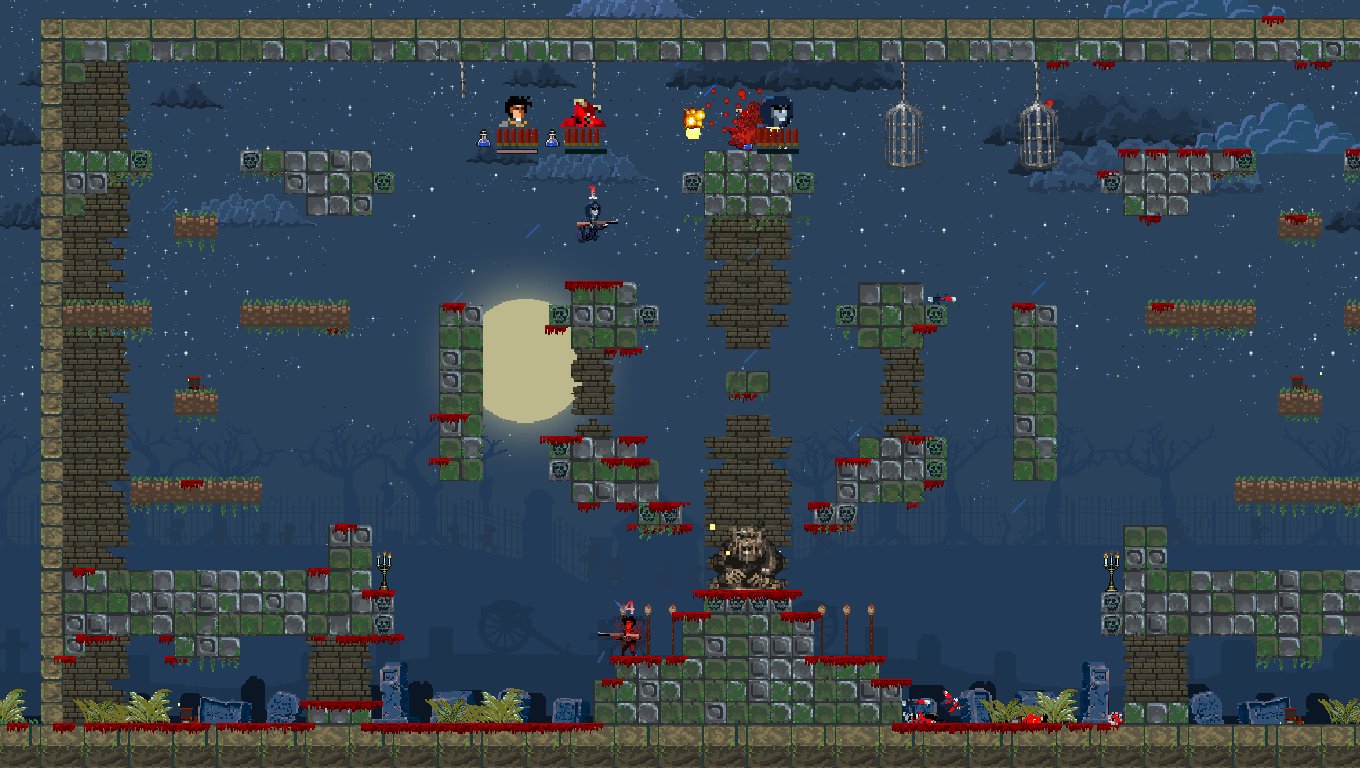 Large levels feature the zooming/tracking camera. This allows us to have more fun with the level design, and helps break up gameplay a bit.
Right now, the goal is to provide 2 levels of each size, so 6 total levels for each environment, with 30 levels overall. Of course, these numbers may go up and there's nothing to say that we won't release level packs after release.
Demons with Shotguns will feature four distinct environments, each belonging to one of the four characters, very much like levels in fighting games such as Mortal Kombat. The four environments are
Cemetery
Hell
Metro
Dusty Texas Town
The Cemetery environment has been the first environment we've worked on, and been solely featured in all of the screen shots and videos posted thus far. This is Death's environment. It is a long lost Civil War era cemetery, roaming with zombies and with labyrinths filled with booby traps.
And speaking of booby traps, what's a platformer without environmental hazards ready to kill any inattentive player? Each environment will feature different types of environmental hazards in which the players must also be aware of and react to.
For the Cemetery, the main hazard are spikes that are triggered when a player steps over them.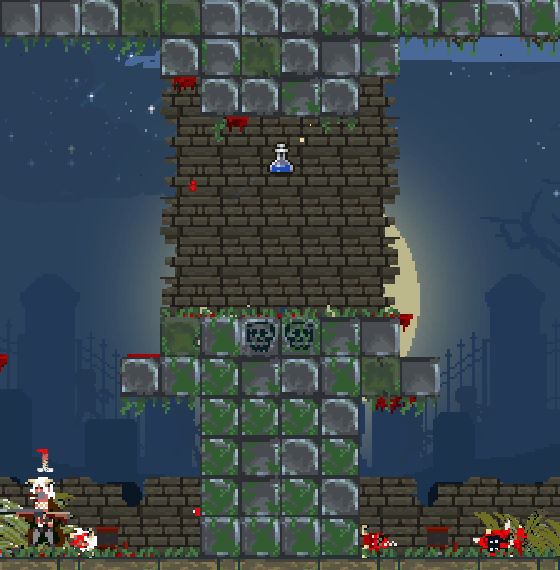 There's also torture cages, hanging above, ever so conveniently, that players can shoot down to crush other players.
We've finally started working on the art for the next environment, Hell! Here is a very early, very WIP sneak peak at the tile sheets.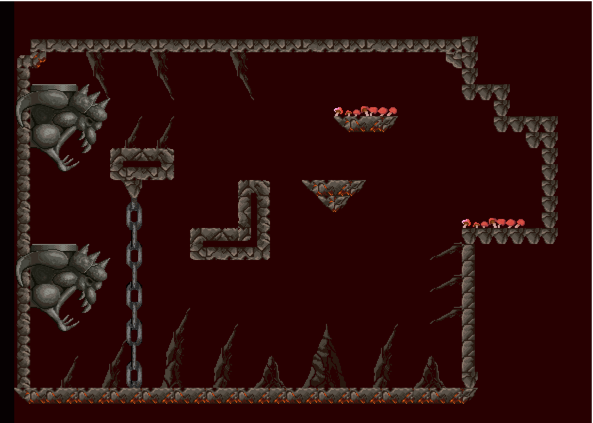 We have a lot of cool ideas for Hell, which I won't divulge just yet, but from a development stand point, I couldn't be more thrilled to finally see a new environment unfold, because I've been staring at Cemetery themed art work since the beginning of development!
As for the current development schedule, this month my main focus has been purely on two things, wrapping up the 6 Cemetery levels and implementing a new game mode, Last Soul Standing (more on that game mode hopefully next week), while Kyle continues to work on the art work for Hell. Though, I have been slightly derailed to hunt down some memory leaks in the game, but I hope to get back on track by next week.
Once all of that is done, I'll start designing the Hell levels, and may even start implementing bots. Exciting times are ahead!