I finally found some time between my game design studies to write this article.
The Unreal Development Kit Documentation provides a detailed description of how to provision and upload an App. Unfortunately parts of it where outdated so it is necessary to use Keychain to create the distribution provisioning.
Mars Base was submitted from a macincloud server as noone arround here owns a mac or knows how to use one. Fortunately Mars Base was approved straight away after about 8 days of waiting impatiently.
However that is were things started to go wrong. The iTunes Store needs some time to syncronize its payment and distribution systems with a new app. So while the App was approved it still could not be accessed by anyone. At the end of the day Mars Base was available for only 2 hours or so in the USA. Then the App store moved on to the next day and the launch was pretty much over.
Apparently these issues can be avoided by setting the launch date far in the future and setting it to the correct date for launch once the App has been approved.
No money has been spent on marketing which means that no reviews are available for the game as most review sites sadly ask for payment to write one. The toucharcade forum proved to be the most relevant but there are posts about Mars Base on pretty much all relevant forums. All these posts also include the game teaser on Youtube.com
Untill the 12. October 2012 Mars Base made a profit of about 110$. Due to Apples cut, promo codes being counted as "sales" and other factors this is all that's left of its 186 sales in the first month.
So what that means is that it covered the costs of the Apple devloper program and will probably pay the UDK license fee eventually but no more than that. So it was worth it for the experience but it didn't really make any money.
Here is the link to click if you want to improve those numbers:
Itunes.apple.com
The plans for an update were cancelled as the new version of UDK that would make it easy to do the testing on iOS6 was never released.
Last but not least here is a picture of a new building that was supposed to be in it: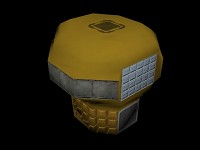 EDIT: Mars Base is FREE for a day on 26. October 2012!!!