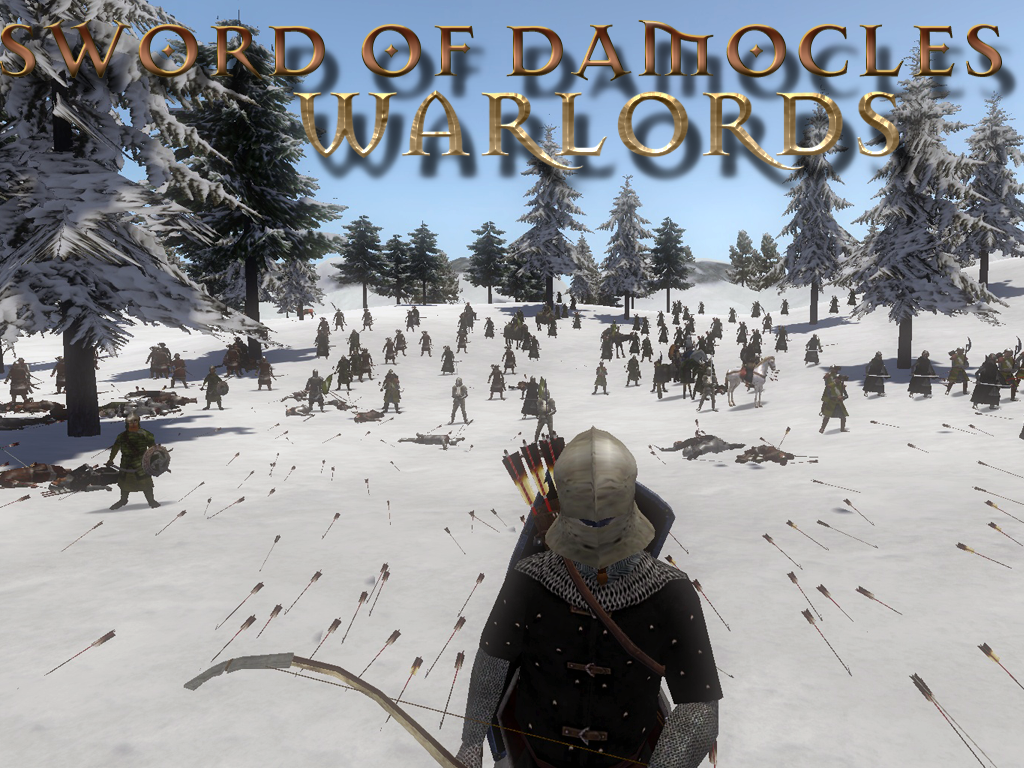 The updates below are small summaries of past updates on the mod while in development. You can find these updates in real time on the mods History page at the TaleWorlds Forum. Right now a new 3.x release is planned before we release the fully complete 4.0. The new 3.x release won't contain contract mercenaries for factions since that system won't be finished anytime soon. It's the major feature that is needed to release 4.0.
Other than that, a huge load of improvements to the mod have been implemented since the 3.0b1 release back in March of this year. Some of the improvements are stated there in the update logs below. This time the mod will be more solid but it's still in its test phase before so no story or main quest will be added until 5.0. Multiplayer play will also be added in the upcoming 3.x release but since it will be the first release for the multiplayer there will be balance issues. Hopefully we can solve the multiplayer balancing before 4.0 is due.
When I have a release date ready it'll be posted within a weeks time. Depending on how my life is going I will set the release date sometime in the next 1-2 weeks. A download will be updated here on the mods ModDB page as the 2.4 release was. The upcoming 3.x release will not be save compatible with any early releases. It will be compatible with the latest Warband patch though which also had fixed the crashing experienced in the previous mod releases.
---
UPDATE 04/22/2011: "Sword's of Damocles"
I have to admit, modding has been sluggish. Though I'm working hard behind the scenes. I've just finished every new weapon model and hopefully I can put them in-game and have each one fully balanced with the current items by the 4.0 release. This release is going to take a while longer to come out with though. There's a lot of things I have to have completed before 4.0 is released. I need the game to complete and not half done. So for the 4.0 release expect there to be new weapons with fully working scabbards and more hairstyles for females and males. I also want to have the factions fully balanced out by the time of the release. As soon as they are balanced I can move on to making the multiplayer release.
Expect over 80 new weapons and a new arrow system of 15 different arrow types.
UPDATE 05/27/2011: "Companion Bitchering"
I know it's been over a month since I added a new log in the history page, but I've been very busy modding. I made/implemented a solution for companion bickering. You can now turn it off and on now. But the player can get a bonus now when complaints are turned on. The bonus uses companions leadership skill to make the bonus work. Depending on your companions leadership they can give an party limit increase of up to 30 more troops per companion. It's a really good bonus, you just have to manage your companions complaints. The down part on this is that if 2 or more companions don't get along and leave your party you'll lose that leadership bonus you got from that specific companion. All-in-all I think It is a fair system. As to reward the player for giving his companions some say on what goes on.
Stay tuned, there's more to come...
UPDATE 06/03/2011: "Duel Max"
I remember people saying that the dueling system was way too imbalanced with the relationship with lords. Well I introduce to you a limit to dueling; individually for each lord & king of course. Though It could probably use some testing. Now with the (full) health & (1/3) renown checks in place you only fight each lord/king 3 times a day. Yes, three times in a 24 in-game hour period. So for you all that have been ranting that I made the game too easy or "easily abusive" there is even more frustration when it comes to dueling. The upside is that this will encourage you (the player) to rotate lords to duel and not repeatably beat the crap out of the same lord. This also a good way for me to introduce some secret items and rewards from dueling. In other news I've limited betting in the arena to one regular bet and 1 high bet. Now is making money through the arena gonna be easy now? This also means that You'll be thinking about laying 2,500 denars before that first match. I'm also gonna make the arena participants a tad bit tougher. Making money in the arena is already tough as it is. It will only get tougher the more you all complain about difficulty. Yeah I can make the game harder. When version 4 is released and you find the game too hard or easy you can always change the in-game difficulty.
UPDATE 06/24/2011: "Multiplex"
Multiplayer will (should) be fully functional in the upcoming 4.0 release. I'm glad I've had the time to just sit back and develop the mod. Also there have been many balance changes made for all 6 SOD factions. Even mercenaries have gone through balance changes. Nobles remain the most powerful troops in the game still but many have been adjusted logically more towards lore. When the Native factions have nobles; support for playing and choosing those factions may be made also. Many Items have went through a tough balance again. I'll have to make a mathematical formula when it comes to pricing each item. Development is progressing smoothly though I don't have a release date yet as there are some features I still have yet to implement in the game.
UPDATE 06/25/2011: "Release Date"
I wish I had a release date but there isn't one because the amount of work left to do. Even though I'm working on code I'd love to have many of the old armor textures to be re-done. I know a bit of texture work and UV Meshing but I'd rather deal with the coding and busy work. So for now I don't know how long it will take to make a release, also if something good happens that we may want to put in the game then I'll take time to implement that in-game. I let you know some of the progress I make in the mods history page.
For instance, recently I announced support for multiplayer in 4.0, so I've been using my extra time and not wasting it. Multiplayer was planned for 4.0 but the game is looking great right now, I just have to finish up the balancing on items and add the 100+ new weapons in-game, then disperse them to troops which will require more troop balancing. After that I'll need to make sure the scenes are orderly for the Castles (150+ scenes) and Villages (300+ scenes). Then I still have about 3-5 major features I need to integrate into the game since I have new weapons. The old arrow system is pretty much replaced, I need to balance out those arrows, then ask about somethings on the forge that I'm not too sure about in the making of the new arrows.
Make sure population growth is effected by health correctly and that health is balanced. Afterwards send out that current W.I.P. to my team members so they can do quality checks. Then Wei.Xiadi may start re-texturing a few armors which will take time, after this I can finally reactivate a closed beta team "smaller and quieter is better":P to check for bugs and feedback. After all that is done and works out quite well... I can finally develop the trailer for 4.0, set a release date then release the game for you all to enjoy.
I assure you, none of these tasks are difficult or impossible to do... they all just take lots of time and determination to do them. I plan to see a release soon. I'm working as much as I can. Also some of my other fellow modders need help. Before I started the mod to go public I was helping Lumos with a new map for The Blue Stone which is sitting on my desktop even now. It was going great but I got so involved in the mod I had put his on hold. Then a good friend of mine, Alex Dragon needs help with his mod. If you all can assist him in some way I'd appreciate it. So far I can handle the coding work on my own, if I need help or have questions I'll be in the forge.
UPDATE 07/02/2011: "Normal-Money-Bumps-Bang!"
WOW! Time is flying when your having fun! But alas I'm no where near complete with the mod yet. I still don't have a job yet so I've been working the graveyard shift working on this mod. Things are coming together great! I made some new options for the player to give money to his Vassals. Before doing so the lords will tell you how much money they have on them, and then you have the option to give them some if they have little or no money.
After I add more features in that area I'm going to add plenty of Normal bump maps and specular maps to a majority of the models that are already in-game. I've already made some mesh changes and item fixes. Carbines and muskets now have there own individual sound sets so they can sound more realistic plus they now have there own reloading animation which makes sense when reloading. The accuracy for all firearms has went up which was something Carbines really needed as a weapon. This also means firearms are more deadly but the rate of fire for these weapons are still very slow. Pistols are quicker to shoot with but have low accuracy so there based used at medium to short range with a shield equipped for defense.
The Arrow System is fully in-game now. All I have to do is integrate the new arrows into existing troops, then the real fun starts. As for the 100+ melee weapons? Implementing all of them will take some time. It's best that I hop on that now. That and the royal artifacts is left. Afterwards I'll do some scene work for the 300+ villages, modify the world map and finally add the tree desert texture. The multiplayer part is balanced as far as bots are concerned. I'll add the new items and weapons into the multiplayer section also. Last but not least for the 4.0 release is the reason I skipped a full 3.0 release... mercenaries. Without that system being complete and working I can not release 4.0.
If I can get the mercenaries then everything else is just icing on for the 4th cake. The test build I'm playing is already addictive and I do like what I've done so far. But I won't be satisfied until the mercenaries are in-game and the new court staff is working along with them.
UPDATE 07/10/2011: "Three-Six-Nine..."
Just what we all needed... more villages... :P
They needed to be added because a good amount of towns had either one or no towns at all. So the number of villages has went from 354 to 369.... I wonder if the game will get any slower than what it is... I added about 3 more castles around the map, this means more siege scenes to add... damn... scenes are no fun to implement. Well, I'm gonna get back to work...
UPDATE 07/17/2011: "Companion-Aid"
Companions... they are not the easiest thing to make. They require dialog to give them immersion. So companions is what I'll be implementing before I consider releasing a new release. If you all have been checking the features list you'll notice that I decided to make up to 22 companions of my own design. Even though it'll be tiring to do 22 it'll be fun tapping into my creative side! Other than that the things I want to have done for the next 3.x release are Companions, Scenes, and Multiplayer. There are some minor things that must be done also. So it'll be a while before I release something. I'm glad to be moving towards a more solid release.... Companion-Aid! Coming to a mod near you! Oh and the village count (371) and castle count (167) has moved up again. Some Towns didn't have villages still. Some more castles may need to be made in the Steppes since there is a ton of space in those areas. Companions with bickering on get a few more advantages. Also this time around I decided to let the King/Queen's Right to Rule give more useful bonuses.
UPDATE
Hello everyone! Version 3.8 has been released. The Offical ModDB download link will be uploaded ASAP.
Mbrepository.com