1-What is the INSIDE POST?
As the summary already told you I will post every month an "INSIDE POST". It will give you information about the development process, about new tools I made to help me make the mod(as we are going to see in the 3rd part of this post) and about any information on the mod itself!
I'll try my best to publish a new post every month. Don't worry if you don't see any post in a month. I've certainly didn't have time to write a post. If I can't post I'll try to let you know on my ModDB profile or in the comment section of the mod or on twitter (you can follow me @Kutsatuta)
2-How is the mod going?
The mod is going very well. I didn't have time to continue working on it during the beginning of 2019 yet I hope I will reopen Hammer soon to make my idea into actual level. In all cases, I wrote down every idea in a copybook, I just need to make them into actual gameplay elements.
Also, I've already planned the final boss battle. I wrote it down in the copybook, I've got the idea in my head, strongly attached and I think - and I hope - it will be a fun battle to play. I've also got in mind the end of the game to finish it completely or to make a transition for another game. Either way, I know how to finish the game! Now I just need to make test chambers. I've got some idea, but I'll probably ask for your help! Stay tuned.
3-the Official Aperture Sign Maker (OASM)
As the thumbnail of this article show you and as I talked about it earlier in the article, I made a simple software which allows me to make tests chambers sign more easily. Yet, it's not finished and there are plenty of bugs in the code I need to fix before I can use it and also make it downloadable!
Let me talk about how it works and what it can achieve!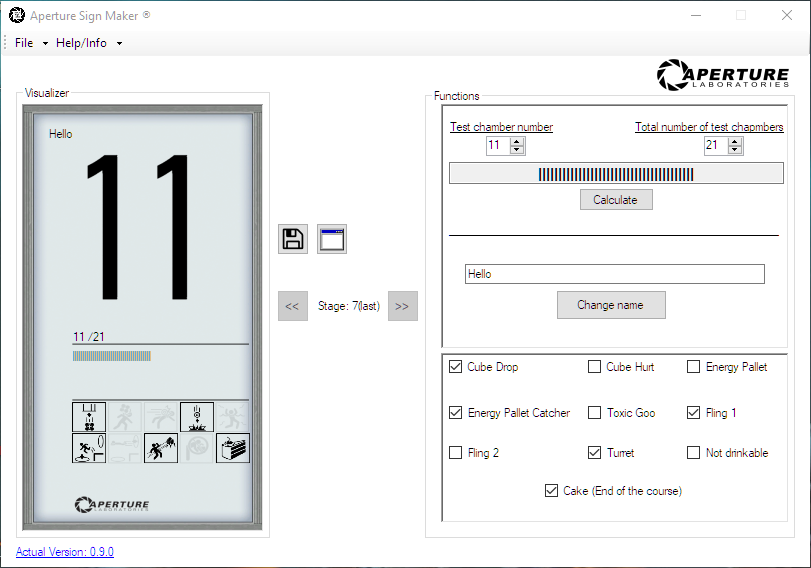 You can change the number of the test chamber
You can change the total number of tests chambers in your course.
You can automatically calculate the progress bar.
You can add a custom name for the test
You can activate or deactivate the little icon for the test. (cube, goo, cake...)
You'll be able to save the texture directly into a vmf and vtf file. (including animation)
Whenever the code is fixed and finish I will make a post and you'll be able to download it for free for your mod or map!