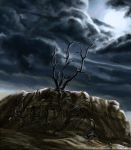 "As promised in the initial news post, a dismemberment system was always going to appear in The Hunted. However, we have since refined this concept to include vital organs and, to a certain extent, not so vital organs, in our damage system. Why, you might ask, would you do that? The answer is simple. We wanted to make your uninfected opponents more human, and thus show the contrast between them and the infected humans. Rather than doubling the infected's health or something equally as tried and true, we have decided to apply the same damage system, only change their reactions. For example, a human getting shot in the heart might faint instantly, they might stare stupidly at their wound and try to stop bleeding, or they might launch into last stand mode and try to rush you. However, if an infected person is shot in the heart, it will not change their behavior one little bit. They will continue to fight until their brain runs out of oxygen and they collapse to the ground.
So, what exactly is our damage system? Well, as you can probably guess, we're going to save the majority of details for the first demo/beta. However, I can tell you that the system will feature 29 dismemberment zones, 17 vital areas, in addition to an estimated 30 "gore" zones. In total, there is currently about 79 areas on the body that are destructible, that increase the damage to the victim, or that will produce spectacular explosions of blood, flesh and bone. It is our sincere hope that this damage system will add to your immersion in our world and that you will feel something of the horror Bills fears as he flees for his life."
Keep your eyes peeled for more updates.