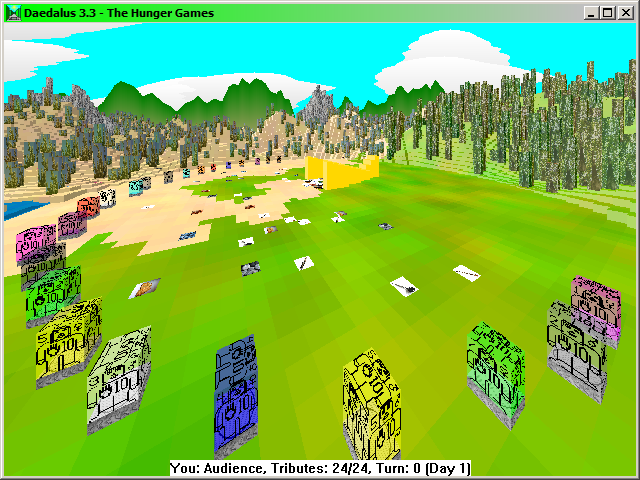 The new version 3.1 of the Hunger Games Simulation is downloadable here, and includes the following additions over the previous version 3.0 that was released in September 2014:
New Arenas:

Play in tropical island arenas, ruined city arenas, and even compose your own custom arena bitmaps (sample arena of the 12 Districts included). Beware the moving firewall of lava that forces remaining tributes together.

New Actions:

New commands to propose an alliance (which may or may not be accepted), and free fellow tributes from Nets. New map which only shows other tribute locations. Net objects can be set on the ground as traps.

New Visuals:

Movie of each day's fallen tributes is projected into the sky at night. Your movement in game smoothly animates showing intermediate frames. Tribute graphics show item worn when looking at them. Nine times as many chat responses, depending on personality and relative strength.

New Settings:

26 new options for customizing the play environment, such as number of Mutts and when they're released into the arena, difficulty levels that don't indicate who died when the cannon fires, and option to automatically give tributes random District appropriate names.